Hop On and Hop Off New York's Best Bus Tours
April 19, 2017 - by Chelsey Grasso
New York City can be a bit overwhelming if you've only got a limited amount of time to see it. The sites are endless, as are the photo opps, and you can easily spend days trying to run from sight to sight and still not see it all! Our preferred alternative? Hop aboard one of the five NYC bus tours below to see the best New York City has to offer without having to hail taxis and wait on the subway trains. Time is of the essence when you're visiting a city as bustling as this one!
Best of NYC Bus Tours: Open Loop

The Open Loop bus tours give you the freedom and flexibility you want when exploring the city, allowing you to hop-on and hop-off while on the uptown, downtown, Brooklyn, and Bronx routes. You'll pass by all of New York City's biggest attractions, including Yankee Stadium, the World Trade Center, and the Brooklyn Botanic Gardens. The "All Loops" bus tour, Open Loop's bestselling tour, also comes with free admission to the Museum of the City of New York. Additionally, a "Where's My Bus?" app allows you to check on the location of your next bus in real time from your mobile device. 785 Eighth Ave., 212-371-6736, openloop.nyc
Best of NYC Bus Tours: CitySightseeing

Hop aboard one of CitySightseeing's double-decker buses to see New York City with the kind of access you've always wanted. The "All Around Town" bus tours offer five unique bus loops and a ferry tour to iconic sights (the packages come in 24, 48, and 72 hours sets). Additionally, the CitySightseeing FreeStyle Pass includes the 72 hour "All Around Town" tour features along with free admission into either 3, 5, or 7 of NYC best attractions, including museums, cruises, restaurants, observation decks, and more. 455 12th Ave., 212-445-7599, citysightseeingnewyork.com
Best of NYC Bus Tours: High Quality Tours
Skip the buses this trip and travel in ultimate comfort in one of the vehicles from High Quality Tours' luxurious, state-of-the-art fleet. Choose between luxury SUVs, Mercedes Sprinter, Mini Coaches, and Limo Party buses as you get to know New York City inside and out. Vehicles stop for photo ops as you travel around the city, and some tours include sightseeing cruises, gourmet lunch stops, and even pre-reserved entrance tickets to One World Trade Center's observation deck. All around NYC, 212-531-1212 or 844-531-1212, highqualitytours.com
Best of NYC Bus Tours: THE RIDE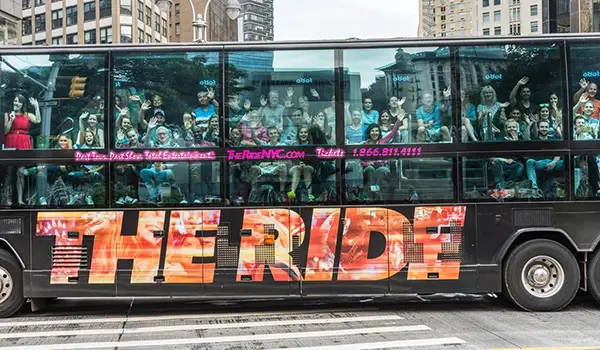 THE RIDE is New York City's only sideways facing bus tour, where seats are lined up stadium style facing floor-to-ceiling glass windows. Three tours are currently running via the THE RIDE, including a classic 90 minute Manhattan tour, an interactive city tour where the "streets come alive" with performers, and a downtown tour that makes use of digital technology to provide riders with virtual realities of some of the most iconic locations' historical events. On top of all this, THE RIDE's tour guides are top of the line performers, so you'll be laughing your way through the entire experience. 584 8th Ave., 212-221-0853, experiencetheride.com
Best of NYC Bus Tours: A Slice of Brooklyn Bus Tours
If you're looking to travel your way around Brooklyn while indulging in some of the best foods the famed borough has to offer, then booking a ride on one of A Slice of Brooklyn's Bus Tours should be added to your bucket list immediately. Enjoy the Original Pizza Tour where you'll get to try both Neapolitan-style and Sicilian-style pizza, or the Chocolate Tour, where you'll stop at four of Brooklyn's most beloved chocolatiers. Both tours pick up passengers in the Union Square area of Manhattan, so you needn't worry about trekking over to Brooklyn beforehand. 212-913-9917, asliceofbrooklyn.com
Looking for Free Group Planning Services?
Get free advice on planning your group's trip to New York.
RESTAURANTS

Beer hall casual meets craft cocktails with a healthy dose o...

THEATER

Gaston Leroux's famous period thriller is now one of Broadwa...

SHOPPING

A premier destination for family entertainment....

SIGHTSEEING

Hop aboard these environmentally friendly twin-hulled catama...