Valentine's Day Gift Giving: New York Experiences
January 23, 2018 - by Regina Molaro
It's almost Valentine's Day and it's time to start brainstorming gift ideas for your partner, spouse, or special friend. Move over "Material Girls" and "Material Boys," marketing experts say that there's been a shift in consumer values and more people are enjoying experiences that promote happiness, well-being, and bonding over material items, which eventually lose their luster. Here are a host of experience ideas to share with loved ones in New York City. They also offer a great way to make new memories.
Cocktail Making Class at Analogue
Celebrate your love or friendship by learning to master the art of cocktail making. Swanky Greenwich Village cocktail bar Analogue offers its Shake, Rattle & Roll Cocktail Class, which provides a hands-on approach to learning how to craft three unique cocktails. Light bites are provided. The cocktail making class is offered in a private space at Analogue and will be held on Wednesday, February 14th from 7 p.m. to 9 p.m. Tickets are available at Eventbrite. For those with booked calendars, Analogue hosts monthly cocktail classes, as well as whiskey tastings. 212-432-0200, 19 W. 8th St., analoguenyc.com
Bateaux New York Cruises
Set sail on a romantic adventure with the soaring Manhattan skyline as a backdrop. Bateaux New York offers a trio of Valentine's Day cruises, as well as a host of other excursions for those who want to celebrate at a later date (and in warmer temperatures). Valentine's Dinner Cruises are being offered during the evenings of February 10th, 14th, and 17th. These offer lovebirds a private table with topnotch views, a 3-course plated dinner menu, and a live band. Revelers are invited to shake it up on the dance floor. On Saturday, February 11th, a Bottomless Mimosa Brunch cruise will board at 11:30 a.m.Beyond the private table and impressive views, guests can enjoy a 3-course brunch buffet with bottomless mimosas (21+). A live band will inspire guests to head over to the dance floor. Finally, on Saturday, February 17th, a Lunch Cruise will sail around Manhattan offering aprivate table, spectacular views, and a 3-course plated lunch. There will also be a live band and dance floor. See the website for departure locations. 866-817-3463, bateauxnewyork.com/new-york-metro/cruises/holiday/valentines-day-cruises
Cloud 9 Living
Cloud 9 Living boasts the motto "Create a Memory, Give an Experience." It offers romantic gift ideas that were created exclusively for couples, but will certainly work for other duos. Choose from the long list of creative packages, which include New York Date Night, which enables revelers to customizetheir ideal "date." A selection of top-rated experiences for two enables people to select the experience of their choice and book a date that is convenient for them. Options include intimate dinners, adrenaline-filled adventures, and more. Other package options include a glass blowing class for two, a day with a private chef, and more. 866-525-6839, cloud9living.com
Helicopter Flight Services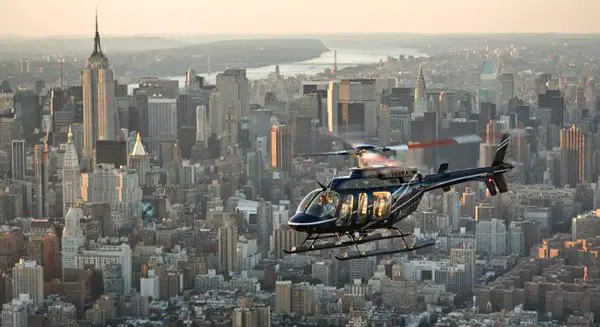 Whisk your Valentine to new heights! Take an award-winning helicopter tour around New York City. Helicopter Flight Services's spectacular sightseeing tours provide adventure-seekers with an aerial view of Manhattan and the surrounding areas. Several packages are offered, which include the New Yorker—12-15 minutes of sightseeing Manhattan's iconic sites; the Ultimate—which offers 17-20 minutes of sightseeing landmarks and views of the Hudson River, George Washington Bridge, and beyond; or the Deluxe—25-30 exhilarating minutes of sightseeing Manhattan's landmarks and top destinations such as Central Park along with aerial views of Yankee Stadium, Brooklyn, Staten Island, and beyond). Valentine's Day excursions are likely to become fully booked, so interested parties should book well in advance. Downtown Manhattan Heliport, 212-355-0801, Pier 6 (by the East River and South Street), heliny.com
Tribeca Beauty Spa

Skincare expert Nadia Dekhkanova's Tribeca Beauty Spa is a downtown institution that attracts a loyal clientele of locals and celebrities. The spa makes a great Valentine's Day destination, with the Prosecco flowing and chocolate truffles all day long. Services run from skincare, body treatments, waxing, and nail care, to the spa's signature Needle-Free Transformation
—
downtown's best-kept secret! The spa takes appointments seven days a week, open to clients weekdays 11am to 8pm, Saturday 10am to 6pm, and Sunday noon to 7pm.
8 Harrison St., 212-

343-2376,

tribecabeautyspa.com
Montauk Salt Cave
Unwind, relax, and breathe in the healing benefits of pink Himalayan salt at New York City's Montauk Salt Cave. One of the spacious salt caves at Manhattan's downtown location accommodates up to 13 people and features cozy reclining leather chairs. Montauk Salt Cave also offer a smaller cave that doesn't come equipped with chairs and is ideal for smaller groups. Guests can make arrangements for private reiki, yoga, or facials. The Himalayan salt that is breathed in while in these caves is anti-inflammatory, anti-bacterial, anti-viral, anti-fungal, and anti-microbial. It promotes a sense of peace and serenity as it heals. This alternative therapy claims to clear pollens, pollutants, and toxins from the lungs and nasal passageways and offer relief from some respiratory ailments. 212-677-7258, 90 E. 10th St., montauksaltcave.com
Metropolitan Opera
One of the world's great cultural attractions is the Metropolitan Opera, which presents L'Elisir d'Amore (The Elixir of Love) among its amazing performances this winter. Directed by Tony award-winner Bartlett Sher, L'Elisir d'Amore has been among the most consistently popular operatic comedies for almost two centuries. The story combines comic archetypes with a degree of genuine character development rare in works of this type. Its ending is as much a foregone conclusion as it would be in a modern romantic comedy—the joy is in the journey, and Donizetti created one of his most instantly appealing scores for this ride. Make a romantic night of it with the performance on Valentine's! Metropolitan Opera House (Amsterdam Ave. & 64th St.), 212-362-6000, metopera.org
Gotham Comedy Club
How about the gift of laughter? The Gotham All-Stars will be treating the famed Gotham Comedy Club to a special Valentine's Day Edition of standup. Featuring Brooklyn's own Chloé Hilliard, a culture/entertainment journalist, Mike Yard (Comedy Central's The Nightly Show with Larry Wilmore), Daniel Tirado, Casey Balsham, and much more! 208 W. 23rd St., 212-367-9000, gothamcomedyclub.com
New York Botanical Garden

Bring someone special to enjoy a romantic Valentine's Day Weekend at the New York Botanical Garden in the Bronx. On February 10th and 11th, stroll through the historic Haupt Conservatory, talk to guides about aphrodisiac plants, and have a love poem written by a professional poet. The on-site Hudson Garden Grill will feature a special prix fixe menu alongside its seasonal winter selections. 2900 Southern Blvd., 718-817-8700, nybg.org
The Edison Ballroom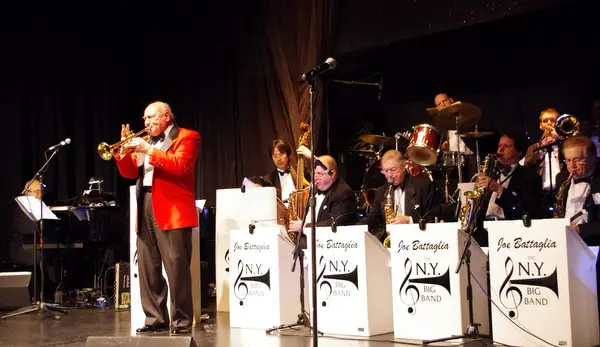 Another great Valentine's experience this year is a visit to the elegant and romantic Edison Ballroom. This year they'll be hosting legendary big band leader Joe Battaglia and the New York Big Band on the Friday before the holiday (February 9th). Having traveled the world performing with icons like Frank Sinatra, Shirley Bassey, and Tony Bennett, Battaglia's brilliant big band sound boasts a 16-piece orchestra and accompanying vocalists. Also featured at this event will be the romantic Latin sounds of Direct Latin Influence, also known as DLI. Chef Mina Newman will provide an incredible meal and guests will be transported back to the ballroom's days as a festive dancing and dining venue, when it hosted famous performers of the Swing Era. 240 W. 47th St., 212-201-7650, edisonballroom.com
---
Getting Hitched on Valentine's Day in NYC
In addition to the proposals and vow renewals going on Valentine's Day in Times Square, there are a couple of unique wedding opportunities coming up this year in New York City.
Gulliver's Gate is one of the most ambitious attractions to ever land in New York, a $40 million extravaganza that allows visitors to travel the Earth without leaving Times Square. Latin America, Asia, the Middle East, Russia, and Europe are all here in incredibly detailed miniature, reflecting craftspeople's work from around the globe. This Valentine's Day, Gulliver's Gate will serve as a dream destination wedding HQ (vow renewals are being offered as well). Choose your favorite city, be it Paris, London, Rome, Beijing, Tel Aviv, or NYC itself, with officiating by All-Faiths Minister Dr. Sheila Gay Gross, an ordained, licensed interfaith minister who has presided over more than 1,300 marriages. After the ceremony, miniature treats will be served to all guests. Couples getting married at Gulliver's Gate on Valentine's Day will receive free admission and their wedding party will receive a discounted admission rate of $20. Marrying couples must bring a New York City-issued marriage license, which can be obtained by applying in person at the City Clerk's office, any time from now through February 14. Couples interested should contact Weddings@GulliversGate.com. 216 W. 44th St., 347-507-6464, gulliversgate.com
Students of the famed Brooklyn steakhouse Peter Luger, the eponymous talents behind Ben & Jack's Steakhouse opened their restaurant near Grand Central over a decade ago (there's also an even larger location near the Empire State Building). For Valentine's Day, enjoy a special prix fixe with entree options like rib-eye, filet mignon, sesame-crusted tuna, and Porterhouse for two. Keep your eyes open for a bride or two as well: on Valentine's, Ben & Jack's will be hosting vow renewals and weddings in a private room with retired NY State Supreme Court Judge Alan Marrus. The organization presiding is Judges for Love, Inc., and you'll have a private, personalized civil wedding ceremony or vow renewal in the restaurant's private dining space. Wedding packages start at $499 and include the wedding service, a 4-course dinner, and a complimentary glass of champagne per person. 255 Fifth Ave., 212-532-7600, benandjackssteakhouse.com
Looking for Free Group Planning Services?
Get free advice on planning your group's trip to New York.
RESTAURANTS

Beer hall casual meets craft cocktails with a healthy dose o...

THEATER

Beloved diva Bernadette Peters and four-time Tony nominee Vi...

SHOPPING

DataVision is redefining retail with their new, fully intera...

SIGHTSEEING

A state-of-the-art Coney Island amusement park that's home t...