Things to Do in New York in January
December 5, 2017 - by City Guide News Desk
If you're looking for things to do in NYC in January, you won't have to look too far. The holidays may have passed, but New York's theater, dining, and nightlife scenes are as vibrant as ever. As the temperatures drop, take advantage of museum exhibitions and the sheltered views at landmarks like One World Observatory and Top of the Rock. With the new year comes a fresh start and there's nothing like the energy of New York for making you feel renewed. Happy 2018!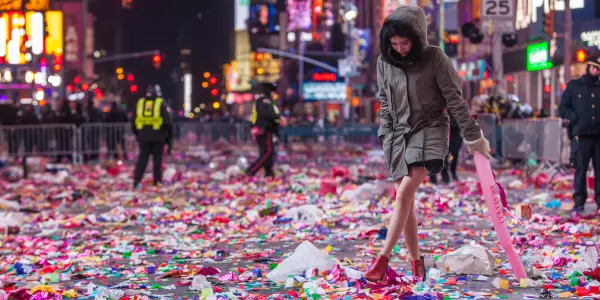 Image: Anthony Quintano/Flickr
Things to Do in New York in January: Kicking Off 2018
(1/1) If you have some champagne-induced cobwebs to clear away, New York has a tradition for you. Ever since 1903 the Polar Bear Club has been leading a bracing dunk in the Atlantic Ocean at Coney Island. The annual New Year's Day Swim is a big party, complete with costumes and more than a few pairs of blue lips. 1pm sharp. $25 suggested donation.
(1/1) New Year's Day Brunch (or dinner) Cruises with Spirit of New York. All ages welcome. Brunch, boards 11:30am, cruise noon-2pm; dinner, boards 6:30pm, sails 7pm-9:30pm.
(now-1/1) Final day to see the beautiful Christmas Spectacular Starring the Radio City Rockettes™ at Radio City Music Hall.
(1/5) Celebrate Three Kings Day with a Parade by El Museo del Bario. Starts at 11am.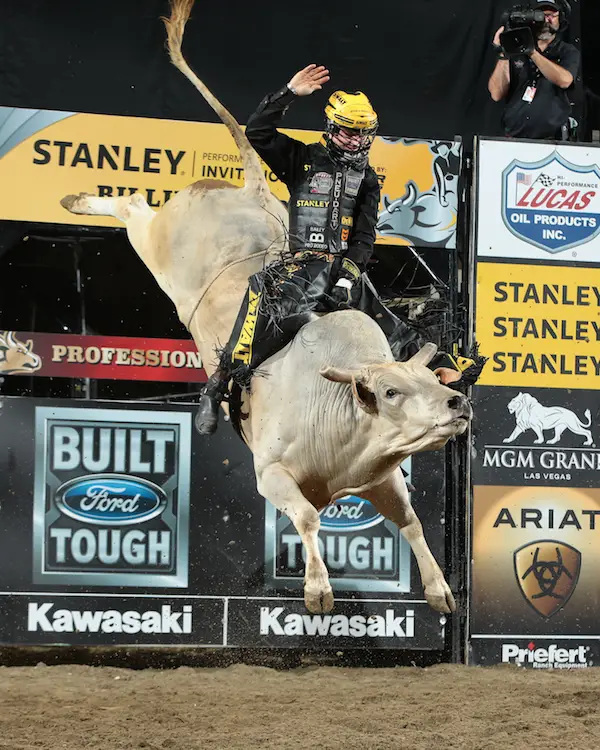 (1/5-1/7) The Professional Bull Riders (PBR) Monster Energy Buck Off returns to Madison Square Garden, celebrating its 25th anniversary. The three-day event is the first of four PBR Majors in 2018 offering increased prize money and bonus points to the riders, as well as a unique format for increased entertainment for the fans. Tickets are on sale now for this much-anticipated event. Starts 7:45pm sharp.
Things to Do in New York in January: Exhibits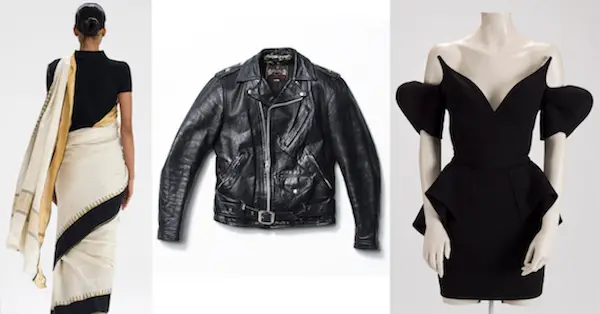 (Now-1/28) Items: Is Fashion Modern? at MoMA explores the present, past—and sometimes the future—of 111 items of clothing and accessories that have had a strong impact on the world in the 20th and 21st centuries—and continue to hold currency today. Among them are pieces as well-known and transformative as the Levi's 501s, the Breton shirt, and the Little Black Dress, and as ancient and culturally charged as the sari, the pearl necklace, the kippah, and the keffiyeh. Items will also invite some designers, engineers, and manufacturers to respond to some of these indispensable items with pioneering materials, approaches, and techniques—extending this conversation into the near and distant futures, and connecting the history of these garments with their present recombination and use.
PLUS
(Now-2/4) Edvard Munch: Between the Clock and the Bed at the Met Breuer. Norwegian artist Edvard Munch (1863–1944) attained fame early in his career for his depictions of human anxiety. This exhibition features 43 of the artist's landmark compositions created over a span of six decades, including 16 self-portraits and works that have never before been seen in the United States.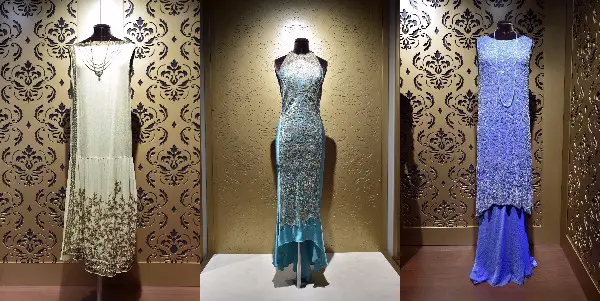 (Now-1/31) Downton Abbey: The Exhibition, based on the beloved television show Downton Abbey. Be transported to post-Edwardian England, where the characters and the iconic house come to life. You'll be immersed in the fascinating social history, culture, and some of the most memorable moments and sets from the show's six-season run, including Mrs. Patmore's kitchen and the servants' quarters.
(now-2/25) David Hockney at the Metropolitan Museum of Art. For nearly 60 years, David Hockney (British, born 1937) has pursued a singular career with a love for painting and its intrinsic challenges. This major retrospective—the exhibition's only North American venue—honors the artist in his 80th year by presenting his most iconic works and key moments of his career from 1960 to the present.
(Now-3/28) Artist Josef Albers was best known for his vivid abstract paintings. A new show at the Solomon R. Guggenheim Museum provides fresh context on that work with a focus on Albers' black and white photographs, as well as his photo collages, in the newly opened Josef Albers in Mexico. Albers and his wife Anni traveled to Mexico many times over a period of more than 30 years, from 1935 through the 1960s. While there, they spent time at numerous archeological sites, from Uxmal to Chichen Itza. Albers took photos of everything from the landscape to shrines and monuments he encountered throughout the country; the resulting photo collages demonstrate his interest in geometric experimentation as seen through the influence of pre-Columbian art. The museum's airy, somewhat stark interior is a perfect foil for both the photos and the rich, colorful geometric shapes. Wander through, and then wander through again. This one's a treat.
(Now-1/21) Soulful Creatures: Animal Mummies in Ancient Egypt at Brooklyn Museum. In the ancient burial ground at Saqqara, Egypt, one animal cemetery alone has yielded over four million individual ibis mummies. And the nearby dog cemetery contained over seven million mummies, with countless others found throughout Egypt. This unusual aspect of ancient Egyptian culture and religion—the mummification of animals—has remained largely a mystery. Soulful Creatures: Animal Mummies in Ancient Egypt explores the religious purpose of these mummies, how they were made, and why there are so many. Drawn from our renowned collection, the exhibition features choice examples from among the many millions of mummies of birds, cats, dogs, snakes, and other animals preserved from at least thirty-one different cemeteries throughout Egypt. Animals were central to the ancient Egyptian worldview. Most animals had connections to a particular deity. After death, mummified animals' souls could carry a message to a god. Yet not all animal mummies are what they seem. Scientific investigation of the mummies reveals that the corruption in the animal cemeteries that some contemporaneous texts allege was all too real. CT scans displayed in the exhibition uncover the empty wrappings, double mummies, and misleading packaging among some of the mummies that the priests sold to worshippers.
(Now-2/12) Michelangelo: Divine Draftsman & Designer at the Metropolitan Museum of Art. Michelangelo Buonarroti (1475–1564) is the subject of this once-in-a-lifetime exhibition. During his long life, Michelangelo was celebrated for the excellence of his disegno, the power of drawing and invention. This exhibition will present approximately 150 of his drawings, three of his marble sculptures, his earliest painting, his wood architectural model for a chapel vault, and complementary works by other artists for comparison and context. Among the extraordinary international loans are the complete series of masterpiece drawings he created for his friend Tommaso de' Cavalieri and a monumental cartoon for his last fresco in the Vatican Palace.
(Now-1/7) Final week! The photographs in the exhibit American Visionary: John F. Kennedy's Life and Times at the New-York Historical Society convey the sensation you've seen them before: JFK in the White House, his kids joyfully playing nearby; JFK with wife Jackie at an event, both of them elegant and assured (in truth, many images here have only rarely been shown). It's part of the famous Kennedy allure, conveying a world that's simultaneously approachable, glittering, and rarefied. This well-curated exhibition charts JFK's trajectory as a politician, as well as the cultural and historical pulse of the times, when photojournalism was at an apex. It's a wonderful opportunity to observe a world both familiar and lost, and to reflect on where the country was—and is.
(Now-1/7) Magnificent Gems: Medieval Treasures at the Morgan Library & Museum. The treasure bindings on view include star sapphires, diamonds, emeralds, pearls, and garnets, alongside illuminated manuscripts and printed books that depict two-dimensional representations of these precious materials. Among the exhibition highlights will be the ninth-century Lindau Gospels, one of the two finest Carolingian jeweled bindings in the world, and the thirteenth-century Berthold Sacramentary, the most luxurious German manuscript of its time.
(Permanent) The New-York Historical Society's Fourth Floor Renovation, now complete, includes a brand new Tiffany Lamps Gallery, in addition to the opening of its Women's History Center.
(Permanent) The Jim Henson Exhibition at the Museum of the Moving Image will celebrate the life and legacy of the famed Muppet creator, exploring both his prolific career and the enduring effect his work has on pop culture to this day. Visitors can expect to learn more about the creation of such beloved works as The Muppet Show, Sesame Street, Fraggle Rock, The Dark Crystal, and Labryinth, as well as to discover the cutting-edge experimental works Henson made throughout his career.
(Permanent) The Museum of the City of New York presents NY at Its Core. Ten years in the making, New York at Its Core presents the compelling story of New York's rise from a striving Dutch village to today's "Capital of the World." The exhibition captures the human energy that drove New York to become a city like no other and a subject of fascination the world over. Entertaining, inspiring, important, and at times bemusing, New York City "big personalities," including Alexander Hamilton, Walt Whitman, Boss Tweed, Emma Goldman, JP Morgan, Fiorello La Guardia, Jane Jacobs, Jay-Z, and dozens more, parade through the exhibition.
Things to Do in New York in January: Comedy
(1/12-1/13) The Daily Show's Trevor Noah at Radio City Music Hall.
PLUS
(1/4-1/6) Star of the Showtime special Historically Incorrect, Alonzo Bodden at Gotham Comedy Club.
(1/12/-1/13) Dean Edwards at Gotham Comedy Club.
(1/18-1/20) Pablo Francisco at Gotham Comedy Club.
Things to Do in New York in January: Kids

PLUS
(Now-1/7) Final week! The Big Apple Circus is back under the tent at Damrosch Park!

(Ongoing) Bronx Zoo Treetop Adventures. A new tree-high obstacle course features a variety of ways to test your agility and strength, from the 400-foot-long zip line to an aerial adventure park that features seven different courses, from beginner to expert. Swing, navigate and even skateboard; it'll make a great story. 7+, 50 lbs. and up. Bronx Zoo, 2300 Southern Boulevard, Bronx, Bronxzootreetop.com
(Ongoing) Blue Man Group at Astor Place Theatre. Best known for their wildly popular theatrical shows, Blue Man Group combines music, comedy, and multimedia theatrics to produce a unique form of entertainment. The hour and forty five minute show is fun for the whole family.
(Ongoing) Explore the beautiful interactive exhibit Connected Worlds at the New York Hall of Science in Queens.
For more kids activities, check out our sister site nymetroparents.com!
(now-2/25) It's all aboard for
New-York Historical Society's
Holiday Express: Trains and Toys from the Jerni Collection.
The beloved annual exhibit features 300+ pieces from the Jerni Collection and will transform the space into a magical wonderland. Interactive elements, including a crawl-through spaces leadig to a pop-up semisphere, allow children to get an up-close-and-personal view of the displays, harking back to the feel of early 20th century toy departments.
Things to Do in New York in January: Music & Nightlife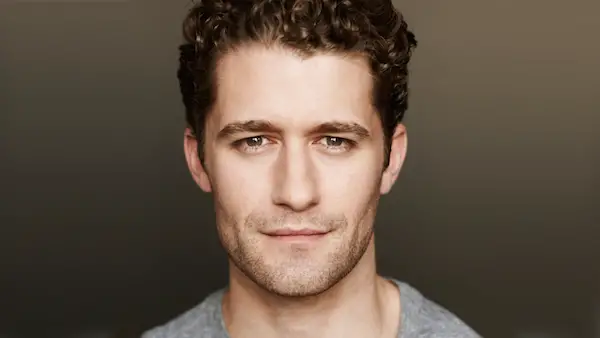 PLUS
(1/5) Harlem Gospel Choir at B.B. King Blues Club & Grill.
(1/6) Herman's Hermits starring Peter Noone perform at B.B. King Blues Club & Grill.
(1/6, 1/13) Bar Car Nights at the New York Botanical Garden.
(1/8-1/9) Peter Yarrow at City Winery.
(1/11) Billy Joel at Madison Square Garden.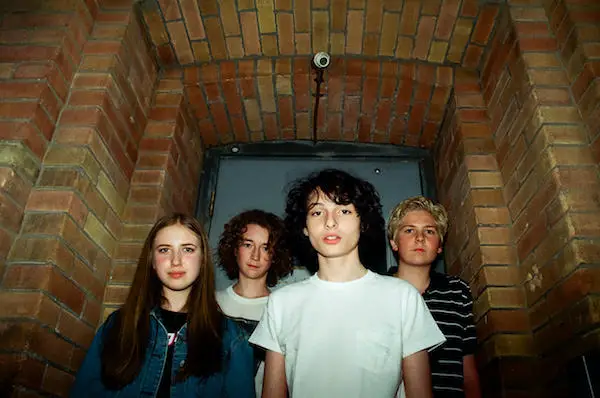 (1/12) Stranger Things' star Finn Wolfhard's band Calpurnia will play Brooklyn's Rough Trade. 16+ (under 16 must be with guardian).
(1/12) The Killers at Madison Square Garden.
(1/12) Six-time Grammy winning sax player David Sanborn performs at B.B. King Blues Club & Grill.
(1/25) DMX at B.B. King Blues Club & Grill.
(1/26-1/27) CNN's Anderson Cooper and Andy Cohen at the Beacon Theatre.
Things to Do in New York in January: Sightseeing
(Now-3/5)
Bryant Park's Winter Village
remains open throughout the holiday season.
wintervillage.org
PLUS
(Now-1/7) THE RIDE: HOLIDAY EDITION. The 6th Annual Holiday Edition returns to turn the streets of New York into a stage. You'll cruise in comfort in a patented $1.5 million travelling theater. Technology galore and floor-to-ceiling glass with side-facing VIP seating provide perfect views to dazzling holiday performances you'll find along a 4.2-mile journey through Manhattan. Original seasonal music, videos, and hilarious hosts complete the experience, definitely one to remember. Use this coupon and save $30 off!
(Ongoing) Take a ride through time and learn about Downtown New York City's rich heritage with THE DOWNTOWN EXPERIENCE Powered by THE RIDE. Enhanced with virtual reality technology (thanks to Timelooper), experience highlight moments in NYC's history like never before! Here's a coupon!
(1/18-1/25) Ever watched a squash game in a train station? The 20th annual
J.P. Morgan Tournament of Champions (ToC)
arrives in
Grand Central Terminal
, bringing together the world's greatest squash stars for an exciting week of international competition and live spectator events. The matches are played beneath the iconic chandeliers in Vanderbilt Hall in a state-of-the-art glass squash court with stadium seating for 500 and a free standing room area for commuters and passersby. Gracing the courts with their talent will be all of the world's top-ranking men's and women's players, representing 24 nations and six continents.
Introducing
NFL EXPERIENCE TIMES SQUARE
! The only attraction that takes you on a hero's journey from fan to player to champion! This brand-new, immersive experience in the heart of Times Square gets you closer to the NFL than ever before with an incredible 4D theater, over 20 interactive activities, and the Vince Lombardi Trophy on display 365 days a year!
(Now open!) Take a deep dive into an underwater world with New York City's newest attraction, National Geographic Encounter: Ocean Odyssey, in Times Square. This experience lets visitors explore the ocean like never before thanks to state-of-the-art technology and a brilliant team of designers. This is not a museum, exhibit, movie, aquarium, or virtual reality; instead, the producers consulted with dozens of scientists to create a new kind of immersive experience that guests can walk through as they share ocean encounters. Blockbuster new science—some of it not even published yet—was used in its creation. Short of a submarine, you'll be hard pressed to find a better way to experience life as it's lived under the sea.
The largest VR entertainment center in the Western Hemisphere is New York's latest attraction: VR World. Get inspired by virtual reality in a diverse space with three floors that bring culture, gaming, and entertainment together. With over 50 experiences to choose from, VR World offers an unforgettable experience that's yours to create! Fight off droids, climb Mt. Kilimanjaro, race Formula One cars against your friends, and create a 3D masterpiece. The adventures are limitless.
Things to Do in New York in January: Ongoing
Get up close to the glory of the Yankees with Yankee Stadium Tours!
Visit the sites of Friends, Seinfeld, Trainwreck, Gossip Girl, Sex and the City and many other NYC film sites with On Location Tours.

Learn more about the fascinating history of New York City's Financial District with Wall Street Walks tours.
Ripley's Believe It or Not! Odditorium brings people of all ages face-to-face with the world's most unbelievable curiosities. With 18,000 square feet of astonishing artifacts and exciting interactive exhibits. Here's a coupon!
Zip up 100 stories in 60 seconds and see New York City atop One World Observatory. Here's a coupon!
Grab the family or a friend for a spin on the iconic Rockefeller Ice Skating Rink. This year marks its 81st anniversary!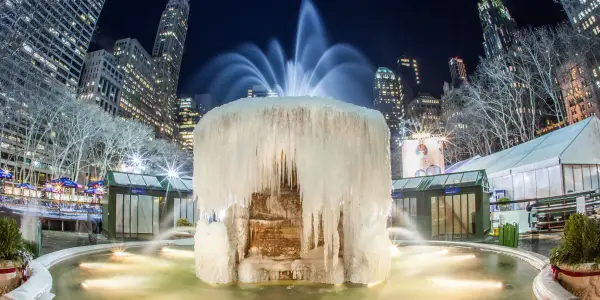 Weather in New York in January
Welcome to the coldest month of the year in New York City. Pack your heavy parka and coats, scarves, and gloves, because low temperatures average around 27 degrees Fahrenheit (-3°C), with average highs getting only up to 36° (4°C). You can expect some outlier days, warmer or colder, with extremes of weather (wind, snow, sleet, freezing rain) not that uncommon. Days are short, with about 6 hours of light. The chances of a snowy day in January? About one in five.
Looking for Free Group Planning Services?
Get free advice on planning your group's trip to New York.
RESTAURANTS

Beer hall casual meets craft cocktails with a healthy dose o...

THEATER

Gaston Leroux's famous period thriller is now one of Broadwa...

SHOPPING

Shop or sell at this weekend bargain hunters' paradise....

SIGHTSEEING

Manhattan's premier all-glass, European-inspired dining crui...