8 Unique Pizza Toppings You Can Try Only in NYC
October 1, 2018 - by Samantha Aronson
Unique topping options are one reason New York is famous for its pizza. From sushi to chocolate to pasta, the city's pizzerias have creative ideas for memorable pies.
Unique Pizza Toppings NYC: Williamsburg
We'll take our pizza with extra pizza, please! Vinnie's Pizzeria went viral on Instagram because of the creativity of this combo: pizza topped with pizza! Get double the flavor when you take a bite at this Brooklyn spot. 148 Bedford Ave., 718-782-7078, vinniesbrooklyn.com
Unique Pizza Toppings NYC: Flatiron
If you are a sushi fan, you are going to enjoy a slice of this pie. Mirai Sushi is serving up a "Spicy Tuna" pizza with crispy roti crust topped in guacamole, masago, and furikake flakes. 46 W. 22nd St., 212-989-7889, mirasushi.com
Unique Pizza Toppings NYC: Hell's Kitchen
Get ready to carbo load with this grandma-style pizza pie topped off with mac 'n' cheese. Two different kinds of cheese (cheddar and mozzarella) join traditional macaroni, and you can add extra grated cheese on top to elevate this pie to ultimate levels. 739 9th Ave., 212-459-1234, unclemariosnyc.com
Unique Pizza Toppings NYC: Union Square
What's the most American food you can think of? If your answer is a hot dog and fries, imagine that on top of a pizza. This is the American dream. Ribalta's Americana pizza is layered with hot dogs and fries to create a dense pizza dish that works just as well on a casual night out as it would at the ballpark. 48 E. 12th St., 212-777-7781, ribaltapizzarestaurant.com
Unique Pizza Toppings NYC: Yonkers
Pizza Barn might be slightly out of the city, but it has two unique toppings that are too good not to include on this list. Not only are Pizza Barn's slices two feet long, but they have a cheeseburger slice which comes with fries on top. If that doesn't sound yummy enough, their new edition Barn Yard slice includes everything except the kitchen sink (think mozzarella sticks, chicken fingers, bacon, and French fries, layered with mozzarella and American cheese). 70 McLean Ave., 914-963-5396, pizzabarnyonkers.com
Unique Pizza Toppings NYC: Greenwich Village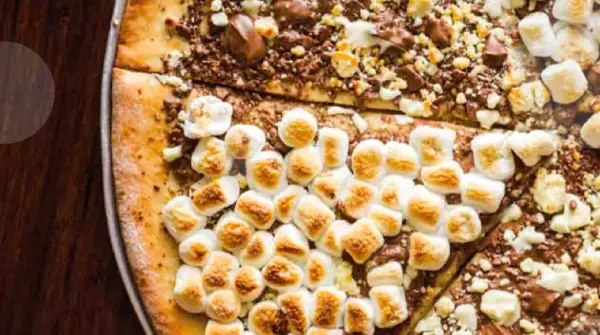 If you have a sweet tooth then the pizza toppings at Max Brenner are perfect for you! Max Brenner transforms traditional pizza into a sweet treat that can be enjoyed as both a meal and a dessert. Order their Chocolate Chunks pizza made with milk- and white-chocolate sauce, joined by a choice between hazelnut bits, bananas, peanut butter, or roasted marshmallow. We suggest ordering "the works" to get all the toppings! 841 Broadway, 646-467-8803, maxbrenner.com
Unique Pizza Toppings NYC: West Village
Imagine a vegan pizza topped with brussels sprouts, roasted pepper, red onion, mustard seeds, and hazelnuts with cashew cream. That pizza exists at Sotto 13, turning everyone's favorite greasy meal into a healthy delight. There's even a gluten-free option. 140 W. 13th St., 212-647-1001, sotto13.com
Unique Pizza Toppings NYC: Midtown West/Herald Square
Stella 34 Trattoria is known for seasonal pies that are over the top! In the spring they feature pizza primavera, topped with English peas, favas, asparagus, crème fraiche, and lemon. This fall new pies include butternut squash pizza with Sicilian pistachio crema, 12-year-balsamic and stracchino cheese. The menu also includes truffle pizza topped with both black and white varieties, contadino pie with spicy lamb sausage and sundried tomatoes, and clam pie! Fall pizzas will be available starting October 1st and throughout the autumn season. 151 W. 34th St., 212-967-9251, stella34.com
Looking for Free Group Planning Services?
Get free advice on planning your group's trip to New York.
RESTAURANTS

Beer hall casual meets craft cocktails with a healthy dose o...

THEATER

Kander and Ebb's "musical vaudeville" in which Roxie Hart ga...

SHOPPING

An array of quality branded merchandise showcasing HBO's® aw...

SIGHTSEEING

Hop aboard these environmentally friendly twin-hulled catama...