Walk This Way: Historic Footwear From the Stuart Weitzman Collection
April 23, 2018 - by Troy Segal
Look down. Those things covering your feet—you think they're just shoes. But they are more, much more: extensions of your identity, symbols of your social status, the crowning touch to your stylistic presentation, your literal connection to the ground.
Also, they keep your toes dry.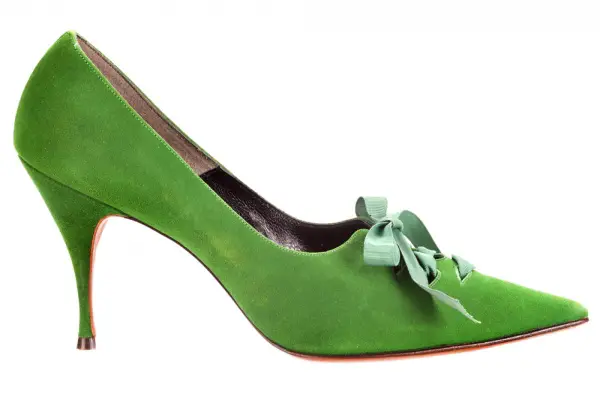 Seymour Weitzman (1910–65), designer, Mr. Seymour (founded 1950s), maker. Pointed-toe laced pumps, ca. 1964, suede, grosgrain ribbon. Stuart Weitzman Collection, no. 269. Photo credit: Glenn Castellano, New-York Historical Society.
But seriously, it's easy to get carried away by pedi-garb. In the last few years, we've imbued shoes with socio-political-cultural meaning, whether they're sashaying down a fashion runway, pounding an urban pavement, or touring a disaster-stricken area. "A shoe tells a story," says footwear designer Stuart Weitzman—and it's done so throughout history, as people "used shoes to say something about who they were." Weitzman should know: for three decades, along with running his eponymous company, he and his wife Jane have been collecting vintage footwear. Now, 100 items from their cache are on display in Walk This Way at the New-York Historical Society (through October 8th), supplemented by items and archival items from the museum's own collection and some contemporary creations by Weitzman and other designers.
In fact, the exhibit kicks off with one of his most (in)famous styles: the "Million Dollar Sandals," a pair of silvery stilettos decorated with 464 diamonds, worn by actress Laura Elena Harring to the 2002 Academy Awards. (Appropriately, you approach the case that houses them on a roll of red carpet.) After that, the show unfolds in a series of mini-sections, grouped into the categories of Collecting, Consumption, Presentation, Production, and Design. The displays are straightforward, and roughly chronological; there are few time-jumping juxtapositions among the artifacts. One poignant exception: the pairing of shoes from two disasters, a century apart—the small black booties of a child who died in a 1904 steamship fire, and the Ferragamo brogues of a man who fled the World Trade Center in them on 9/11.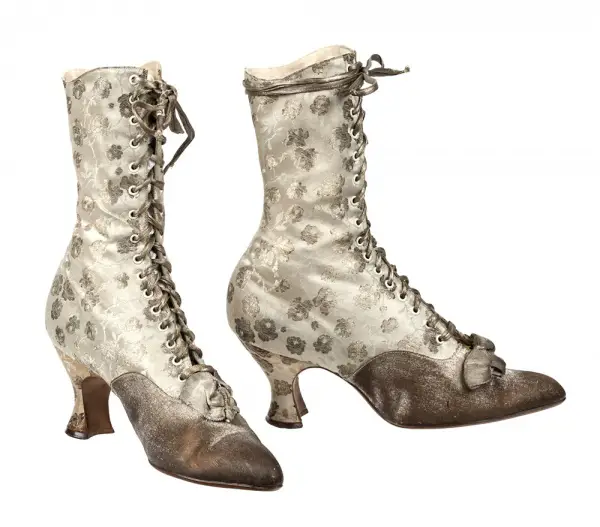 Lace-up boots, ca. 1900, silk and silk brocade. Stuart Weitzman Collection, no. 59. Photo credit: Glenn Castellano, New-York Historical Society.
Despite the masterful efforts of consulting curator Edward Maeder and the N-YHS team, Walk This Way can't quite disguise that it's built around a random collection. Each section ranges over such a variety of subjects, including celebrities, show biz, shoe-factory workers, female shoe designers, the I. Miller shoe company, and the influences of architecture and film on styles, it's as if the show couldn't decide on a perspective that was historical, sociological, or aesthetical (or all three). So despite all the ground covered, viewers get not so much a big thematic takeaway as a series of fun facts: men could be arrested for wearing high heels in New York, based on an 1845 law…historically, in footwear factories, women worked only on part of the shoe, stitching and binding the "uppers"…the habit of associating pink with girls and blue with boys didn't crystallize until the 1940s…American shoe designers didn't start getting their names on labels until after World War II.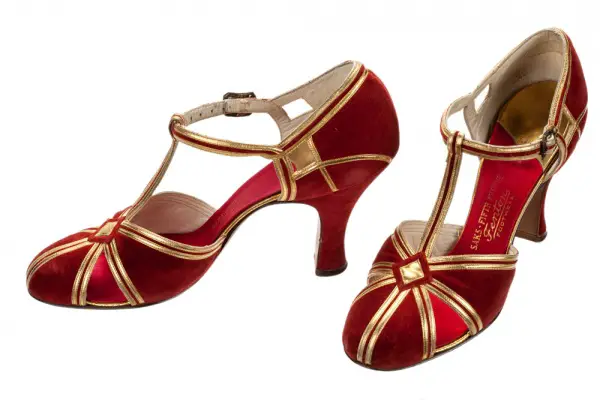 T-strap pumps, ca. 1937, velvet, leather. Stuart Weitzman Collection, no. 249. Photo credit: Glenn Castellano, New-York Historical Society.
But of course there's also the beauty of the shoes themselves, gleaming like jewels in their transparent cases, along with rows of glittering, detached heels. One point the exhibit does get across is the durability of footwear fashion. "You could wear that today" is a common catchphrase at costume-history exhibits, but it really rings true here, surveying the range of Mary Janes (invented 1904), T-straps (popularized in the '20s because they stayed on dancing feet so well), and stiletto pumps (made possible by post-World War II technology). In fact, in some cases, the farther back you go, the more contemporary the shoes look. In a 1917 photo, a suffragette sports a pair of flat high-button shoes that are dead ringers for the Chanel cap-toed ankle boots flying off shelves this season. In a 1701 portrait, King Louis XIV displays in an amazingly au courant pair of block heels in his favorite red—which, by royal decree, only he and his favorite nobles could wear.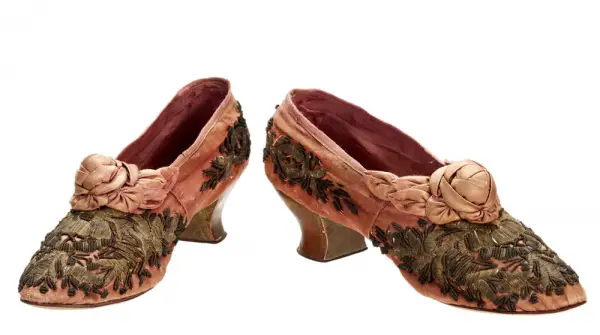 Boudoir shoes, 1867, Paris, France, silk, embroidery, metallic thread. Stuart Weitzman Collection, no. 101. Photo credit: Glenn Castellano, New-York Historical Society.
King Louis then, Christian Louboutin now. The social order of things seems always to be stamped into shoes.
---
Walk This Way: Footwear From the Stuart Weitzman Collection of Historic Shoes runs through October 8th, 2018. For more information, visit nyhistory.org.
Looking for Free Group Planning Services?
Get free advice on planning your group's trip to New York.
RESTAURANTS

Beloved midtown spot takes inspiration from local tradition,...

THEATER

Kander and Ebb's "musical vaudeville" in which Roxie Hart ga...

SHOPPING

Specializing in the great vineyards of California, France, A...

SIGHTSEEING

Start by ascending to the top of the tallest building in the...