Sports Events in New York City This Week - July 8-July 15
July 8, 2018 - by CG Directory Editor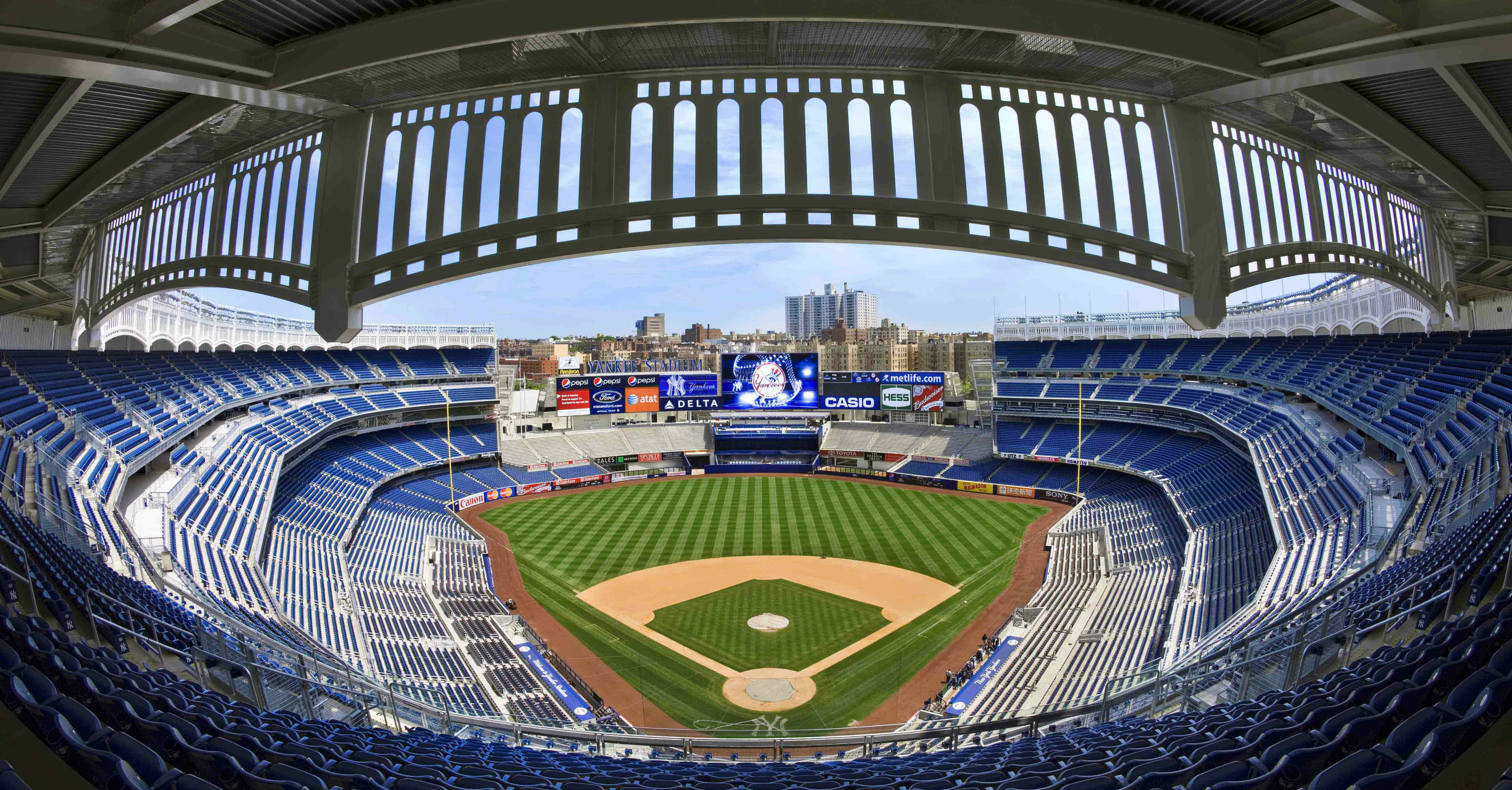 City Guide's New York calendar catches all the local sports, from Knicks or Rangers games at Madison Square Garden to Nets and Islanders at Barclays Center, with Yankee Stadium and Citi Field, plus college basketball, the Liberty of the WNBA, and the Staten Island Yankees and Brooklyn Cyclones also on our comprehensive list of things to do in NYC.


New York Liberty vs. Dallas Wings - Westchester County Center
July 08, 2018 - white Plains
#TheSweatSessions: 25+ Fitness Classes Taught by NYC's Favorite Instructors at Meatpacking District's Free Fitness Series - Hudson River Park's 14th Street Park
July 10, 2018 - New York
Grab your fit friends and join the Meatpacking District for free fitness classes at this summer's Sweat Sessions! The popular wellness series returns to New York City offering free workout classes nearly every Tuesday night, May 22 through September 4. The al fresco series has been a local favorite over the past several years and consists of three 45-minute classes at 6pm, 7pm and 8pm. The Meatpacking Business Improvement District is proud to host the annual series again in partnership with The Wellth Collective to offer participants a robust wellness program throughout the summer. Enjoy complimentary post-workout snacks and sips on select days at the Cool Down, hosted by Samsung 837. Take in the views from Samsung's decked out terrace with free bites and hydrating sips from local businesses. Each class is completely free and open to the public. Participant sign up and upcoming schedules can be accessed by visiting thesweatsessions.splashthat.com. Mats will be provided. Tuesday, Tuesday, July 10, 2018 6PM: Bari 7PM: 305 Fitness 8PM: modelFIT This season, The Sweat Sessions will also raise awareness and dollars for Exhale to Inhale, a nonprofit that empowers th... (read more)
Watch the FIFA World Cup™ with McDonald's! - Big Screen Plaza
July 15, 2018 - New York
Watch the FIFA World Cup™ with McDonald's! Come with your squad and show your team pride while enjoying delicious McDonald's breakfast at our Viewing Party. There will be interactive activities, live entertainment, and fun photo opportunities. 11 a.m.: Final Match Register for FREE here: https://nvite.com/community/mcdonalds
Fifa World Cup Viewings - Industry City
Through July 15, 2018 - Brooklyn
Giant screens, delicious food, drink specials and everything else you need in a FIFA World Cup viewing party is here at the Frying Pan in Industry City. The World Cup will be streaming live at the Frying Pan everyday from June 14th to July 15th.
Yoga with Erica Ginger @ Owl's Head Park - Owl's Head Park
Through August 22, 2018 - Brooklyn
Yoga with Erica Ginger @ Owl's Head Park Wednesdays from 6:30pm to 8pm June 20, 27 July 11, 18, 25 August 1, 8, 15, 22 Across from the basketball courts Bring your own mat and any props you might need Suggested donation $5 Entrances into Owl's Head Park are along Colonial Road at Wakeman Place, 67th Street and 68th Street, and along 68th Street at Colonial Road and Shore Road. Special thanks to NYS Senator Marty Golden for his support of these events at Owl's Head Park.
New York's Hottest New Outdoor Workout Venue Is…34th Street - Broadway Boulevard
Through August 27, 2018 - New York
The 34th Street district is known for shopping and entertainment, but now a full complement of exercise classes has been added to its list of attractions. And it's all free! Each Wednesday from 6 to 7 PM, the Sweat 34 program offers exercise classes by the city's top fitness studios on Broadway Boulevard outside Macy's. Upcoming Sweat 34 events: Wed., June 13, Wed. Aug 8 Sanctified Booty - This workout with Fitness Sanctuary is designed to strengthen the booty and lower extremities with a mix of strength and conditioning to today's hottest hits. Wed., June 20, Wed. July 25, Wed. Aug. 15 - 305 Fitness - Shed between 500 to 900 calories with this intense 55-minute cardio blast. Wed., June 27, Wed., July 18, Wed. Aug. 22 - IronStrength - Join Dr. Jordan Metzl from the Hospital for Special Surgery for this bootcamp class in the middle of Herald Square for 30 minutes, followed by a rocking Zumba class with Angelina Alfaro. Tues., July 3, Wed. Aug 1 - Ratchet Fitness - A workout with intermittent training that targets everything – abs, glutes, arms, and legs. And if you love working out to hip-hop and love a high-intensity cardio workout, this class is for you! Wed., J... (read more)
BRYANT PARK KICKS OFF 16TH SEASON OF YOGA CLASSES MAY 24 - Bryant Park
Through September 20, 2018 - New York
Bryant Park's yoga classes, believed to be the largest regularly scheduled outdoor series of its kind in the world, begin a new season Thursday, May 24. The twice-weekly classes will be held Tuesday mornings on the Upper Terrace 10 AM-11 AM, and Thursday evenings on the Lawn 6 PM-7PM. All classes are free and open to the public. The 2018 yoga season is made possible by the generosity of KeVita®, a leading manufacturer of fermented probiotic and kombucha beverages. A supporting sponsor, Gaiam, a yoga, fitness and wellness brand, will donate 1,200 yoga mats for participants to use throughout the season. Both partners will also participate in the Bryant Park Frequent Yogi loyalty program, rewarding returning attendees for their dedication. Bryant Park's yoga classes draw thousands of participants throughout the warm weather months, making it one of the park's most-attended activities. The Thursday evening class has drawn over 1,500 people during a single session. This year on select Tuesday mornings, Bryant Park introduces post-class yoga workshops on topics including self-care, meditation, and alignment with instructors from the Gaiam Wellness Studio, located in Lord & Taylor o... (read more)
Kayaking - Brooklyn Bridge Park
Through September 30, 2018 - Brooklyn
Glide along the water while kayaking with the Brooklyn Bridge Park Boathouse at the Pier 2 floating dock! Children under 18 must have an adult guardian present. All levels are welcome and no experience is necessary.
Looking for Free Group Planning Services?
Get free advice on planning your group's trip to New York.
MORE Activity Planner ARTICLES
RESTAURANTS

Beloved midtown spot takes inspiration from local tradition,...

THEATER

In a heartbeat, 38 planes with 6,579 passengers were strand...

SHOPPING

Specializing in the great vineyards of California, France, A...

SIGHTSEEING

The 9/11 Memorial honors the nearly 3,000 people killed in t...