No Cover Live Music in NYC This Week - June 10-June 17
June 10, 2018 - by CG Directory Editor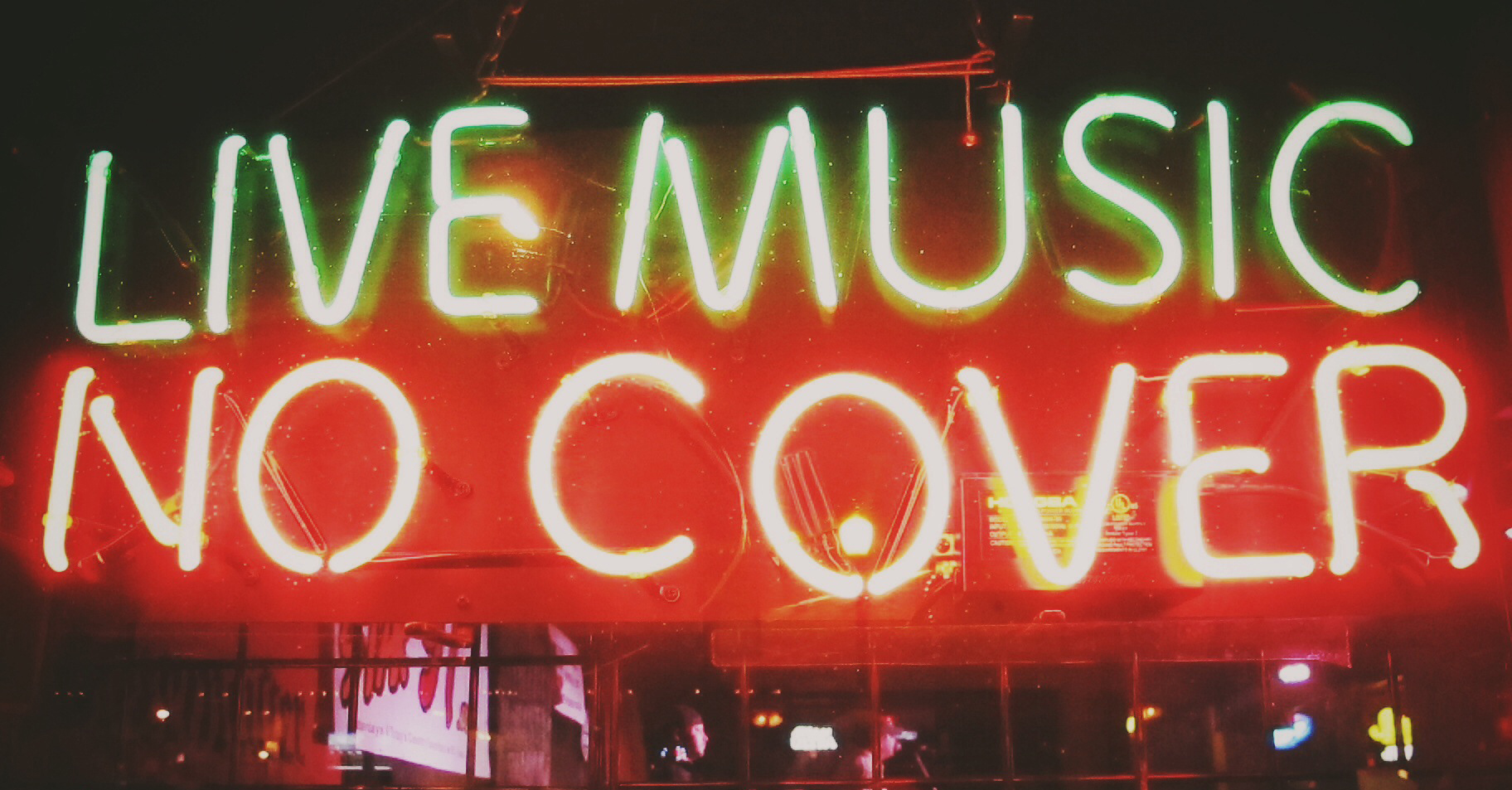 Photo: markheybo/Flickr

Say no to cover charges the next time you're in New York City and looking for live music. From bars to clubs to museum shows, you can catch all kinds of great music without having to pay for a ticket. City Guide's calendar has all the no cover live music in NYC this week rounded up below.


ACME performs the music of Johann Johannsson - Le Poisson Rouge
June 10, 2018 - New York
Sunday, June 10, 2018 at 9:30pm (doors 9pm) ACME (American Contemporary Music Ensemble) performs the music of Icelandic composer Johann Johannsson. ACME frequently toured and recorded with Johannsson from 2009 until his death in February 2018. The concert, presented by LPR X, will include selections from Johannsson's first concert in New York, which took place in 2009 at Le Poisson Rouge with ACME. ACME artistic director Clarice Jensen will also perform "bc" for solo cello and tape loops, a piece that she co-composed with Johannsson last year. ACME players for this concert are Clarice Jensen, cello; Ben Russell, violin; Laura Lutzke, violin; Caleb Burhans, viola. $25 in advance, $30 day of show. Presented by Le Poisson Rouge. http://lpr.com/lpr_events/lpr-x-acme-performs-music-of-johann-johannsson-june-10th-2018/
New York Brass Festival - The McKittrick Hotel
June 10, 2018 - New York
NYC's first-ever all-encompassing brass band festival gathers an all-star brass ensemble collective across NYC's trans-global musical mosaic at the magical McKittrick for a day-long marathon on two stages in celebration of the joy of brass music. New York Brass Festival will feature tricentennial of New Orleans celebration which will include David Ostwald's Louis Armstrong Eternity Band paying tribute to the greatest American brassman of all times.
Fascination Street Summer Market - Brooklyn Bazaar
June 10, 2018 - Brooklyn
Fascination Street Summer Market is on Sunday, June 10th from 12pm-6pm at Brooklyn Bazaar! 150 Greenpoint Ave Brooklyn, NY FREE ADMISSION! Punk, rock n roll, goth, kawaii, Lolita fashion/jewelry/art, oddities and MORE. If you'd like to apply to be a vendor, please fill out the form located at the link below and we will be in contact with you shortly. Vendor spaces are very limited, so if spaces are filled your information will be saved for future events. https://docs.google.com/forms/d/1s4Yxb21TJKjA0Nygl-X2cxr4N2HPWIWZxpkFv0Jeklc/viewform?edit_requested=true VENDORS TBA
Rich The Kid at Cielo June 9th - Cielo
Through June 10, 2018 - New York
Join Rich The Kid at Cielo this Saturday June 9th. Doors Open: 1PM No Fefunds, 21+ Valid ID Artist: rich the kid
School of Rock - DROM
Through June 10, 2018 - New York
Jam & Sip- R&B Jam - Silvana
June 11, 2018 - New York
CALLING ALL MUSICIANS & ARTISTS Bring and share your talent in an explosion of cultural collaboration. Great drinks, fun, & music!
Beat Music Series - Showcase - Jazz / Soul / R&B / Folk - Silvana
June 12, 2018 - New York
This two-hour set promises to feature an eclectic mix of hip hop, jazz, soul, poetry, folk, and spoken word artists. The event is hosted by composer/producer Eric Joseph Meyer and poet/emcee Melissa Czarnik.
Washington Square's Music Festival's 60th Season - Washington Square Park
June 12, 2018 - New York
Music Director Lutz Rath has announced the 60th season of the Washington Square Music Festival, taking place Tuesdays in June on the Main Stage in the center of Washington Square Park. All four concerts are free. The Festival is under the auspices of the Washington Square Association, Inc. Seating is first come, first served.
Live Piano Karaoke with Julian Velard - Sid Gold's Request Room
June 13, 2018 - New York
With a style The Sunday Times calls "catchy but complicated; a surprisingly rare combination," Julian Velard is piano-pop tunesmith recalling Stephen Sondheim or Randy Newman at the peak of their talents. With 4 albums of original material under his belt, he's toured internationally alongside the likes of Jamie Cullum, Paul Carrack, and Amy Macdonald. His quirky, native new york, piano-man sound has found its largest audience in Holland, where he headlined Amsterdam's legendary venue, Paradiso. His comedic timing and musical stylings have made him a regular on The Howard Stern Show and NPR's Ask Me Another.
7th Annual Real Estate Rockers in Relief - Irving Plaza
June 13, 2018 - New York
Join prominent New York real estate giants as we rock out for charity. Bands include Little Darlings, Local Law, Corner Lot, The Adventure, Joey and the High Tones, the Doo Dahs, Normal by Day and many special guest performers. All proceeds will benefit NECHAMA.
Happy Hour Piano Karaoke with Mark Piro - Sid Gold's Request Room
June 15, 2018 - New York
Sid Gold's Request Room now features Happy Hour Piano Karaoke on Fridays! Start your weekend off with a song! With Mark Piro at the keys! Check out Mark's song list!
Sordid Summonings (New Wave, Post-punk, Synth, Goth Tunes) - Troost
June 16, 2018 - Brooklyn
NO WIFI / NO LAPTOPS Interested in making reservations for a private party or event? email us at troostnyc@gmail.co Inquiring about booking live music? email us at music@troostny.com Hours: 4PM to CLOSE ( Close = between midnight to 2am )
Jupiter and the Stars- Alt. Rock - Silvana
June 16, 2018 - New York
Jupiter & The Stars is a conceptual alternative rock outfit based out of North Carolina. Drawing influences from artist like Radiohead and Pink Floyd, Jupiter & The Stars combine elements from various genres with distinctive hard hitting choruses and catchy, pop like melodies. Through the music of the band, a story is illustrated about its main protagonists, Jupiter, and his struggles with love, power, and sense of self.
Live Piano Karaoke with Leslie Goshko! - Sid Gold's Request Room
June 16, 2018 - New York
Leslie Goshko (Huffington Post Comedy) is the host and creator of the monthly storytelling series, Sideshow Goshko, which has been hailed as a Time Out New York and New York Times "Critics' Pick", and also noted as "a well-programmed night" by the New York Times.Sideshow Goshko has been featured on TruTV'sImpractical Jokers, NPR'sSnap Judgment, and inThe New Yorker.Her cabaret show "An Old-Fashioned Piano Party with Leslie Goshko" is heralded as a Time Out New York "Critic's Pick" and she served as the musical director for NY1 anchors Pat Kiernan and Jamie Stelter's live show at 92Y, "Pat and Jamie's NY." And thanks to the support of many Internet voters, she performed with the cast of Hairspray on Broadway. https://www.lesliegoshko.com/
Everybody Loves The 90's Brunch & Day Party - Big Poppa Edition - MIST Harlem
June 17, 2018 - New York
The 70's were groovy, the 80's were totally awesome, but everybody knows that the 90's were downright dope! 90's fashion, flava, and especially the MUSIC were everything! Well, we at The Alumni Group are yearning for those times, and we especially miss the soundtrack that filled our days -- from gritty hip hop to sultry soul music to boy bands! So on Sunday, Janurary 14th, we're throwing back to the 90's at Everybody Loves The 90's Brunch & Day Party at Mist Harlem! For $35 get an appetizer, brunch entrée and 1.5 hours of bottomless brunch cocktails (Mimosa, Bellini,Sangria)! DJ E Class will be spinning classic 90's hip hop and R&B to keep you and your crew moving while you eat and drink. And to elevate the experience, we're bringing back boy bands! That's right, you will also enjoy LIVE music by the RNB Boys (Jerome Bell, Devin Snow, and Timorris Lane), who'll be belting out 90's ballads during brunch. "Ooooh yeah!" If you miss this, you're buggin 'cause this brunch will be phat, yo! Word up
School of Rock - DROM
Through June 17, 2018 - New York
Symphonie Fantastique - HERE
Through June 17, 2018 - New York
Twenty years ago in 1998, Basil Twist debuted his boundary-breaking response to Berlioz's 1830 "Symphonie Fantastique" to universal acclaim, inaugurating HERE's intimate Dorothy B. Williams Theatre. In the two decades since Symphonie Fantastique's premiere, Basil Twist has become an internationally recognized artist in opera, ballet, and on Broadway, and has won countless awards including the illustrious MacArthur Fellowship. Twist will revisit his legendary masterpiece as part of HERE's 25th Anniversary Season. In this revival, accompanied live by the virtuosic pianist Christopher O'Riley playing the exquisite Liszt transcription, Symphonie floats and swirls in a 1,000-gallon water tank neatly disguised as a puppet stage. For the many who never saw it, and for those who relish seeing it again and again, the return of this tour de force to HERE is the event of the season.
Opera Saratoga Announces Complete Casting and Programs for 2018 Summer Festival - The Spa Little Theater
Through July 15, 2018 - New York
OPERA SARATOGA ANNOUNCES COMPLETE CASTING AND PROGRAMS FOR 2018 SUMMER FESTIVAL   DAVID ALAN MILLER CONDUCTS A 'WINNING DOUBLE BILL' FEATURING THE AMERICAN PREMIERE OF ROCKING HORSE WINNER AND  THE WORLD PREMIERE OF A NEW EDITION OF  VINKENSPORT, OR THE FINCH OPERA   NEW PRODUCTIONS OF THE MERRY WIDOW AND THE CONSUL   CONCERTS AND SPECIAL EVENTS IN SARATOGA SPRINGS, DIAMOND POINT, BOLTON LANDING, AND ALBANY   FEATURED GUEST ARTISTS INCLUDE  CECILIA VIOLETTA LÓPEZ, MEGHAN KASANDERS, DEBORAH NANSTEEL, JENNIFER PANARA, ALEX LAWRENCE, SCOTT QUINN, TYLER NELSON, AND ANDY PAPAS Saratoga Springs, NY - Opera Saratoga's Artistic and General Director Lawrence Edelson today announced the complete casting and programming for the company's 2018 Summer Festival, which will feature new productions of four operas at The Spa Little Theater in Spa State Park, along with a wide variety of free and ticketed concert events from May 26th through July 15th at venues throughout the region. Single tickets, as well as subscription packages, are on sale now at www.operasaratoga.org.   One of the most popular operettas across the globe, THE MERRY WIDOW returns to Opera Saratoga for the first... (read more)
Looking for Free Group Planning Services?
Get free advice on planning your group's trip to New York.
MORE Activity Planner ARTICLES
RESTAURANTS

Multi-concept restaurant offering modern Japanese cuisine, a...

THEATER

In a heartbeat, 38 planes with 6,579 passengers were strand...

SHOPPING

The world's largest source of cameras, camcorders, and more ...

SIGHTSEEING

Opened to the public in 1913 thanks to the ingenuity and amb...