What to Do in NYC in November
October 2, 2017 - by City Guide News Desk
If you're looking for things to do in New York City in November, we've got the inside scoop on the best exhibits, sightseeing, fun for kids, concerts, nightlife, and more, as NYC gets ready for all the holiday and winter excitement. We're especially looking forward to the return of ice skating, the Rockettes, holiday markets, the 2017 TCS New York City Marathon, and, of course, the Macy's Thanksgiving Day Parade.
ICE SKATING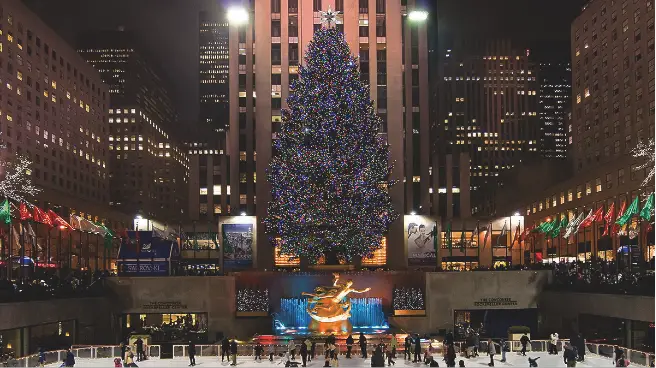 (Ongoing) The iconic Rockefeller Center Ice Skating Rink opens for the winter season. For information on reservations, skate lessons or season passes, call 212-332-7654 or visit therinkatrockcenter.com. VIP packages are also available. For more information on Rockefeller Center, visit rockefellercenter.com.
(Ongoing) Wollman Rink in Central Park is also open. For schedules and rates call 212-439-6900 or visit wollmanskatingrink.com.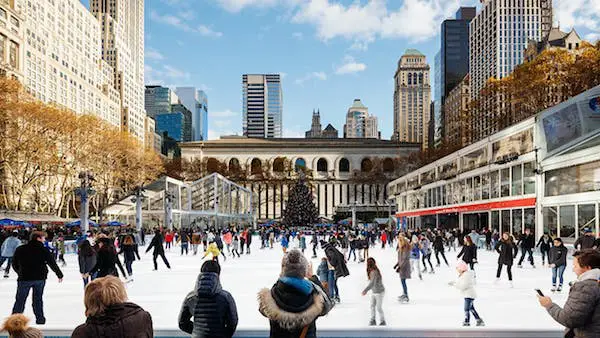 Colin Miller
(Open! Now through 3/5/18) Bryant Park's Winter Village returns. Ice skating, shopping, hot chocolate and other tasty treats, and more!
PLUS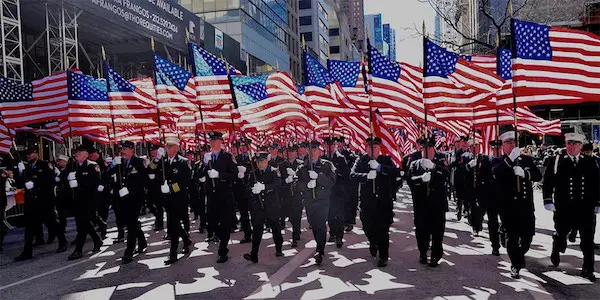 (11/11) The annual New York City Veterans Day Parade takes place along Fifth Avenue, rain or shine. It's the largest one in the nation. The Parade proceeds north on Fifth Avenue from 26th ~ 52nd St, from 11:15 AM to approximately 3:30 pm.
THE TCS NEW YORK CITY MARATHON

(10/29-11/6) When November hits, the city's thoughts turn to pounding pavement and the excitement of the TCS New York City Marathon. Some 50,000 runners from 125 countries will be cheered on by millions across all five boroughs of the city. The TCS New York City Marathon on Sunday, November 5 is more than a one-day event, too: it's a weeklong celebration of New York, runners, and their families, friends, and fans. Read on for some highlights. tcsnycmarathon.org
The TCS New York City Marathon Pavilion. Back for race week, the Pavilion is free and open to the public from Sunday, October 29 through Friday, November 3, and back open for Marathon Monday on November 6. This entertainment hub and welcome center is located at W. 67th St. and Central Park West, just steps from the finish line. Stop by to enjoy food and drinks, official merchandise, film screenings, athlete appearances, panels, giveaways, interactive photo ops, and more.
The NYRR RUNCENTER Featuring the NB Run Hub. New York Road Runners' community running center at 320 W. 57th St. will be a destination throughout race week for shopping, group runs, clinics, programs, meet-and-greets, and more. On race day, spectators can take a break from the course, warm up, and hang while waiting for runners to finish.
TCS New York City Marathon Expo Presented by New Balance. The largest running exhibition in the U.S., and one of the top 10 health and fitness expos in the world. Join race participants, health enthusiasts, and runners as they prepare for race day, shop fitness products, and experience the excitement. Free and open to the public November 2-4 at the Jacob K. Javits Convention Center.
TCS New York City Marathon Opening Ceremony Presented by United Airlines. On Friday, November 3 at 5:30pm, kick off Marathon Weekend as the Parade of Nations showcases runners from around the world as they parade across the finish line; fireworks follow and tickets are free.

If you're looking to do some carb loading before or after a jog (or a marathon), don't miss the pasta pros at New York's favorite Italian restaurants. In Midtown West our go-tos are Buca di Beppo, La Masseria and its new sister spot Masseria dei Vini, Nino's 46, and Patsy's Italian Restaurant. For a quick pick-me-up in midtown, the Zibetto Espresso Bars have desserts and coffees as only the Italians can do it. Over in Midtown East, you'll find us at Allora Ristorante, or Obicà Mozzarella Bar, Pizza E Cucina down in the Flatiron. Further downtown, Villa Mosconi and Monte's have been Village favorites for decades. On narrow, ancient streets downtown you'll also find one of the most vibrant places in Manhattan: Little Italy. For decades now, bold-face names and hungry New Yorkers have come here for pizza, pasta, and the best cannoli in the city. Our recommendations include Grotta Azzurra, founded 1908, family-owned classics like Il Cortile and Lunella Ristorante, and the legendary Umberto's Clam House. When you're ready for a sweet ending to your Little Italy adventures, Caffé Palermo is your destination. Baby John "The Cannoli King" serves up cannolis that keep to that perfect balance between sweet cream and satisfying crunch, making these the best in the city. And you don't have to be in training for a marathon to enjoy them.
And don't let an injury slow you down: accupressure specialist Injae Choe (646-823-5386, injae.choe@gmail.com) works with athletes to relieve muscular pain and get them back in the race.
(11/27) Light up the Upper West Side with the 18th Annual Winter's Eve at Lincoln Square, an evening of music, food, dancing, children's activities, and fun for everyone. Look for processional groups, multicultural dance troupes, ice sculpting, Jazz at Lincoln Center, youth choruses, jugglers, stilt-walkers, and more! At Dante Park on Broadway between 63rd and 64th Sts., beginning at 5:30pm. Along Broadway from Columbus Circle to 68th St., 212-581-7762, winterseve.org

EXHIBITS

(11/22-1/15) The Holiday Train Show at New York Botanical Garden. Enchanting model trains zip through a display of 150 landmarks, each re-created with bark, leaves, and other natural materials—all under the twinkling glow of the Enid A. Haupt Conservatory. Marvel at G-scale locomotives humming along among familiar sights such as the Brooklyn Bridge, Statue of Liberty, and Rockefeller Center on nearly a half-mile of track.
PLUS
(Now-1/21/18) Soulful Creatures: Animal Mummies in Ancient Egypt at Brooklyn Museum. In the ancient burial ground at Saqqara, Egypt, one animal cemetery alone has yielded over four million individual ibis mummies. And the nearby dog cemetery contained over seven million mummies, with countless others found throughout Egypt. This unusual aspect of ancient Egyptian culture and religion—the mummification of animals—has remained largely a mystery. Soulful Creatures: Animal Mummies in Ancient Egypt explores the religious purpose of these mummies, how they were made, and why there are so many. Drawn from our renowned collection, the exhibition features choice examples from among the many millions of mummies of birds, cats, dogs, snakes, and other animals preserved from at least thirty-one different cemeteries throughout Egypt. Animals were central to the ancient Egyptian worldview. Most animals had connections to a particular deity. After death, mummified animals' souls could carry a message to a god. Yet not all animal mummies are what they seem. Scientific investigation of the mummies reveals that the corruption in the animal cemeteries that some contemporaneous texts allege was all too real. CT scans displayed in the exhibition uncover the empty wrappings, double mummies, and misleading packaging among some of the mummies that the priests sold to worshippers.
(11/13-2/12/18) Michelangelo: Divine Draftsman & Designer at the Metropolitan Museum of Art. Michelangelo Buonarroti (1475–1564) is the subject of this once-in-a-lifetime exhibition. During his long life, Michelangelo was celebrated for the excellence of his disegno, the power of drawing and invention. This exhibition will present approximately 150 of his drawings, three of his marble sculptures, his earliest painting, his wood architectural model for a chapel vault, and complementary works by other artists for comparison and context. Among the extraordinary international loans are the complete series of masterpiece drawings he created for his friend Tommaso de' Cavalieri and a monumental cartoon for his last fresco in the Vatican Palace.
(11/18) Downton Abbey: The Exhibition opens at 218 West 57th Street. An immersive experience, the show transports visitors into the world of Downton Abbey with characters, costumes, rare footage, and loving recreations of the interiors.
(Now-1/7/18) The photographs in the new exhibit American Visionary: John F. Kennedy's Life and Times at the New-York Historical Society convey the sensation you've seen them before: JFK in the White House, his kids joyfully playing nearby; JFK with wife Jackie at an event, both of them elegant and assured (in truth, many images here have only rarely been shown). It's part of the famous Kennedy allure, conveying a world that's simultaneously approachable, glittering, and rarefied. This well-curated exhibition charts JFK's trajectory as a politician, as well as the cultural and historical pulse of the times, when photojournalism was at an apex. It's a wonderful opportunity to observe a world both familiar and lost, and to reflect on where the country was—and is.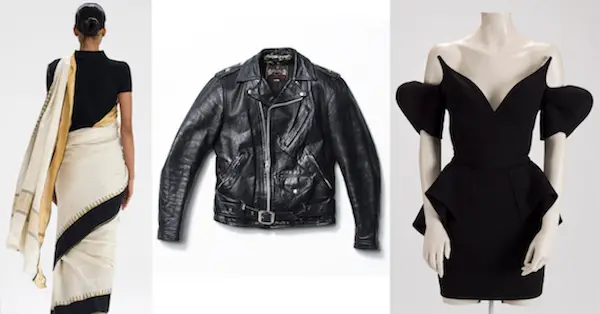 (Now-1/28/18) Items: Is Fashion Modern? at MoMA explores the present, past—and sometimes the future—of 111 items of clothing and accessories that have had a strong impact on the world in the 20th and 21st centuries—and continue to hold currency today. Among them are pieces as well-known and transformative as the Levi's 501s, the Breton shirt, and the Little Black Dress, and as ancient and culturally charged as the sari, the pearl necklace, the kippah, and the keffiyeh. Items will also invite some designers, engineers, and manufacturers to respond to some of these indispensable items with pioneering materials, approaches, and techniques—extending this conversation into the near and distant futures, and connecting the history of these garments with their present recombination and use.
(Now-5/18) The Butterfly Conservatory returns to AMNH. This is one of the museum's most popular annual seasonal exhibitions. Butterflies and moths make up a large group of insects known as the Order Lepidoptera (lep-i-DOP-ter-ah). The name—from the Greek lepido, "scale," and ptera, "wings"—refers to a prominent feature of adult butterflies and moths, the tiny scales that cover the wings and the rest of the body.
(Now-1/7/18) Magnificent Gems: Medieval Treasures at the Morgan Library & Museum. The treasure bindings on view include star sapphires, diamonds, emeralds, pearls, and garnets, alongside illuminated manuscripts and printed books that depict two-dimensional representations of these precious materials. Among the exhibition highlights will be the ninth-century Lindau Gospels, one of the two finest Carolingian jeweled bindings in the world, and the thirteenth-century Berthold Sacramentary, the most luxurious German manuscript of its time.
(Permanent) The New-York Historical Society's Fourth Floor Renovation, now complete, includes a brand new Tiffany Lamps Gallery, in addition to the opening of its Women's History Center.
(Permanent) The Jim Henson Exhibition at the Museum of the Moving Image will celebrate the life and legacy of the famed Muppet creator, exploring both his prolific career and the enduring effect his work has on pop culture to this day. Visitors can expect to learn more about the creation of such beloved works as The Muppet Show, Sesame Street, Fraggle Rock, The Dark Crystal, and Labryinth, as well as to discover the cutting-edge experimental works Henson made throughout his career.
(now-12/31) Drones: Is the Sky the Limit? at Intrepid Sea, Air & Space Museum is the first major museum exhibition on pilotless aircraft to open in the U.S. The large-scale exhibition, located in a huge, custom-designed pavilion, will reveal the history of drone technology, from its WWI origins to its current applications in solving complex humanitarian challenges. The exhibition will include a mix of small and large scale drones, including Volantis, the world's first flying dress, designed and worn by Lady Gaga. intrepidmuseum.org. Use this coupon and take $5 off!
(Permanent)
The Museum of the City of New York
presents
NY at Its Core
.
Ten years in the making,
New York at Its Core
presents the compelling story of New York's rise from a striving Dutch village to today's "Capital of the World." The exhibition captures the human energy that drove New York to become a city like no other and a subject of fascination the world over. Entertaining, inspiring, important, and at times bemusing, New York City "big personalities," including Alexander Hamilton, Walt Whitman, Boss Tweed, Emma Goldman, JP Morgan, Fiorello La Guardia, Jane Jacobs, Jay-Z, and dozens more, parade through the exhibition
.
COMEDY
Now in its 13th year, the New York Comedy Festival features a star-spangled lineup of comedians, including newyorkcomedyfestival.com.
(11/3) Joe Rogan headlines Madison Square Garden.
(11/6-11/7) An Evening with Kevin Smith at Carolines on Broadway.
(11/10) Homocomicus, headlined by Kate Clinton, at Gotham Comedy Club.
(11/11) Jim Norton at Town Hall.
(11/11) Nick Offerman at Beacon Theatre.
(11/7-11/8) Bryan Callen at Gotham Comedy Club.
(11/24-1/25) Jamie Kennedy at Gotham Comedy Club.
KIDS
(11/9-11/12) Disney on Ice Presents: Dare to Dream Celebrate what's possible as five Disney heroines spark the courage inside us all as Disney On Ice presents Dare to Dream, coming to Barclays Center. In her Disney On Ice debut, see how far Moana goes on a quest with demigod Maui to save her island and find her own identity. Anna's devotion to her sister Elsa sets her on a journey to stop an eternal winter. Rapunzel goes to great lengths to realize her dream. Fearless Belle befriends the enchanted castle staff and uncovers the Beast's gentleness. With help from her friends, Cinderella is determined to make her wish come true.
PLUS
(11/24-11/6) Paw Patrol Live! "Race to the Rescue" at Kings Theatre. It's the day of the Great Adventure Bay Race between Adventure Bay's Mayor Goodway and Foggy Bottom's Mayor Humdinger, but Mayor Goodway is nowhere to be found. PAW Patrol to the rescue! Ryder summons Marshall, Chase, Skye, Rubble, Rocky, Zuma, and the newest pup, Everest, to rescue Mayor Goodway and to run the race in her place.
MUSIC & NIGHTLIFE
(11/19) Squeeze at Beacon Theatre.
PLUS
(11/2) A Perfect Circle at Barclays Center.
(11/3) The Shins at Brooklyn's Kings Theatre.
(11/7) The Yeah Yeah Yeahs perform at Kings Theatre, celebrating the reissue of Fever to Tell.
(11/8) Tegan and Sara at Kings Theatre.
(11/10) Evanescence: Synethsis Live with Orchestra at Kings Theatre.
(11/10) Morris Day & The Time at BB King Blues Club & Grill.
(11/24-11/25, 12/8-12/9, 12/22-12/23, 12/29-12/30, 1/6, 1/13) Bar Car Nights at New York Botanical Garden. On these nights exclusively for adults 21 and over, the wintry landscape of NYBG sets the scene for festive outdoor adventures, with an after-dark viewing of the Holiday Train Show® as the centerpiece. Sip a cocktail as you journey through a series of station stops, including pop-up acts featuring some of NYC's favorite street performers.
SIGHTSEEING/MARKETS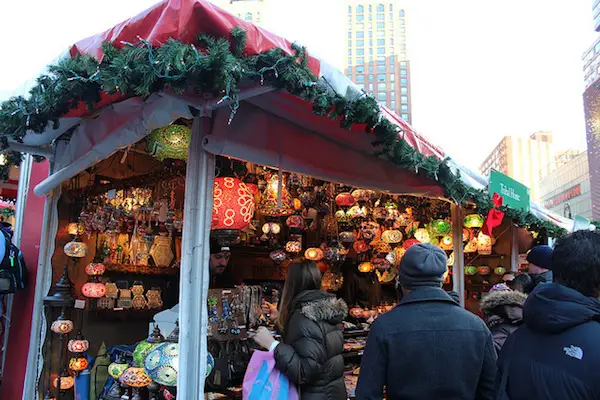 Union Square Market. Photo: flickr/Shinya Suzuki
(11/16-12/24) Union Square's Holiday Market urbanspacenyc.com.
(10/28-3/4) Bryant Park's Winter Village kicks off the holiday shopping season early. wintervillage.org.
(11/4) QUEEN OF THE RIDE! THE RIDE introduces a special Saturday night sighsteeing experience (first Saturday of the month) aboard their luxury motorcoach, where your hilarious drag host will guide you through wild performances right on the streets of New York. Buses board and return at Hardware Bar in Hell's Kitchen. Free booze on board and a complimentary drink inside Hardware Bar upon your return. $79 pp. Save 25% on Queen of the Ride at 10pm and 11:30pm. Special rates for groups of 10+.
(11/14-12/24) The Grand Central Holiday Fair returns to Grand Central Terminal with 40 artisans in Vanderbilt Hall selling art and home goods; holiday-themed items; bath and body products; toys; and clothing and accessories for men, women, and children. The Holiday Fair is open Monday through Friday, 10am-8pm, until 7pm Saturdays, and 11am-6pm Sundays. Closed Thanksgiving and open 10am-6pm on Christmas Eve.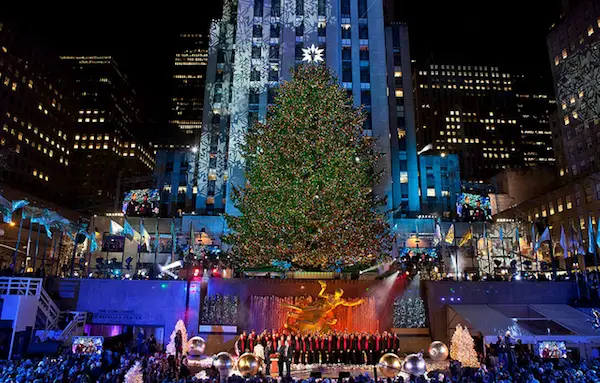 (11/29) The Rockefeller Center Christmas Tree Lighting, 8pm. The towering tree in Rockefeller Center is a world-renowned symbol of the holiday spirit. This year's lighting will feature live performances from 7 to 9pm. The tree will remain lit, and can be viewed, through Jan. 7, 2018.
A Slice of Brooklyn's Brooklyn Chocolate Tour visits artisanal chocolate sites Jacques Torres Chocolate in DUMBO, The Chocolate Room in Cobble Hill, Raaka in Red Hook, and Li-Lac Chocolates in Industry City, Sunset Park. Offered every Monday, Wednesday, Friday. All tours depart and return to Union Square.
MACY'S THANKSGIVING PARADE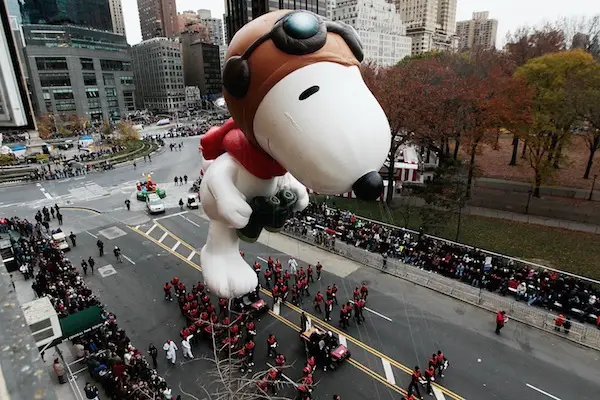 (11/23) The Macy's Thanksgiving Parade is a longstanding New York City tradition, responsible for unofficially kicking off the holiday season. Dating back to 1924, the parade sees generations of families—locals and visitors alike—lining up to see floats, live entertainment, iconic hot air balloons (Snoopy, Hello Kitty, Spiderman, and many others), plus a glimpse of Santa on his sleigh at the end. The parade gained popularity after being prominently featured in the film classic Miracle on 34th Street, starring a very young Natalie Wood. The parade route runs down Central Park West from 77th Street to Columbus Circle, along Central Park South to Sixth Avenue, down Sixth Avenue to 34th Street and along 34th Street to Macy's Herald Square. Line up early! Starts 9am. Check here for performers and more information on the parade.
SHOWS

(11/10/17-1/1/18) The NYC perennial holiday favorite Christmas Spectacular Starring The Radio City Rockettes® returns. Fan favorites include "New York at Christmas," where the Rockettes® board a real double-decker bus, and the high-energy tap number "Twelve Days of Christmas." Of course, beloved classics like "The Parade of the Wooden Soldiers" and "The Living Nativity" will also be back. rockettes.com/christmas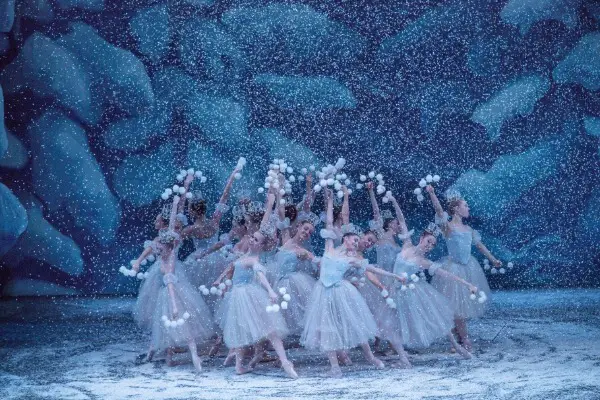 Photo credit: © Paul Kolnik
(11/24-12/31) Tschaikovsky's beloved melodies transport viewers to a world where mischievous mice besiege a battalion of toy soldiers, and an onstage blizzard leads to an enchanted Land of Sweets. George Balanchine's The Nutcracker at nycballet.com.
WEATHER IN NEW YORK IN NOVEMBER
Winter has not officially arrived in New York in November, but you can expect the weather to be brisk all the same. Lows average around 40 degrees Fahrenheit, with highs getting up into the mid-50s. You can expect some outlier days, warmer or colder, but extremes of weather (snow, sleet, freezing rain) are definitely rare. Hurricane season in the Atlantic continues through the month of November, but occurrences of heavy winds and flooding are also very rare. You will want your heavier jacket, but not the heaviest parkas yet. Gloves, hats, and scarves are smart to pack, and maybe a (stylish) pair of boots, too.
Looking for Free Group Planning Services?
Get free advice on planning your group's trip to New York.
RESTAURANTS

Multi-concept restaurant offering modern Japanese cuisine, a...

THEATER

A new musical following a wannabe rock star who poses as tea...

SHOPPING

Heaven for designers, artists, and antiques lovers....

SIGHTSEEING

A state-of-the-art Coney Island amusement park that's home t...