Top 10 NYC Must-See Spring Festivals
February 2, 2018 - by Chelsey Grasso
NYC spring festivals are a great way to join the rest of the city as it comes out of hibernation and back into action. The ten festivals below cover an array of interests, from food and film to music and culture. There's an event for every type of visitor, and we're pretty certain that more than one will catch your eye. The winter is finally ending; to enjoy New York City in all its springtime glory catch one of these great 2018 festivals below.
1. Macy's Flower Show (March 25—April 8)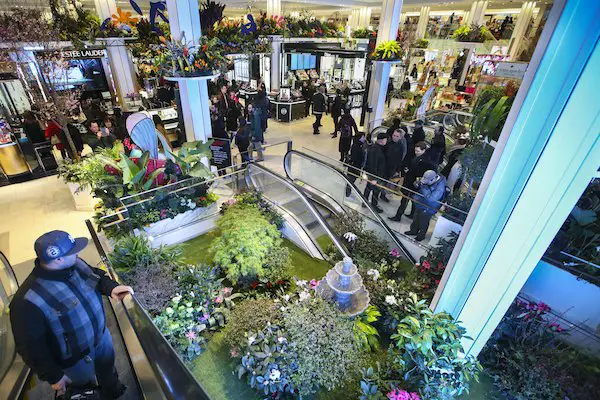 Photo: John Mincillo
The Macy's Flower Show is known for showcasing some of the most breathtaking blooms in all of New York City. This year's theme is built on a Once Upon a Springtime story, with original characters brought to life amid vibrant blooms and sculptures. The show offers a one-of-a-kind opportunity to enter a fairy tale world and enjoy hundreds of thousands of live flowers, plants, and trees from around the world. Allot some time to take in the sights, smells, and beauty of the floor-to-ceiling array in Macy's Herald Square. 151 W. 34th St., 212-695-4400, social.macys.com/flowershow/
2. Tribeca Film Festival (April 18—29)
Cinephiles congregate once a year in Lower Manhattan to get their fix of independent films and Tribeca Talks with world famous directors, actors, and filmmakers. Visitors can purchase ticket packages or tickets to individual screenings and events during the festival. tribecafilm.com/festival
3. NYC Vegetarian Food Festival (May 20—May 21)
Not only will you be snacking on vegetables galore at the NYC Vegetarian Food Festival, but you'll also be learning about sustainability, healthy living, and going green. Attendees can sit in on lectures and get cooking tips from big name chefs during the two-day event. nycvegfoodfest.com
4. Sakura Matsuri (April 28—29)
Cherry Esplanade, photo by Mike Ratliff
Held at the Brooklyn Botanic Garden, this beloved cherry blossom festival will be celebrating its 37th anniversary this year. Sakura Matsuri incorporates both modern and traditional Japanese culture, and it offers the perfect opportunity to check out the garden's famous Cherry Esplanade. bbg.org
5. Washington Square Outdoor Art Exhibit (May 26, 27, 28 & June 2, 3)

The Washington Square Outdoor Art Exhibit is held right in the heart of Greenwich Village every spring. This eclectic art exhibit was inspired by Jackson Pollock in 1931 when he brought some of his paintings to a sidewalk near the park in hopes of making a few bucks. The event has since grown to become traditional happening in Lower Manhattan with artists requiring a nomination in order to showcase their work. wsoae.org
6. Five Boro Craft Beer Festival (May 19)

As its name suggests, this is the festival craft beer fans won't want to miss. Attendees pay one price for the evening, allowing them to choose between over 100 brews. Catered food is also provided, as well as live music for entertainment. fiveborocraftbeerfest.com
7. Frieze Art Fair (May 3—May 6)

Head over to Randall's Island Park this spring to experience the contemporary art world in an alfresco environment. Interact with public installations, sit in on "Frieze Talks," enjoy the Frieze Art Fair's Reading Room, and of course, lay your eyes on some of the most talked about artwork in the city. friezenewyork.com
8. The Bloody Mary Festival (April 8)
Celebrate the most beloved brunch cocktail at biggest bloody mary event of its kind. Local bars and restaurants will compete for the "Best Bloody Mary" title at this delicious festival. All the meanwhile, food trucks keep you well fed, DJs will keep you well entertained, and tutorials will keep you well educated on how to make the perfect bloody mary. thebloodymaryfest.com
9. DanceAfrica (May 25—May 28)
Hosted by BAM, DanceAfrica is the country's biggest festival dedicated to African dance. This year's festival will be focusing on West African rhythms, exploring the culture through art, film, performance, and a spectrum of community events for those wanting to learn more about African dance. bam.org
10. Governors Ball Music Festival (June 1, 2, 3)
When you have the New York City skyline as your backdrop, it's hard to think of any other place you'd rather be enjoying a live music lineup. Chance the Rapper, Lorde, Flume, Beach House, Schoolboy Q, Bleachers, and Danny Brown are just some of the names that will be performing at this year's festival. governorsballmusicfestival.com
Looking for Free Group Planning Services?
Get free advice on planning your group's trip to New York.
RESTAURANTS

Brings together the character of Hell's Kitchen past with th...

THEATER

Gaston Leroux's famous period thriller is now one of Broadwa...

SHOPPING

DataVision is redefining retail with their new, fully intera...

SIGHTSEEING

Spirit Cruises is New York City's most vibrant and entertain...