NYC Sporting Events This Month - April 2018
April 21, 2018 - by CG Directory Editor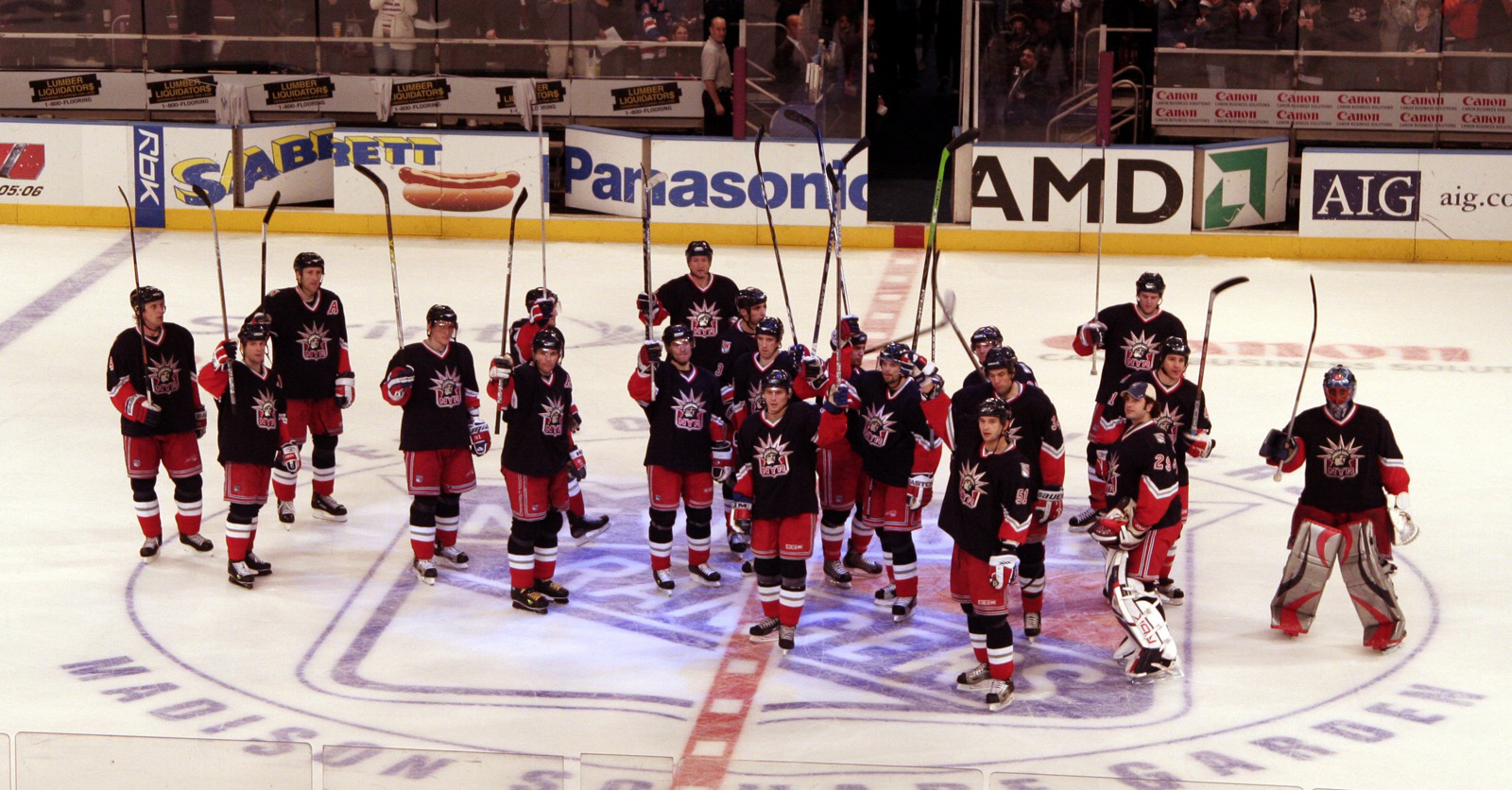 Photo: Joseph O'Connell/Flickr

Sometimes you just want to get out in the stands and cheer on your team. In New York City, you can do that! No matter what your preferred sport is (basketball, hockey, baseball, etc.), the City Guide calendar is filling in all the blanks. Don't miss a game this season, from college to the minor leagues all the way up to the pros.


The Real Deal Boxing Showcase Series III - Kings Theatre
April 21, 2018 - Brooklyn
Boxing legend Evander Holyfield's Real Deal Sports & Entertainment is proud to present its' Real Deal Showcase Series III, his second of four boxing events live from Kings Theatre. The event will feature some of the best local up-and-coming talent participating in competitive and entertaining fights. The events are meant to provide an opportunity for local boxers to be able to fight consistently in front of their fans in their hometown, which has been a rarity on a grass-roots level since state-implemented policies have drastically raised the cost of promoting events
Run as One (4M) Presented by JPMorgan Chase - Central Park
April 22, 2018 - Manhattan
This four-mile race raises funding and awareness in the fight against lung cancer and honors former Chase Manhattan Bank chairman Tom Labrecque, a lifelong never-smoker who died from lung cancer at age 62. More than 60% of people diagnosed with lung cancer have either never smoked or have quit smoking. Join thousands of others this year and "run as one" to raise money to support lung cancer research and awareness.
5K Run/Walk & Community Day - 9/11 Memorial & Museum
April 22, 2018 - Financial District
The sixth annual 9/11 Memorial & Museum 5K Run/Walk and Community Day will take place on Sunday, April 22, 2018. The route begins in lower Manhattan and takes participants through scenic Battery Park City with iconic views of One World Trade and the Statue of Liberty. The 5K Run/Walk finishes adjacent to the Memorial Plaza where Community Day takes place. The activities and all-ages entertainment will be free and open to the public.
World Tai Chi Day Kicks off Bryant Park's 2018 Tai Chi Season - Bryant Park
April 28, 2018 - New York
Bryant Park, New York's town square, will kick off its annual Tai Chi program on Saturday, April 28 with "World Tai Chi Day." Free instruction will be provided to newcomers. Hundreds of cities in more than 80 nations participate in World Tai Chi Day, which seeks to inform people of the health and healing benefits of the ancient Chinese ritual. Tai Chi is a way of moving. Its graceful, slow-moving pace works with one's "qi" or life force. Originally developed 500 years as a martial art, modern practitioners focus more on its healing aspects. Bryant Park's Tai Chi classes, provided by the Tai Chi Chuan Center and led by teachers and students who train at CK Chu Tai Chi under the direction of Master Hyland Harris, take place on Tuesdays and Thursdays beginning on May 1 and ending on August 30, from 7:30 to 8:30 AM on the Fountain Terrace, off Sixth Ave. and 41st St. All classes and free and registration is not required. For more information on Tai Chi and hundreds of other free public events and programs, please visit the Bryant Park website or call 212-768-4242.
UAE Healthy Kidney 10K - Central Park
April 29, 2018 - Manhattan
Join NYRR and the Embassy of the United Arab Emirates to celebrate the 14th annual UAE Healthy Kidney 10K. The event offers something for everyone—thrilling performances in Central Park from some of the world's top athletes, a fast course for runners chasing PRs, a great cause to inspire everyone, finisher medals, excellent giveaways, including a technical shirt for every registered entrant, and fantastic raffle prizes.
WWE Monday Night Raw - Nassau Veterans Memorial Coliseum
May 07, 2018 - Uniondale
WWE Monday Night Raw is coming to NYCB LIVE, home of Nassau Veterans Memorial Coliseum on Monday, May 7, 2018. See All Your Favorite RAW Superstars Including: Roman Reigns, Seth Rollins, Sheamus, Cesaro, Braun Strowman, Kane, Finn Balor, Samoa Joe, Matt Hardy, Bray Wyatt, Alexa Bliss, Sasha Banks, Asuka, Enzo Amore, And Many More!
Looking for Free Group Planning Services?
Get free advice on planning your group's trip to New York.
MORE Activity Planner ARTICLES
RESTAURANTS

Brings together the character of Hell's Kitchen past with th...

THEATER

Kander and Ebb's "musical vaudeville" in which Roxie Hart ga...

SHOPPING

Find the right gear for your workout. ...

SIGHTSEEING

The only provider of ferry transportation to the Statue of L...