The Best Places to Get a Hearty Meal After the NYC Marathon
October 23, 2017 - by Chelsey Grasso
Running a marathon is a big deal. It can take months of training, but the high you feel after crossing the finish line is one that's difficult to replicate…and there's only one way to follow it up. A hearty meal will never taste quite as amazing as after the NYC marathon, and these seven hotspots will prove it to you. Enough cheering, it's time to get yourself a meal. Go on, you earned it!
Best of NYC Marathon Restaurants: Brazilian Steak Buffet at Fogo de Chao (Midtown West)
It's hard to think of a meal that's more filling than a Brazilian steak buffet, which is exactly what you'll find at Fogo de Chao. Let the meats come to you as you indulge in all-you-can-eat top sirloin, beef tenderloin, rib eye, beef ribs, bottom sirloin, and more. Hearty side dishes are served throughout the meal as well, including soft, cheesy bread rolls, polenta, and caramelized bananas. 40 W. 53rd St., 212-969-9980, fogo.com
Best of NYC Marathon Restaurants: Family-Style Meal at Buca di Beppo (Midtown West)

Gather your loved ones and celebrate at Buca di Beppo, the ultimate family-style dining experience. Don't just choose one entrée, instead fill your table with all the necessaries for an Italian feast! Fill up on Veal Parmigiana, Baked Ziti, Stuffed Shells, and Supremo Italiano Pizza. The family-style portions guarantee that nobody will still be hungry once they're done chowing. 1540 Broadway, 212-764-6527, bucadibeppo.com
Best of NYC Marathon Restaurants: Giant Hot Sandwich at Katz's Delicatessen (Lower East Side)
A sandwich at Katz's Delicatessen will cost you around twenty bucks, and that's because it's probably going to be the largest two pieces of bread stacked with warm meat that you'll ever even attempt at eating. The Katz's Pastrami Hot Sandwich is smoked to juicy perfection and hand carved to your specifications, and if pastrami isn't really your jam, try out their brisket, turkey, and corned beef options. 205 E. Houston St., 212-254-2246, katzdelicatessen.com
Best of NYC Marathon Restaurants: American Home Cooking at Guy's American Kitchen and Bar (Midtown West)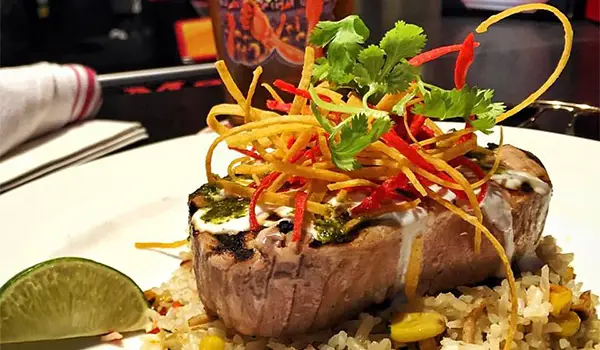 Guy Fieri is not known for the healthiest or lightest of food options, but he is known for creating mouth-wateringly delicious meals. You'll find a plethora of his recipes at Guy's American Kitchen and Bar, where you can order anything from Dragon Chili Cheese Fries and Chipotle BBQ Pork Soft Tacos to Rotisserie Roasted Garlic-Rosemary Chickens and Crispy Shrimp Po'Boys. 220 W. 44th St., 646-532-4897, guysamerican.com
Best of NYC Marathon Restaurants: Soup Dumplings at Shanghai Cuisine (Chinatown)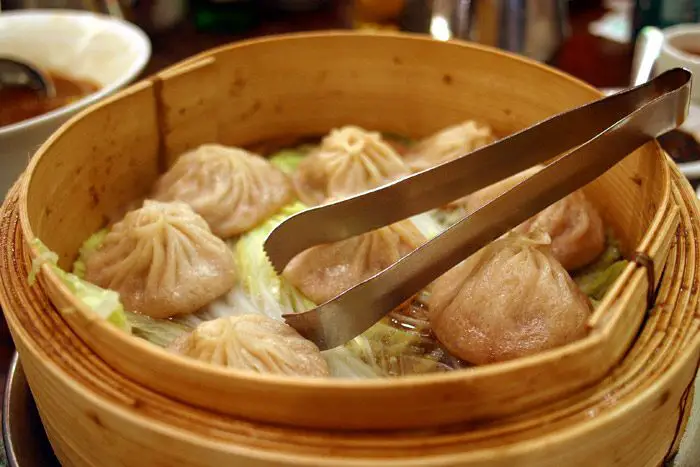 You don't normally think of soup as being filling, but when it's pouring out of a steaming hot Shanghai soup dumpling, you'll have to think again. Famous for their dumplings, Shanghai Cuisine serves both steamed and pan fried versions of this beloved dish, and tourists and locals alike regularly line up to get their hands on these goodies. Chicken, vegetable, crab, shrimp, and pork versions are available. 89 Bayard St., 212-732-8988
Best of NYC Marathon Restaurants: Juicy Steak at Del Frisco's Double Eagle Steak House (Midtown West)

Order up a juicy steak at Del Frisco's Double Eagle Steak House if you really want to treat yourself right after running those 26 miles! Whether you prefer a special treat, like Filet Mignon, or something a little more intense, like a Prime Porterhouse, Del Frisco's has you covered. As if it can't get any better, pair your red meat with some Lobster Macaroni & Cheese or Cauliflower & Brie Au Gratin. 1221 Ave. of the Americas, 212-575-5129, delfriscos.com
Best of NYC Marathon Restaurants: Beer and Burgers at Heartland Brewery (Midtown West)
There's something so satisfying about a beer and a burger, and you can get them both at Heartland Brewery. This casual chophouse has a wide selection of beers on tap with an all-American menu that cures every craving. Be sure to try the Kobe Beef Mini Burgers, a house specialty that comes in the form of three sliders served with sliced red onion, McClure's pickles, and potato rolls. Additional locations in Hell's Kitchen and Midtown West. 127 W. 43rd St., 646-366-0235, heartlandbrewery.com
Looking for Free Group Planning Services?
Get free advice on planning your group's trip to New York.
RESTAURANTS

Brings together the character of Hell's Kitchen past with th...

THEATER

Kander and Ebb's "musical vaudeville" in which Roxie Hart ga...

SHOPPING

An array of quality branded merchandise showcasing HBO's® aw...

SIGHTSEEING

In addition to 360-degree views from Midtown Manhattan, the ...