The 10 Best Milkshakes in New York City
June 20, 2018 - by Chelsey Grasso
A milkshake can turn any day into an extraordinary day, especially if it comes from one of these ten NYC restaurants. The milkshakes that are being served at the locations below are far from ordinary, bursting with rich flavors, and perfectly creamed for your stomach's sweet-craving appetite. Try one, try two, or try them all. (Let's be real, you're going to want to try them all.)
Best of NYC Milkshakes: Black Tap (West Village)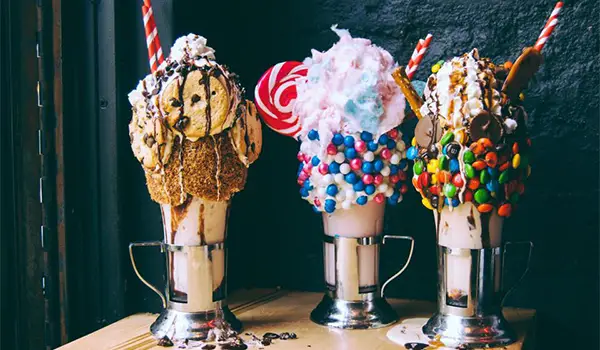 Black Tap has a top-notch menu of classic shakes, including Black Cherry, Nutella, and Caramel…but it's the Crazy Shakes that will blow your culinary mind. Going for $15 a pop, these enormous treats are decadently covered in candies, cookies, and baked goods galore. The Cotton Candy Strawberry Shake is a favorite thanks to its vanilla-frosted rim, pearl chocolates, lollipop, rock candy, whipped cream, and cotton candy toppings. If you're craving something a little more on the savory side, the Sweet 'N' Salty has got you covered. Additional locations in the South Village, SoHo, and Midtown West. 248 W. 14th St., 212-675-7236, blacktapnyc.com
Best of NYC Milkshakes: Brooklyn Farmacy & Soda Fountain (Carroll Gardens)

This throwback soda parlor in Carroll Gardens is the total package. It's a quaint, vintage atmosphere with a menu chock-full of sundaes with names like Mr. Potato Head, a surprisingly long list of ice cream floats, and killer shakes. You can play fast and loose with your milkshake order (think of this as a bar for non-alcoholic beverages), but if you order off the menu, go for the black and white with vanilla ice cream and hot fudge. Or take a step out and get the Flatbush, which is a vanilla or chocolate egg cream, which is made not with eggs but with seltzer (go figure!). 513 Henry St., 718-522-6260, brooklynfarmacyandsodafountain.com
Best of NYC Milkshakes: Bill's Bar & Burger (Midtown West)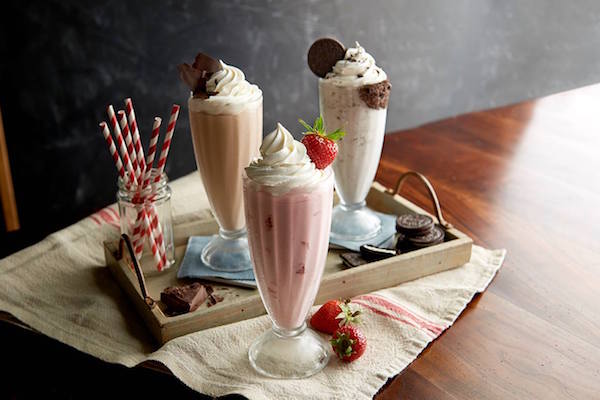 Conveniently located at Rockefeller Center, Bill's Bar & Burger has the classic beer-and-shake combo covered. Bill's offers three tiers of milkshakes: Classics, Signatures, and Monsters. Classic flavors are chocolate, vanilla, and strawberry, while Signatures include Cookies & Dream and s'mores-y Campfire. But the standout milkshake is the Chocolate Peanut Butter Bomb. It's blended with Reese's Pieces, salted peanuts, chocolate sauce, and peanut butter cups. We'll see you there! Additional location in the Financial District. Bill's Bar & Burger's Rockefeller Center location is located at 16 W. 51st St., 212-705-8510; downtown location: 85 West St., 212-567-2300, billsbarandburger.com
Best of NYC Milkshakes: Oddfellows Ice Cream Co. (East Village)
If you're looking to take a walk on the wild side, stop by Oddfellows for an odd-in-a-good-way milkshake. They have an ube-flavored shake topped with miso butterscotch drizzle and crumbled fortune cookies, for example (yes, please). You could also use their small-batch flavors like buttermilk honey blueberry or extra virgin olive oil as your base. Whatever your palate, we'd recommend you go flexible, as their available flavors can change on a daily and even hourly basis. Locations in the East Village, SoHo, Williamsburg, DUMBO, and Bushwick. Soho: 55 E. Houston, 646-756-4377, oddfellowsnyc.com
Best of NYC Milkshakes: Lexington Candy Shop (Upper East Side)

Malted milkshakes make us think of the 1950s, soda shops, and sock hops. Come get a taste of the past at Lexington Candy Shop, which serves malted milkshakes sure to satisfy your craving for milkshakes and nostalgia. Malted milkshakes are just milkshakes made with malted milk powder, a slightly savory mixture of milk, barley, and wheat in powder form. Try chocolate, vanilla, or strawberry—and/or one of Lexington Candy Shop's root beer floats! 1226 Lexington Ave., 212-288-0057, lexingtoncandyshop.net
Best of NYC Milkshakes: Momofuku Milk Bar (East Village)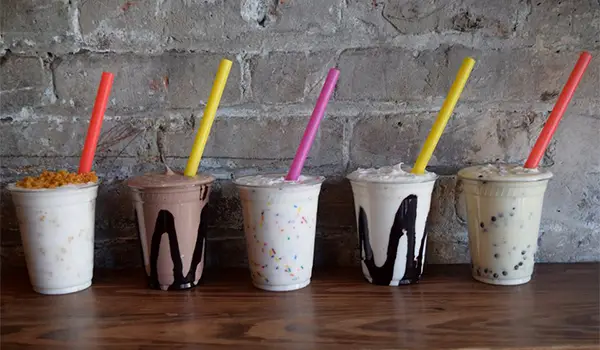 Known for their sweet treats and unique recipes, Momofuku Milk Bar definitely makes our list of best NYC milkshakes. Specifically, the Crunch Cereal Shake is one for the books. This Cereal Milk Shake is blended with cornflakes to create a smooth yet crunchy milkshake that tastes like you're slurping down the leftover milk in your morning breakfast bowl. The Birthday Cake Shake takes a similar approach, consisting of Cereal Milk Shake with birthday truffles blended in. Additional locations in Midtown West, Upper West Side, Nolita, and Brooklyn. 251 E. 13th St., 347-577-9504, milkbarstore.com
Best of NYC Milkshakes: Serendipity 3 (Upper East Side)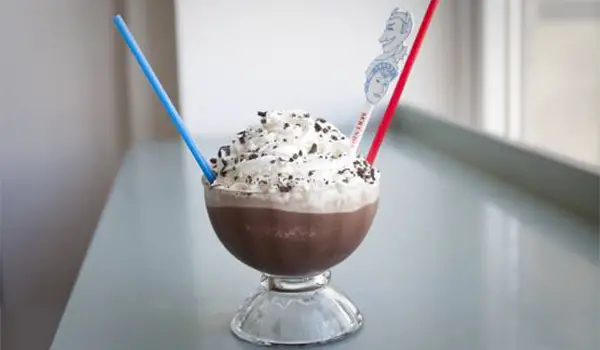 Serendipity 3 serves up a slew of Frrrozen Drinks, including their famous Frrrozen Hot Chocolate, Peanut Butter Frrrozen Hot Chocolate, and Frrrozen Mochaccino. These iconic beverages come in enormous servings, overflowing with fluffy whipped cream, so you may want to bring a buddy along to share with if you know somebody with a major sweet tooth. Also, be sure to sip slowly, as these chocolatey shakes have been known to cause the occasional brain-freeze (but it's totally worth it!). 225 E. 60th St., 212-838-3531, serendipity3.com
Best of NYC Milkshakes: Harlem Shake (Harlem)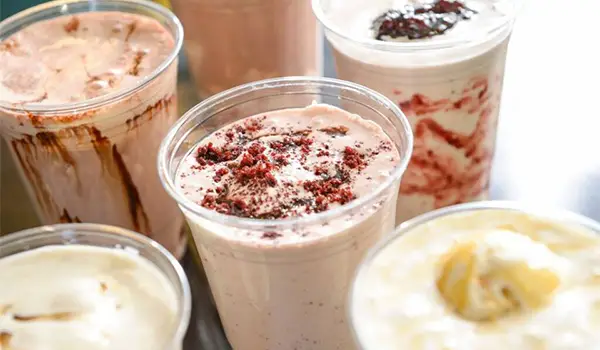 There are quite a few milkshakes to try at Harlem Shake (Black and White, Salted Caramel, Peach, Strawberry, Peanut Butter, Double Chocolate and Bacon, Wild Cherry, and Cookies and Cream…just to name a few), but it's their namesake milkshake that tops the list. The Harlem Shake is a red velvet flavored creation, and it's every bit as delicious as you would dare to imagine. Additional location in Harlem. 100 W. 124th St., 212-222-8300, harlemshakenyc.com
Best of NYC Milkshakes: Bareburger (Midtown East)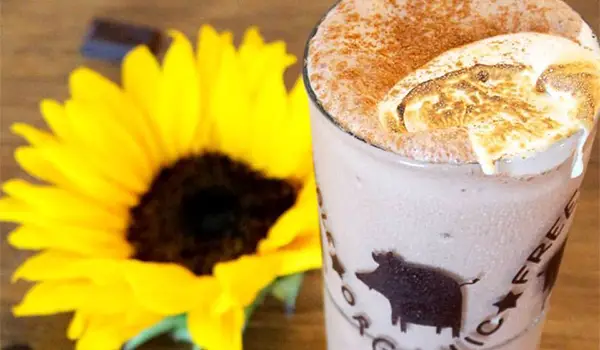 Bareburger sources all of its ice cream from Blue Marble, the only certified-organic creamery that's local to NYC—and trust us when we say you can taste the difference. The Banana Foster is a favorite, made with vanilla ice cream, banana, and caramel sauce. Also popular among New Yorkers is the Mexican Chocolate, made with chocolate ice cream, cayenne, cinnamon, and torched marshmallow. Additional locations in Greenwich Village, East Village, Chelsea, Midtown West, Financial District, Brooklyn, and Queens. 514 Third Ave., 212-679-2273, bareburger.com
Best of NYC Milkshakes: Van Leeuwen (East Village)

As far as we're concerned, Van Leeuwen serves the best ice cream in the city (fighting words, we know). Their milkshakes pass with flying colors as well, since their made with small-batch artisanal ice cream. You can try flavors like Earl Grey, pistachio, or salted caramel. Van Leeuwen's vegan, coconut-based ice cream is spectacular as well—ask for one scoop of vegan chocolate and one scoop of vegan peanut butter chocolate chip in your shake, and thank us later. Or wake up with an affogato: vanilla ice cream blended with plenty of chilled espresso. Locations in the East Village, West Village, the Upper West Side, Nolita, Lower East Side, and several in Brooklyn. East Village: 48 E. 7th St., 646-476-3865, vanleeuwenicecream.com
—Additional reporting by Merrill Lee Girardeau
Looking for Free Group Planning Services?
Get free advice on planning your group's trip to New York.
RESTAURANTS

Multi-concept restaurant offering modern Japanese cuisine, a...

THEATER

This streetwise musical will take you to the stoops of the B...

SHOPPING

The landmark store for America's longest-running catalog, of...

SIGHTSEEING

A state-of-the-art Coney Island amusement park that's home t...