Live Music in Clubs and Bars in Downtown NYC This Week - March 11-March 18
March 11, 2018 - by CG Directory Editor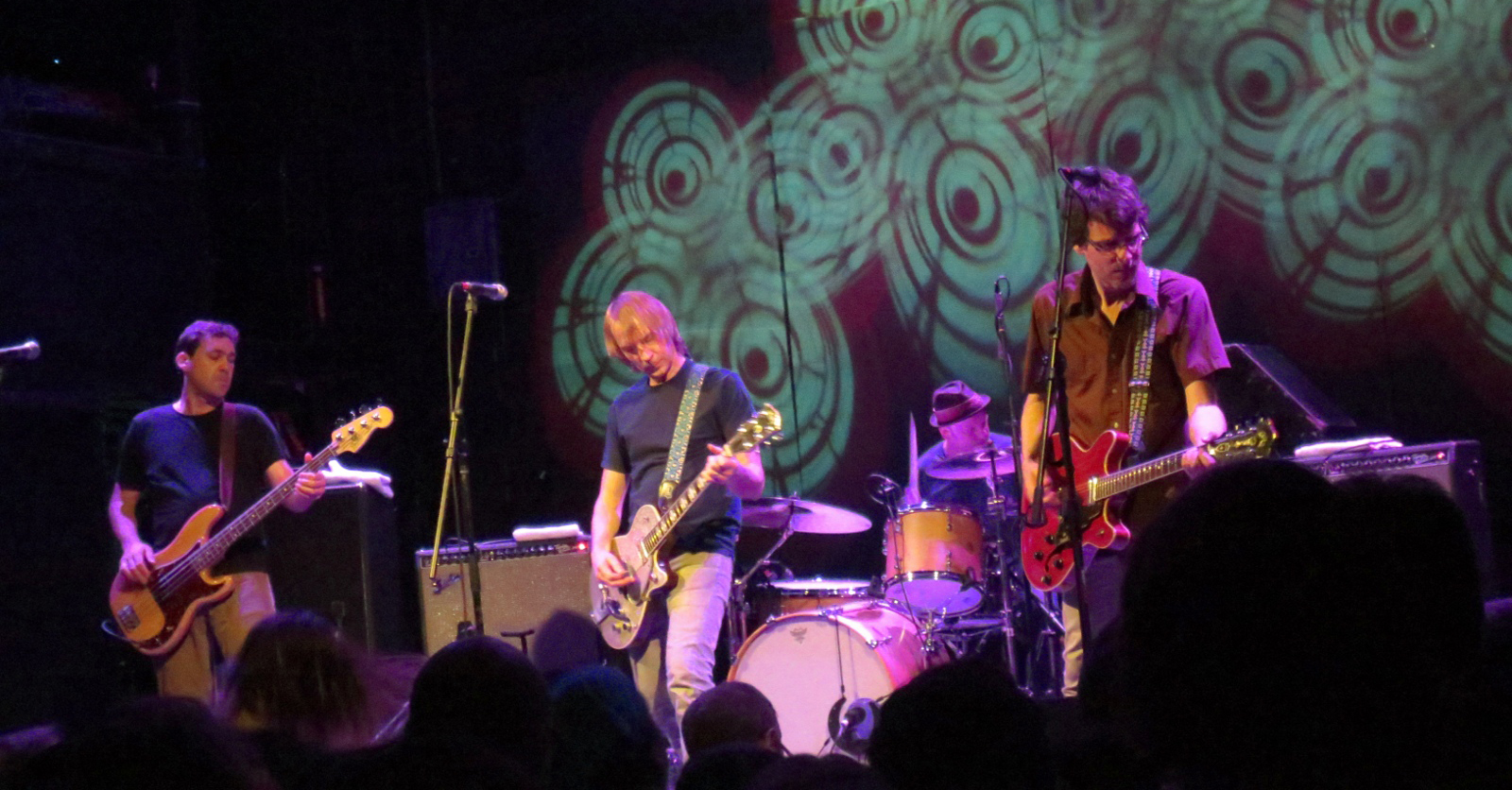 Photo: Vladimir/Flickr

Downtown NYC has long been a capital of live music. With venues like the Bowery Ballroom, Mercury Lounge, and Terra Blues, fans of rock, jazz, and more have long been drawn here. City Guide's roundup of live music in clubs and bars will connect you with tunes at dozens of great downtown venues.


John Zorn Matinee - Village Vanguard
March 11, 2018 - New York
John Zorn (sax) Jim Staley (trombone) Marc Ribot (guitar) Mary Halvorson (guitar) Ikue Mori (electronics) Christian McBride (bass) Kenny Wolleson (drums) Ches Smith (drums)
taste of science presents: Consciousness - DROM
March 11, 2018 - New York
Consciousness: scientists and philosophers have puzzled over it for centuries, but struggle to agree on its definition. It allows us to relate and respond to our surroundings and ourselves, but how does the brain create it and what happens when our awareness becomes disrupted? Join us, and our guests Drs. Jean-Rémi King (NYU) and Mark Baxter (Mt. Sinai), as we explore the power and vulnerability of the brain at our special Brain Awareness Week event. Learn how neuroscientists identify the brain architecture that underpins consciousness. Discover how drugs, like anesthesia, affect the conscious experience. Play neuroscience-inspired interactive games, while altering your brain chemistry with your beverage of choice!
The Very Best of Dave Mason (of Traffic) - City Winery
March 11, 2018 - New York
Traffic operated on the cutting edge of the late-sixties music scene at a time of rapid and remarkable evolution, and expanded rock's sonic palette. But whereas most progressive British bands were based in London, Traffic retreated to a secluded cottage in the countryside. A key component of Traffic's mythology is their communal stone cottage in Berkshire. It was here the group wrote and rehearsed material for Mr. Fantasy, and Traffic, among the more remarkable albums of the sixites. The group's first single was the Winwood/Capaldi composition "Paper Sun" followed in August 1967 by Mason's "Hole in My Shoe" which hit number two in the U.K. Mason also appeared in the debut album, Mr. Fantasy. His whimsical melodies and goodtime feel, incorporating simple yet rich lyrics, ensured a delightful contrast. His vocals adding a mellower texture to Winwood's, and an extra interest. His three tracks, "Utterly Simple", "House for Everyone", and 'Hope I Never Find Me There" having instant appeal. The latter relating more closely to the group's contributions. Mason became recognized for his obvious virtuosity on sitar, vocals, and guitar.
Lúnasa w/ Special Guest Natalie Merchant - City Winery
March 13, 2018 - New York
Formed in 1997 and celebrating its 20th anniversary, Lúnasa has long been one of contemporary Irish music's leading voices. Named after an ancient Celtic harvest festival in honour of the Irish god Lugh, the group that Folk Roots magazine once called an "Irish music dream team" was formed from members of some of Ireland's greatest bands and over the years has proven its mettle time and again, having sold over a quarter of a million records, and collaborated with notable artists outside the tradition such as Natalie Merchant, Mary-Chapin Carpenter, and Tim O'Brien. They have performed more than 2,000 shows across 36 countries including high-profile concert venues such as Carnegie Hall, The Hollywood Bowl, National Concert Hall (Dublin), and Paris Bercy, and many of the leading festivals such as Glastonbury, Womadelaide & Edmonton. From the start, the band's complex arrangements and unique sound reshaped the boundaries of traditional music and energized audiences the world over. Critical acclaim followed, The Irish Echo describing the band as the "the hottest Irish acoustic band on the planet"; MOJO magazine named the band "the new gods of Irish music," adding that "nobody since t... (read more)
Thrill Ride, Tri-State, America's Sweetheart, P@Atomic and Beasthead - Pianos
March 14, 2018 - New York
Excess Db Entertainment Presents: Justin Nozuka With Good Old War & River Matthews - Le Poisson Rouge
March 14, 2018 - West Village
Justin Nozuka Justin Nozuka official site | Justin Nozuka on Facebook | Justin Nozuka on Twitter | Justin Nozuka on Instagram Good Old War Good Old War official site | Good Old War on Facebook | Good Old War on Twitter | Good Old War on Bandcamp | Good Old War on Soundcloud Photo Credit: Dylan Eddinger River Matthews River MatthewsRiver MatthewsRiver MatthewsRiver MatthewsRiver MatthewsRiver Matthews
Lpr Presents Nils Frahm – All Melody - Le Poisson Rouge
March 15, 2018 - West Village
Donna The Buffalo - City Winery
March 16, 2018 - New York
One of the most dynamic and determined bands continuously touring America for since 1989, Donna the Buffalo has created a community environment at their shows through their distinctive, groove-heavy, and danceable music. Donna the Buffalo is a band for the people that is accessible, positive, and memorable. With roots in old time fiddle music that evolved into a soulful electric American mix infused with elements of cajun/ zydeco, rock, folk, reggae, and country, Donna's music often contains social and moral responsibility as core beliefs, and they are just simply fun to get out and celebrate life with. "For the dizzying array of styles and genres with which they work, Donna The Buffalo maintain a surprising level of consistency… over the course of their 25-year career, they retain a sharp focus that has helped them create some truly lasting music…" writes Elmore. "Few groups are this comfortable as performers, and even fewer would take as many risks." Donna the Buffalo is Jeb Puryear (vocals, electric guitar) and Tara Nevins (vocals, guitar, fiddle, accordion, scrubboard) joined by David McCracken (Hammond organ, Honer Clavinet & piano), Kyle Spark (bass) and Mark Raudabaugh... (read more)
GO 90s with The Fresh Kids of Bel-Air - Le Poisson Rouge
March 16, 2018 - West Village
The Fresh Kids of Bel-Air official site | The Fresh Kids of Bel-Air on Facebook | The Fresh Kids of Bel-Air on Instagram | #freshkidsofbelair The Fresh Kids of Bel-Air are seven NYC-based musicians who have come together to put on the dopest live 90s show in the city. Every Friday night at Le Poisson Rouge the Fresh Kids take the stage and perform the hits you loved when you were still rocking butterfly clips and feeding your Furby. But the band doesn't stop at Fridays on Bleecker Street, they are taking the COUNTRY by storm, playing legendary venues like The Capitol Theatre, The Paramount on Long Island, The Howard Theatre in DC, Brooklyn Bowl, Union Transfer in Philly, Baltimore Soundstage and more! Seriously, they are all that and a bag of chips!
Shane Smith & The Saints, Flatland Cavalry - Mercury Lounge
March 17, 2018 - New York
Play just the first 10 seconds of "The Mountain," which opens Geronimo, the latest and most ambitious release from Shane Smith & The Saints. Robust a cappella, four-part harmonies set the stage for a saga of family tragedy, a young son's revenge and a blaze burning eternally in a Pennsylvania mine. The vivid lyrics, powerful vocals and thumping four-beat drums throughout this song are reason enough for lovers of creative roots music to celebrate. From their home base in Austin through performances across the country (17 states) and abroad (Ireland), these five gentlemen have not just stuck stubbornly to their musical and lyrical convictions. They've defied audience expectations by delivering incendiary shows, each one ignited by the band's ability to unleash, feed from and feed back the energy of the crowd — in spite of the fact that they don't fit easily into any musical category.
Back To The Eighties Show with Jessie's Girl - Le Poisson Rouge
March 17, 2018 - West Village
Back To The Eighties Show with Jessie's Girl Jessie's Girl official site | Jessie's Girl on Facebook | Jessie's Girl on Instagram | #jessiesgirlnyc This amazing 7-piece band brings back the '80s like no other, performing all the greatest hits live! JESSIE'S GIRL's primary line-up includes a team of NYC's top rock and pop vocalists: Up-and-coming superstar Jenna O'Gara, Off-Broadway's Chris Hall and renown "Sting" impersonator Mark Rinzel. They are backed by one of the tightest bands in the city comprised of 20+ year veterans of the NYC music scene: Eric Presti on guitar, Sky on keys, Drew Mortali on bass, and Michael Maenza on drums, each with dozens of credits performing with authentic 80's icons who made the music famous to begin with! In fact, BRET MICHAELS, MC HAMMER, COLIN HAY from MEN AT WORK, TIFFANY, DEBBIE GIBSON, TAYLOR DANE, MIKE SCORE from A FLOCK OF SEAGULLS, TONE LOC, ROB BASE and many more have all performed at the BACK TO THE EIGHTIES SHOW.
Altan - City Winery
March 18, 2018 - New York
With a career in Irish music for 35 years, Altan has achieved legendary status in a genre that has been equally shaped by the band's influence and genius. Audiences from Ireland to Japan to Australia to Europe have embraced their heartwarming, dynamic live performances and their exquisitely produced, award-winning recordings. Over a dozen releases to date, ranging from the most touching old Irish songs to hard-hitting reels and jigs. On their latest album, The Widening Gyre, Altan features guest musicians from Nashville and honors traditional tunes that have made their way to America. Adding to their long list of awards and honors, fiddler, singer and founding member Mairéad Ní Mhaonaigh was the recipient of the Gradam Ceoil/Traditional Musician of the Year in 2017. Though the band received the same award for Band of the Year in 2001, Mairéad was glad to be recognized on her own in a genre that has been slow to recognize female musicians. She is only the third woman in twenty years to receive the main award.
Looking for Free Group Planning Services?
Get free advice on planning your group's trip to New York.
MORE Activity Planner ARTICLES
RESTAURANTS

Serving hearty All-American family fare since 1980....

THEATER

The Imbible sweeps audiences along a 10,000-year journey thr...

SHOPPING

DataVision is redefining retail with their new, fully intera...

SIGHTSEEING

Hop aboard these environmentally friendly twin-hulled catama...