Summer Showtime, Bryant Park Picnics, Free Performing Arts Series
July 11, 2018 - by Regina Molaro
Thanks to Bryant Park Corporation—a private, not-for-profit—there are lots of fun, free, music, dance, and theater events to enjoy all summer long at Bryant Park. The 2018 schedule for the newly renamed free performing arts series, Bryant Park Picnics, will feature live theater, major artists, dance, and weekly picnics on the Lawn.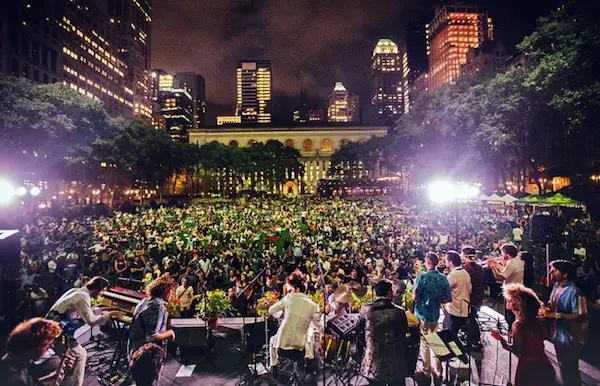 Photo: Ryan Muir
Bryant Park Picnics has partnered with Carnegie Hall Citywide to offer free outdoor concerts with classical, blues, Latin, gospel, and world music artists. 2018 also marks the 5-year anniversary of The Drilling Company's Shakespeare at Bryant Park and the third year in collaboration with New York City Opera. The scenic Midtown Manhattan park, which is visited by more than six million people each year, is located behind the New York Public Library between 40th and 42nd Streets, and Fifth and Sixth Avenues. The sprawling park offers guests movable chairs and tables, cafe umbrellas to shade the sun, and a variety of food kiosks and restaurants, as well as restrooms. More performances will be announced shortly for August.
Contemporary Dance July 13, 6pm
Tina Croll + Company, Kate Weare Company, Kinetic Cabaret Productions, Bryn Cohn + Artists, and Diva Dance Studio
Tina Croll & Company
Tina Croll has been a part of the New York avant-garde and a founding member of Dance Theater Workshop. Her work is powerful, provocative, and full of mysterious drama. Renowned for its startling combination of formal choreographic values and visceral, emotional interpretation, Kate Weare Company was established to showcase artistic director Kate Weare's intimate, raw and intense choreography. Her dances explore contemporary views of intimacy, both tender and stark, by drawing on our most basic urges to move and decode movement. Founded in 1994 by Arrie Davidson and Shannon-Kayne Amoureux, Kinetic Cabaret Productions brings its brand of sculptural, sensual partnering mixed with Buster Keaton-meets-Butoh style while presenting work that is socially relevant, athletic, visually stunning, and artistically progressive. Award-winning and critically acclaimed, Bryn Cohn + Artists, comprised of collaborative artists from diverse backgrounds, creates works to investigate the edges of physical, imaginative, and cognitive boundaries. Finally, Diva Dance Studio will be performing on stage. The company offers dance classes to ages 1 1/2 through adult. Areas of dance include ballet, tap, jazz, hip-hop, acro, Broadway jazz/tap, all boys break dancing, contemporary, lyrical, and the award-winning diva dance competition team. 6pm.
Carnegie Hall Citywide Series July 18, 5:30pm
Brave Combo
Texas-based Brave Combo's performances journey into the worlds of salsa, merengue, rock, cumbia, conjunto, polka, zydeco, classical, blues, and more. The group nabbed two Grammy Awards, and its music has been spotlighted in feature films and on television. Performances include playing at David Byrne's wedding reception and appearing on an episode of The Simpsons.
Contemporary Dance July 20, 6pm
HopeBoykinDance, Julia Ehrstrand, Gabrielle Lamb's Pigeonwing Dance, and Earl Mosely Institute of the Arts
HopeBoykinDance is a three-time recipient of the American Dance Festival's Young Tuition Scholarship. Boykin studied at Howard University and The Ailey School, and was assistant to choreographers Milton Myers and Talley Beatty. She was an original member of Complexions, and danced with Philadanco before joining the Alvin Ailey American Dance Theater in 2000. Boykin performs, teaches, and choreograph new works. Julia Ehrstrand has danced for The Next Stage Project (TNSP), Jana Hicks/Marijke Eliasberg, Max Stone, and Abe Abraham. In 2010, she choreographed a piece with Akiko Tomikawa for the Joffrey School of Ballet Summer Intensive. Her choreography has been presented at DOCH in Stockholm. She teaches at The Royal Swedish Ballet School, Balettakademien, and dances, choreographs, and teaches in China, Uganda, and Ethiopia. Gabrielle Lamb, winner of a 2014 Princess Grace Award for Choreography, is a New York City-based choreographer and dancer. She trained at the Boston Ballet School and joined Les Grands Ballets Canadiens de Montreal in 2000. A few years ago, she joined choreographer Christopher Wheeldon's company Morphoses. Lamb won the coveted Banff Centre's 2014-15 Clifford E. Lee Choreography Award and was honored with a New York City Center Choreography Fellowship. Most recently she was awarded S&R Foundation's Washington Award Grand Prize for 2018. Her movement style and theatricality were influenced by George Balanchine, Jiri Kylian, and more. She also created leading roles in new works by contemporary artists such as Pontus Lidberg, Luca Veggetti, Matthew Neenan, Adam Barruch, and more. Earl Mosley's Institute of the Arts Dance provides an environment where student artists from diverse ethnic, cultural, and socioeconomic backgrounds can achieve the highest levels of excellence through positive collaborations with teachers and peers.
Carnegie Hall Citywide Series July 25, 5:30pm-7pm
Decoda
Photo: Caroline Bittencourt
Decoda—alumni of the acclaimed Ensemble Connect—surprises and delights audiences with the melodic splendor of Ennio Morricone's Cinema Paradiso film score, a colorful arrangement of Rimsky-Korsakov's Scheherazade, and Libertango, Piazzolla's groundbreaking foray into an expressive tango style.
Shakespeare July 27 and 28, 7 to 9pm, and July 29, 3 to 5pm
Shakespeare's Twelfth Night by The Drilling Company
Twins Sebastian and Viola stumble upon the flamboyant, technicolor world of Illyria, which was visually inspired by the surreal wonderlands of The Wizard of Oz, Yellow Submarine, and the works of Doctor Seuss. Twelfth Night, which was directed by Jane Bradley, returns with last year's cast mostly intact. It is led by Natalie Smith, Kathleen Simmonds, Lukas Raphael, Rachel A. Collins, Andrew Gombas, Emmanuel Elpenord, Jack Sochet, and Haley Simmonds. Susan Edkins returns as designer.
---
All Bryant Park Picnics events are free to the public. There is no dress code. Tickets aren't required and there is no line. At each show, Bryant Park lends out over 200 free blankets for guests to relax on while enjoying the performance. Hester Street Fair will bring an array of local food vendors. Beer and wine is available for purchase, and entertainment abounds with jugglers, supersized games, and more. Visit BryantPark.org for up-to-the-minute lineup updates and show additions.
Looking for Free Group Planning Services?
Get free advice on planning your group's trip to New York.
RESTAURANTS

Vida Verde brings the tastes, colors, sounds, and scents of ...

THEATER

In this new musical, Jenna, supported by her quirky crew of ...

SHOPPING

Heaven for designers, artists, and antiques lovers....

SIGHTSEEING

A state-of-the-art Coney Island amusement park that's home t...