Parallel Universe Buddies Show 'James & Jamesy in the Dark' Is a Must-See
October 11, 2018 - by Griffin Miller
James & Jamesy in the Dark: a no-intermission 75 minutes. Two guys from a parallel universe…or alien landing party…or existential playground, who find each other on a dark stage and proceed to illuminate their encounter vis a vis their mutually fashion-forward white-orbed headwear. Eventually they develop a relationship—they do share the same name-ish—with each other and theatregoers (who, incidentally, offer themselves up to J&J like happy Minions waiting for their orders from Gru).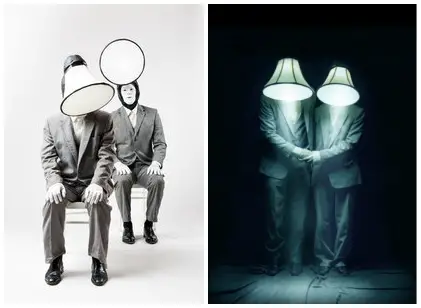 As for initial James and Jamesy's relationship, it evolves in a deft dance of discovery on a stage…in a theatre…where the only edges seem to be the outline of their headlamps. And their world—touching on Godot ("Why didn't he come?") and absurdist improvisation (beware baldheaded audience members)—set both inside and outside the theatrical black box, allows them to twist the performance art genre and their characters in gleefully unexpected ways.
I urge you to indulge in the specialize pleasures brought to you by Aaron Malkin and Alastair Knowles, a multi-award-winning British clown duo whose existential shenanigans help us to see the light: in them, ourselves, and in each other.
Do move swiftly, though, as this marks the last weekend these Brits are In the Dark at the SoHo playhouse, their last show being this Sunday, October 14th. 15 Vandam St., 212-691-1555, SoHoPlayhouse.com
---
Read more about the best of upcoming fall theatre here.

Looking for Free Group Planning Services?
Get free advice on planning your group's trip to New York.
RESTAURANTS

Beer hall casual meets craft cocktails with a healthy dose o...

THEATER

Kander and Ebb's "musical vaudeville" in which Roxie Hart ga...

SHOPPING

A premier destination for family entertainment....

SIGHTSEEING

Spirit Cruises is New York City's most vibrant and entertain...
SAVINGS OPPORTUNITIES
Fiercely Independent - Save $20 with coupon, tickets only $39, use code FIERCE. -04/07/2019
The Imbible - Take $15 off at Telechargeoffers.com. Use code IDCTYGD15. -04/30/2019