Holidays and Specials in New York City This Week - August 5-August 12
August 5, 2018 - by CG Directory Editor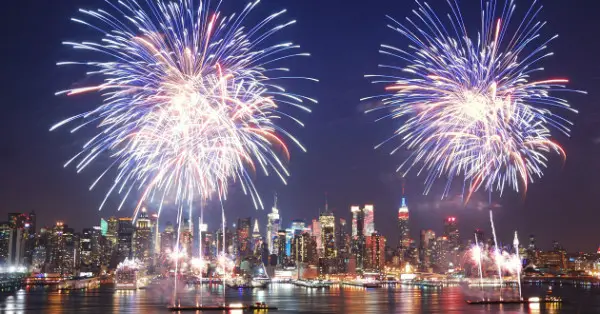 Holiday events and specials join parades and celebrations in City Guide's New York specials activity planner. From the Macy's Thanksgiving Day Parade to New Year's Eve to Christmas, Easter, Valentine's, and St. Patrick's Day, you'll find the best in New York holidays on City Guide's calendar listings. You'll also find amazing street fairs, festivals, and more.


NY Mead Day - Honey's
August 05, 2018 - Brooklyn
Five New York Meaderies have joined forces to create NY Mead Day. Come celebrate with interactive workshops and tastings sponsored by 810 Meadwerks, Enlightenment Wines, Salt Point Meadery, All-Wise Meadery, and Mysto Mead.
DARK FEST: Shot in the Dark, Program B - The Tank
Through August 05, 2018 - New York
We are turning off the lights! In this Festival and environmental initiative, The Tank is celebrating innovative performance that utilizes self-sufficient and alternative energy sources. Artists are using everything from glow-in-the-dark mouth guards to flashlights and more to shed some light on their work. Don't worry - we keep the AC on. SHOT IN THE DARK is Dark Fest's variety show of work all done with no lights from our grid.
nanimarquina Offers Discounts on Designer Rugs and Poufs - nanimarquina
Through August 05, 2018 - New York
nanimarquina, the family-owned rug design brand, is pleased to announce that from July 15th – August 5th the company will host their Special Summer Sale at participating dealers, offering 10% off their entire collection, including standard and custom sizes along with 15% off a rug and pouf combination. This is a great opportunity to own unique, hand-made rugs and poufs for below retail value. Sale items include the Shade and Shade pouf collection (originally $2,896, now $2,462), the Hayon x Nani Collection (originally $3,825, now $3,443), and the Tres Collection + Tres Poufs (originally $3,185, now $2,708), as well as the remainder of nanimarquina's collections.
106.7 LITE FM LITE 106.7 LITE FM - Bryant Park
August 09, 2018 - New York
106.7 LITE FM's Broadway in Bryant Park returns for its 18th season beginning Thursday, July 12th, with FREE, open-air lunch hour performances, for six consecutive weeks, featuring the best Broadway and Off-Broadway shows. Theater fans in the NYC area can expect musical numbers from hit shows including "The Band's Visit," winner of the 2018 Tony Awards' best musical and best performances by an actor and actress in a lead role in a musical, "Once on this Island," winner of the 2018 Tony Awards' best revival of a musical and "SpongeBob SquarePants," winner of the 2018 Tony Awards' best scenic design of a musical, as well as "Waitress" starring Katharine McPhee, "Beautiful" starring Melissa Benoist, "Come From Away," "Summer: The Donna Summer Musical," "Chicago," "Kinky Boots," "School of Rock," "FRIENDS! The Musical Parody," and many more. New this year, Disney on Broadway will take over 106.7 LITE FM's Broadway in Bryant Park on August 2nd with performances from the hit shows "Aladdin," "Frozen," and "The Lion King." The lineup for August 9th includes numbers from "Avenue Q", "Jersey Boys", "Smokey Joe's Café", and "Summer: The Donna Summer Musical." There will be a pre-sho... (read more)
2nd Annual Fear The Riff Expo - Brooklyn Expo Center
August 11, 2018 - Brooklyn
Get ready to shred at the for the 2nd Annual Fear the Riff Effects Pedal and Gear Expo, an exhibition packed full of boutique guitar accessories. This amp-tastic event is where you'll find the latest and greatest in stompboxes, Amps and plenty of guitars and basses. Feel free to bring your own axe and headphones to check out the goods from more than 60 plus vendors. You can also interact with industry experts, attend panels, see what's happening on the demo stage, fill up on craft beer and barbecue and much more at the Brooklyn Expo Center.
44th Annual HARLEM WEEK Festival - Multiple Venues
Through August 25, 2018 - New York
What: 44th Annual HARLEM WEEK Festival When: Sunday, July 29- Saturday, August 25 Where: Marcus Garvey Park, The Apollo Theater, The National Jazz Museum in Harlem, and more Event Description: On Saturday, July 29, 2018, The Greater Harlem Chamber of Commerce will host the 44th annual HARLEM WEEK in celebration of Harlem's rich cultural, political, and economic heritage. This year, HARLEM WEEK will pay homage to the incredible women and members of the LGBTQ+ community who have had an indelible impact on the culture through its 2018 theme "Women Transforming Our World: Past, Present & Future" and subtheme, "The Community within the Community" Saluting the LGBTQ + Community." Attracting over two million attendees from all over New York and the world, HARLEM WEEK offers over 100 free and low-cost events at renowned venues across Harlem and beyond. From July 29 through August 25, attendees can enjoy cultural events ranging from culinary, health and wellness, technology, arts, entertainment and more celebrating the accomplishments of women across the world and members of the LGBTQ+ community. Festival highlights include A Great Day in Harlem (July 29), Youth Conference ... (read more)
Epic New York Beer Tour - Bars, Taprooms, Breweries - Empire State Building
Through December 22, 2018 - New York
The Beer Adventures app offers 150+ highly curated tours in 75 cities around the globe. Currently in 25 US cities, we take you to all of the best bars, taprooms and breweries in town giving you a day out to remember on your own terms. For this 'Epic New York Beer Tour' we invite you to join us in NYC as we hit up to 10 venues across Manhattan and Brooklyn in one day. This is one of our favourite Beer Adventures and it's done best by a combination of walking, subway and whatever else mode of transport is for you! Starting by the Empire State Building you'll pass loads of famous landmarks, go over and under the East River, hit both villages (Greenwich and East) and of course visit all the very best beer bars NYC has to offer. Come thirsty, hungry and ready to make a day of it! HOW IT WORKS: Search for 'Beer Adventures' in the Apple appstore or Google Play and download for free. You can then select the city and tours you want in-app. The Beer Adventures app acts as a magical mystery tour directing beer fans around a city at the touch of a few buttons. Available on iOS and Android, we offer highly curated, built in itineraries in most major cities. STARTING O... (read more)
Looking for Free Group Planning Services?
Get free advice on planning your group's trip to New York.
MORE Activity Planner ARTICLES
RESTAURANTS

Beer hall casual meets craft cocktails with a healthy dose o...

THEATER

Gaston Leroux's famous period thriller is now one of Broadwa...

SHOPPING

PANDORA, one of the leading names in jewelry for more than 3...

SIGHTSEEING

Hop aboard these environmentally friendly twin-hulled catama...