Holidays and Specials in New York City This Week - August 12-August 19
August 12, 2018 - by CG Directory Editor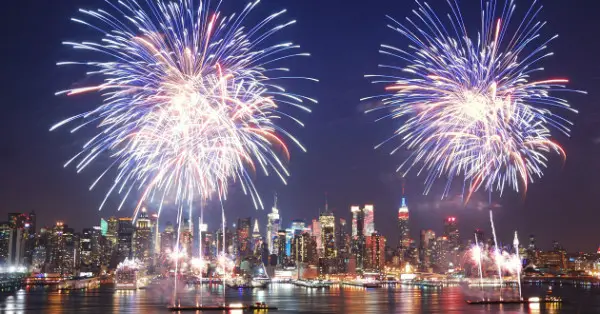 Holiday events and specials join parades and celebrations in City Guide's New York specials activity planner. From the Macy's Thanksgiving Day Parade to New Year's Eve to Christmas, Easter, Valentine's, and St. Patrick's Day, you'll find the best in New York holidays on City Guide's calendar listings. You'll also find amazing street fairs, festivals, and more.


Secret Summer NYC 2018 - The Foundry
August 12, 2018 - Long Island City
Secret Summer NYC is the nation's first and only "Farm-to-Bar" cocktail festival. It is a celebration of sustainable mixology, fresh eats, music, art, dance, fashion, and more!! Secret Summer is a one-of-kind cocktail festival featuring seasonal farm-to-bar cocktails, unique food vendors and musical performances at The Foundry on Sunday, August 12th from 2pm – 8pm. The 4th annual fete will feature a Toki Whisky Washitsu tasting room and a Japanese Yatai food cart, in addition to a Brugal 1888 rum tasting experience perfectly complemented with dessert, a Brockmans Gin Juniper Forest where revelers can taste, smell and experience while getting lost in an atrium filled with foliage and juniper. There will also be a Blue Point Brewery Toasted Yacht where guests are invited to sip on Blue Point Beer cocktails from a boat in the middle of The Foundry's courtyard. The Choripan, Sophie's Cuban and Wisefish Poke will be on hand to satisfy everyone's appetites. And, Man vs Food host Casey Webb will be on hand to judge the best cocktail at Secret Summer this year.
Saravá! Wild Carnival :: Brasil Summerfest Closing Party - House of Yes
August 12, 2018 - Brooklyn
Saravá! Wild Carnival brings to you a taste of the wild carnival of Pernambuco, the biggest and most diverse carnival in Brazil! This ultimate carnival experience will close the Brasil Summerfest 2018, the largest international Brazilian contemporary music & arts festival in the world. Originally conceived by Group .BR, New York's only Brazilian theater company, Saravá! Wild Carnival is inspired by the cultural multitude of the carnival of Pernambuco and the unconventional universe of Clarice Lispector, the muse of the company's upcoming show Inside the Wild Heart.
Rbtl Golf Tournament - Rockland Boulders vs. Trois-Rivieres Aigles
August 13, 2018 - Pomona
The 10th Annual RBTL Education Programs Golf Tournament will be held on Monday, August 13, 2018 at Midvale Country Club. A Luncheon, Tournament play, Cocktails, Clam Bake, Steak Dinner, Silent and Live Auction round out the day. The Tournament honors the memory of Richard M. Guon. RBTL's mission is to provide opportunities for all people to experience, understand and enjoy the best in arts and performance through its education programs, events and activities. Proceeds from the Tournament benefit RBTL's arts education programs, enabling hundreds of students to participate in the programs in Richard's name each year.
106.7 LITE FM LITE 106.7 LITE FM - Bryant Park
August 16, 2018 - New York
106.7 LITE FM's Broadway in Bryant Park returns for its 18th season beginning Thursday, July 12th, with FREE, open-air lunch hour performances, for six consecutive weeks, featuring the best Broadway and Off-Broadway shows. Theater fans in the NYC area can expect musical numbers from hit shows including "The Band's Visit," winner of the 2018 Tony Awards' best musical and best performances by an actor and actress in a lead role in a musical, "Once on this Island," winner of the 2018 Tony Awards' best revival of a musical and "SpongeBob SquarePants," winner of the 2018 Tony Awards' best scenic design of a musical, as well as "Waitress" starring Katharine McPhee, "Beautiful" starring Melissa Benoist, "Come From Away," "Summer: The Donna Summer Musical," "Chicago," "Kinky Boots," "School of Rock," "FRIENDS! The Musical Parody," and many more. New this year, Disney on Broadway will take over 106.7 LITE FM's Broadway in Bryant Park on August 2nd with performances from the hit shows "Aladdin," "Frozen," and "The Lion King." The lineup for August 16th includes numbers from "Once On This Island", "School of Rock", and "Wicked." There will be a pre-show performance by Jordin Smith + Broo... (read more)
Summer Family Party 2018 - Parrish Art Museum
August 19, 2018 - Water Mill
Join in the family fun at our fifth annual Summer Family Party on Sunday, August 19, 2018 from 3 to 6pm! Fun, engaging activities for families and children of all ages! Work alongside artists to create one-of-a kind projects; take part in a fun gallery scavenger hunt; capture memories in the Flip Book photo booth; and enjoy a delicious barbecue dinner.
Lab B- Taiwanese Bubble Tea Festival - 109 Grand St
Through August 19, 2018 - New York
The Taiwanese Collective has teamed up to create an immersive exhibition for the senses called Lab B to explore the countries most popular culinary — bubble tea. Think of Lab B as part funhouse, part exhibition, and part tea shop. Lab B is a multisensory playground where you can come create, play and learn while sipping on your favorite flavors of bubble tea.
44th Annual HARLEM WEEK Festival - Multiple Venues
Through August 25, 2018 - New York
What: 44th Annual HARLEM WEEK Festival When: Sunday, July 29- Saturday, August 25 Where: Marcus Garvey Park, The Apollo Theater, The National Jazz Museum in Harlem, and more Event Description: On Saturday, July 29, 2018, The Greater Harlem Chamber of Commerce will host the 44th annual HARLEM WEEK in celebration of Harlem's rich cultural, political, and economic heritage. This year, HARLEM WEEK will pay homage to the incredible women and members of the LGBTQ+ community who have had an indelible impact on the culture through its 2018 theme "Women Transforming Our World: Past, Present & Future" and subtheme, "The Community within the Community" Saluting the LGBTQ + Community." Attracting over two million attendees from all over New York and the world, HARLEM WEEK offers over 100 free and low-cost events at renowned venues across Harlem and beyond. From July 29 through August 25, attendees can enjoy cultural events ranging from culinary, health and wellness, technology, arts, entertainment and more celebrating the accomplishments of women across the world and members of the LGBTQ+ community. Festival highlights include A Great Day in Harlem (July 29), Youth Conference ... (read more)
Candytopia - Penn Plaza
Through November 15, 2018 - New York
For a one of a kind, sweets filled experience Candytopia is not one to be missed. Candytopia is as close as NYC is going to get to having a real life Candyland in our reach. Enjoy chocolates and treats of all kinds while exploring their show room, featuring a marshmallow tsunami! Afterwards take a stroll through the gift shop for decadent sweets that can be take home!
Epic New York Beer Tour - Bars, Taprooms, Breweries - Empire State Building
Through December 22, 2018 - New York
The Beer Adventures app offers 150+ highly curated tours in 75 cities around the globe. Currently in 25 US cities, we take you to all of the best bars, taprooms and breweries in town giving you a day out to remember on your own terms. For this 'Epic New York Beer Tour' we invite you to join us in NYC as we hit up to 10 venues across Manhattan and Brooklyn in one day. This is one of our favourite Beer Adventures and it's done best by a combination of walking, subway and whatever else mode of transport is for you! Starting by the Empire State Building you'll pass loads of famous landmarks, go over and under the East River, hit both villages (Greenwich and East) and of course visit all the very best beer bars NYC has to offer. Come thirsty, hungry and ready to make a day of it! HOW IT WORKS: Search for 'Beer Adventures' in the Apple appstore or Google Play and download for free. You can then select the city and tours you want in-app. The Beer Adventures app acts as a magical mystery tour directing beer fans around a city at the touch of a few buttons. Available on iOS and Android, we offer highly curated, built in itineraries in most major cities. STARTING O... (read more)
Looking for Free Group Planning Services?
Get free advice on planning your group's trip to New York.
MORE Activity Planner ARTICLES
RESTAURANTS

Vida Verde brings the tastes, colors, sounds, and scents of ...

THEATER

Gaston Leroux's famous period thriller is now one of Broadwa...

SHOPPING

The world's largest source of cameras, camcorders, and more ...

SIGHTSEEING

Opened to the public in 1913 thanks to the ingenuity and amb...