Holidays and Specials in New York City This Week - April 22-April 29
April 22, 2018 - by CG Directory Editor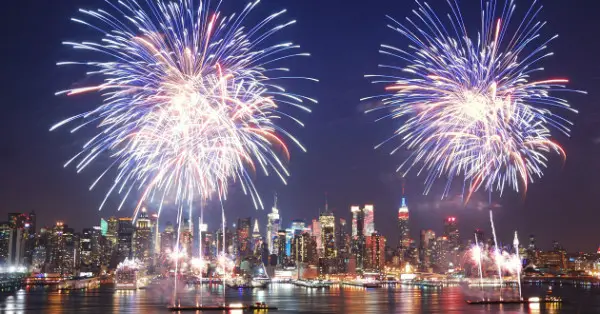 Holiday events and specials join parades and celebrations in City Guide's New York specials activity planner. From the Macy's Thanksgiving Day Parade to New Year's Eve to Christmas, Easter, Valentine's, and St. Patrick's Day, you'll find the best in New York holidays on City Guide's calendar listings. You'll also find amazing street fairs, festivals, and more.


Waste Not: Recycle Your Old Hair Dryer (Get $50 Off a New Supersonic Hair Dryer) - 640 5th Avenue
April 22, 2018 - New York
Join us at the Dyson demo in NYC on Sunday, April 22 for a hair drying recycling event. At Dyson, we believe there is always a better way of doing things– and that includes recycling old or unusable machines so they don't end up in landfills. Bring in any old hair dryer and we'll recycle it for you. Plus, you'll get $50 to use towards the purchase of any new Dyson machine either in-store or at Dyson.com.*
Earth Day Concert: For the Beauty of the Earth - Marble Collegiate Church
April 22, 2018 - New York City
Enjoy music celebrating the sacredness of God's creation, and calling us each to do our part in caring for it. The Marble Choir and soloists under the direction of Kenneth Dake.
6th Annual NYC Hot Sauce Expo - Brooklyn Expo Center
Through April 22, 2018 - Brooklyn
Come to Brooklyn for this 2 day Fiery Foods Festival to get the ultimate endorphin rush. The weekend promises to be like no other. FREE Hot Sauce Tastings from the BEST Hot Sauce Companies around the World, The Stage of DOOM, Booze & Infuse Cocktail Competion, Guinness Book of Records Reaper Eating Contest, Chihuahua Beauty Pageant, Craft Beers, Specialty Cocktails & So Much More!!
Arbor Day Community Festival - Houghton College
April 23, 2018 - Houghton
The second annual Arbor Day Community Festival will be held on Monday, April 23. The event will feature service projects throughout the day, as well as an outdoor chapel service, and will culminate in a community picnic, courtesy of Metz. The picnic will be free for faculty, staff, and their families, as well as current students without a meal plan. In addition, there will be live music and an official presentation of this year's Caretakers of God's Creation award.
2018 Gala - Tenement Museum
April 24, 2018 - New York
On April 24, 2018, the Tenement Museum will celebrate thirty years of storytelling - sharing the stories of ordinary individuals, whose stories woven together illustrate the rich tapestry of our national identity.
The 4th International Nerdlesque Festival - Coney Island USA
Through April 28, 2018 - Brooklyn
The 4th International Nerdlesque Festival is thrilled to make World Famous and historic Coney Island USA our home, April 27-29 2018! For the first time, catch TWO nights of shows plus parties, a burlesque bazaar, classes, and more are all under one roof at the recently renovated Sideshows by the Seashore! The Nerdlesque Festival is the first ever festival dedicated to nerd and pop culture related burlesque! Created in 2014, this festival showcases the best in nerdy burlesque from across the planet. Our festival aims to encourage and foster the development of nerdlesque as an art form as well as community-building. From April 27-29, 2018, our sexy nerd powers combine to turn New York into the epicenter of glittery naked nerdery!
2018 Tribeca Film Festival - SVA Theatre
Through April 29, 2018 - New York
The Festival's mission is to help filmmakers reach the broadest possible audience, enable the international film community and general public to experience the power of cinema and promote New York City as a major filmmaking center. Tribeca Film Festival is well known for being a diverse international film festival that supports emerging and established directors. The Festival has screened over 1400 films from over 80 countries since its first festival in 2002. Since its founding, it has attracted an international audience of more than 4 million attendees and has generated an estimated $750 million in economic activity for New York City.
Jewish Film Festival - Jewish Community Center Rockland
Through April 30, 2018 - West Nyack
To submit a film, to sign up for a festival mailing list or to learn about sponsorship opportunities please email Liz Rosenblum at elizabethr@jccrockland.org.
Epic New York Beer Tour - Bars, Taprooms, Breweries - Empire State Building
Through December 22, 2018 - New York
The Beer Adventures app offers 150+ highly curated tours in 75 cities around the globe. Currently in 25 US cities, we take you to all of the best bars, taprooms and breweries in town giving you a day out to remember on your own terms. For this 'Epic New York Beer Tour' we invite you to join us in NYC as we hit up to 10 venues across Manhattan and Brooklyn in one day. This is one of our favourite Beer Adventures and it's done best by a combination of walking, subway and whatever else mode of transport is for you! Starting by the Empire State Building you'll pass loads of famous landmarks, go over and under the East River, hit both villages (Greenwich and East) and of course visit all the very best beer bars NYC has to offer. Come thirsty, hungry and ready to make a day of it! HOW IT WORKS: Search for 'Beer Adventures' in the Apple appstore or Google Play and download for free. You can then select the city and tours you want in-app. The Beer Adventures app acts as a magical mystery tour directing beer fans around a city at the touch of a few buttons. Available on iOS and Android, we offer highly curated, built in itineraries in most major cities. STARTING O... (read more)
Looking for Free Group Planning Services?
Get free advice on planning your group's trip to New York.
MORE Activity Planner ARTICLES
RESTAURANTS

Multi-concept restaurant offering modern Japanese cuisine, a...

THEATER

Kander and Ebb's "musical vaudeville" in which Roxie Hart ga...

SHOPPING

An array of quality branded merchandise showcasing HBO's® aw...

SIGHTSEEING

The 9/11 Memorial honors the nearly 3,000 people killed in t...