All Aboard for Holiday Train Shows in New York
November 16, 2017 - by Elissa Gilbert
New Yorkers may not always experience joy in the normal train rides of their daily commute, but there's plenty romance of the rails to be found at the city's annual holiday train shows. Three rail systems put miniature New Yorks on epic scales, and prove you're never too old to fall in love with a train set. Enjoy the 2017 holiday train shows now!
New-York Historical Society Holiday Express (Now Through February 25, 2018)
The Holiday Express show at the New-York Historical Society is about more than trains; it includes boats, planes, and even dirigibles. With items from the Jerni Collection of more than 10,000 toys and trains dating to between 1850 and 1950, it modernizes the old-fashioned miniatures with a multiscreen, multimedia display. You'll hear the clanging of bells and the mooing of cows as a train passes them in the countryside. A figure eight of track runs overhead. In one display, kids can crawl to a transparent bubble and pop their heads in for a close-up look as European and American trains swirl around them. 170 Central Park W., 212-873-3400, nyhistory.org
Grand Central Holiday Train Show (November 16, 2017 Through February 4, 2018)
Image: Metropolitan Transportation Authority of the State of New York/Flickr
New York-centric trains travel 34 feet of track in the train show at Grand Central; the display includes both Metro North and subway trains leaving a mini-Grand Central Terminal. The New York scene-scape continues, passing platforms with waiting commuters, before taking a detour to the North Pole. Keeping to the New York theme, the toy trains here are from Lionel, which first manufactured its models just a few blocks away. 89 E. 42nd St. (Park Ave.), 212-340-2583, grandcentralterminal.com
New York Botanical Garden Holiday Train Show (November 22, 2017 Through January 15, 2018)
A botanical garden isn't the most obvious location for a train show, but the scene at the New York Botanical Garden is as much about botanicals as about transportation. Filling the glass conservatory, the trains here travel through a landscape of more than 150 landmarks, all sculpted by hand from plant parts—bark, leaves, and seedpods. There's close to half a mile of track passing along miniature recreations of views from the city and the Hudson Valley. Trains, including Thomas, travel across bridges overhead as well as along foot-level track. This year showcases Midtown Manhattan's iconic skyscrapers and other architectural wonders, featuring new replicas of the Empire State Building, the Chrysler Building, the General Electric Building, and St. Bartholomew's Church. 2900 Southern Blvd., Bronx, 718-817-8700, nybg.org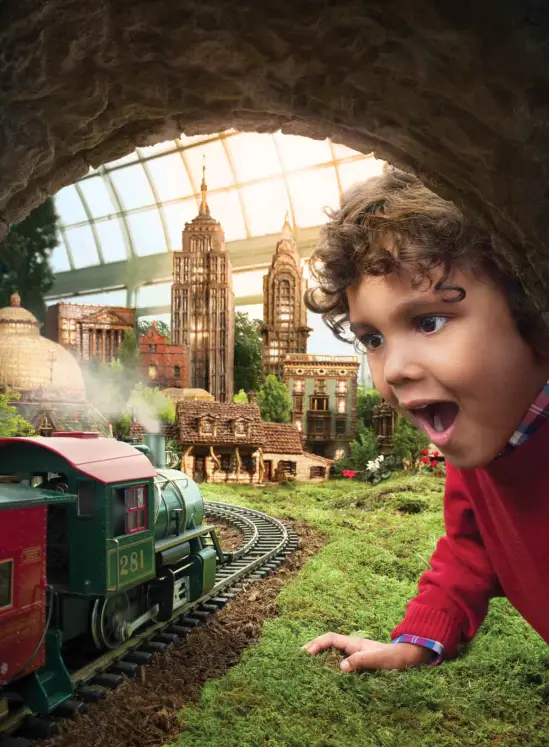 Looking for Free Group Planning Services?
Get free advice on planning your group's trip to New York.
RESTAURANTS

Multi-concept restaurant offering modern Japanese cuisine, a...

THEATER

The Tony-winning creators of "Ragtime" transport us from the...

SHOPPING

An array of quality branded merchandise showcasing HBO's® aw...

SIGHTSEEING

Enjoy the best prices for deluxe double decker, hop-on, hop-...