Gallery Shows in New York City This Week - May 13-May 20
May 13, 2018 - by CG Directory Editor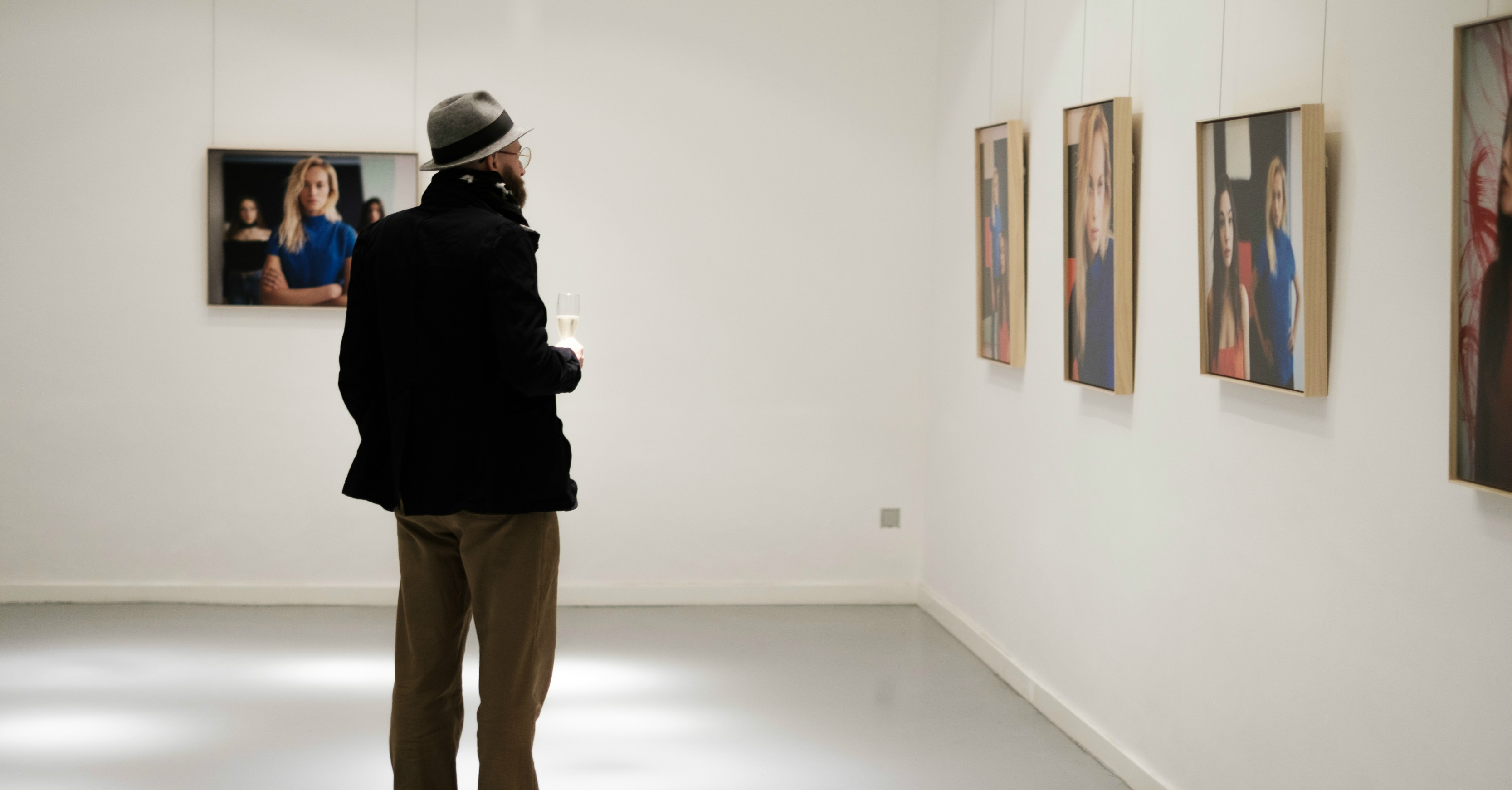 Photo: Flickr/K_rlis Dambr_ns

For art in galleries, from shows to openings to receptions and special events, check out City Guide's calendar listings for New York City. From Chelsea galleries to SoHo galleries to all points in between, we've got comprehensive painting, sculpture, performance art, conceptual art, and photography listings.


Harlem Perspectives - Gallery Eight
Through May 13, 2018 - New York
FACTION Art Projects announce their second show Harlem Perspectives, an exhibition celebrating the local talent of Harlem and uptown New York. Following a hugely successful inaugural show at the newly opened Gallery 8 on Frederick Douglass Boulevard, the FACTION team return to Harlem with an eclectic mix of local artists, who live and work above Manhattan's 110th Street.
Grunt! by Elliot Cowan - Flushing Town Hall
Through May 13, 2018 - Flushing
This solo exhibition by award-winning visual artist Elliot Cowan presents a collection of painting, drawings, sculptures, and digital illustrations that chart 10 years of an Australian living in Queens and traveling through the Complicated States of America.
Plein Air Painting in the Garden - Brooklyn Botanic Garden
Through May 13, 2018 - Crown Heights
Using the Garden as a classroom, students will use the instructor's Optimalart method to develop an understanding of color, composition, and technique. Through imagination, memory, and thoughtful observation, students will learn how to create effective compositions inspired by the plant life and nature they encounter at BBG. Appropriate for all skill levels. 4 Sundays. No class April 29th. Bring your own materials; materials list link: Plein Air Painting in the Garden Please bring this confirmation for Garden admission. The Security Guard in the lobby of the Administration Bldg. at 1000 Washington Avenue will direct you to your classroom.
Anna Craycroft - New Museum
Through May 13, 2018 - Lower East Side
Craycroft's Residency Will Include an Exhibition and Public Programming Considering the Rights and Ethics of Personhood. Questions of Who and What Qualifies as a Person Have Become Increasingly Contentious as the Agency of All Beings—from Nonhuman Animals to Corporations, and from Ecosystems to Artificial Intelligence—Has Fractured Legal and Theoretical Discourse. to Chronicle These Controversies, Craycroft Will Transform the Fifth Floor Gallery into a Site for Producing an Animated Film, Which She Will Develop over the Course of the Exhibition; Visitors Will Physically Enter the Stage Where Craycroft Will Shoot New Footage Every Week for the Duration of the Residency. Drawing on Traditions of Folklore and Fables, Which Often Use Anthropomorphism to Narrate Moral Tales, the Animated Film Will Confront the Physical and Philosophical Lenses Used to Construct and Qualify Personhood. the Exhibition Is Organized by Johanna Burton, Keith Haring Director and Curator of Education and Public Engagement, and Sara O'Keeffe, Assistant Curator, with Kate Wiener, Education Associate. Anna Craycroft Was Born in Oregon in 1975 and Raised in New York. She Has Had Solo Shows at Ben Maltz Gallery, ... (read more)
Maribel Matthews - Agora Gallery
Through May 18, 2018 - New York
Spring Awakenings Maribel Matthews' illustrious oeuvre harmoniously captures the joy within the world that surrounds her. Working in predominantly oil on canvas, Matthews' paintings capture a variety of themes, including but not limited to idyllic landscape scenes, still lifes, portraiture, as well as abstract canvases. The artist's palette mirrors her Mediterranean background as bright, bold jewel tones adorn her compositions, inviting the viewer into her jubilant and festive domain. Crisp lines and thick, nearly impressionistic brushstrokes characterize the majority of Matthews' more naturalistic paintings, while her abstract works, unencumbered by the boundaries of line and shape, emanate a similar, joyful exuberance. In works such as Orchids, a vase full of the violet flowers rests upon a deep plum background. The orchids are composed of crisp lines, organic shapes and contrasted by their radiant, chartreuse leaves. They playfully present themselves to the viewer, some with agape, blossoming leaves, some bashfully hiding behind their counterparts. Bulbous, ripened peaches litter the foreground of the composition, enfolding among the flowers in a congenial promenade. Th... (read more)
Maya Ciarrcchi: Site Sorel - Kinescope Gallery
Through May 18, 2018 - New Yorl
Kinescope.Gallery in collaboration with Fillmore Projects is pleased to announce the opening on Friday, April 20th, of Site: Sorel, the second solo exhibition by New York City based artist Maya Ciarrocchi. The exhibition is comprised of video, prints, 3D models and hand- drafted architectural drawings on the gallery walls. Site: Sorel is a meditation on the real and imaginary spaces left behind by the dead. In this work, Ciarrocchi conjures an image of Barbara Sorel, an author and fixture of the 1990's lesbian bar scene in New York City. Sorel, as she was called by her friends, sold drugs to support her writing and was tragically murdered in her East Village apartment in 1999. Some of her writing remains and an obituary appeared in the Village Voice following her murder. Apart from this and the memories of friends, she is largely forgotten by history. Combining these memories with Ciarrocchi's own, and by utilizing text from Sorel's self-published book Sorel in Love, the exhibition merges language with image to reveal where the two women's experiences intersect and collide. As part of the exhibition there will be a performance event on Friday, May 11th from 6-8pm, comprise... (read more)
Illumination: An Exhibition of Fine Art Photography and Spring Awakenings: Re-Visioning the Ordinary - Agora Gallery
Through May 18, 2018 - NYC
Agora Gallery is pleased to announce two upcoming group exhibitions: Illumination: An Exhibition of Fine Art Photography and Spring Awakenings: Re-Visioning the Ordinary. Illumination features recent works by eight photographers including Sam Barrow; Paul Christener; Stacey Dolen; Linda Harding; Shifra Levyathan; Lorella; Alexander Toto; and Wallace. These artists consider the affective possibilities of dynamic light in their compositions, which range from atmospheric landscapes to geometric abstractions. Working with both natural sunlight and dramatic, artificial light, the artists included use luminescence as a painterly medium, the luster of their scenes offering a transportive quality to the works on view. Printed on aluminum or metallic paper, digitally manipulated or traditional analog, the varied photographs embrace the radiant potential of light to convey emotion, attitude, and ambience. Illumination brings together these diverse views, offering a new take on the limits of the photographic medium. Spring Awakenings is an exhibition offering fresh perspective on traditional subject matter. The exhibition features works by nine emerging artists including Jerry Anderso... (read more)
Human Nature - Grace Building
Through May 18, 2018 - New York City
Curator Tom Kotik will work with a select group of artists who will interpret nature, or use organic forms as their inspiration in three dimensions.Human Nature features new work by Mckendree Key, Katerina Lanfranco, Kristyna and Marek Midle, John Monti, Colin O'Con, and Carolyn Salas. The exhibition is the sixth commissioned pedestal project. Nature, and our relationship to it, has been a theme in art since humans began drawing on cave walls during prehistoric times. Over the millennia, our methods of expression may have changed but our fascination with observing the natural world remains constant. Commissioned by Arts Brookfield, Human Nature presents six new works by seven contemporary artists inspired by natural landscape and the use of organic forms. Utilizing visual cues from nature, the artworks in this exhibition are distinct interpretations of our environment and the complex relationships to it. Some works utilize organic materials such as plants and natural fibers to reveal creative interactions with the earth's resources; others rely on man-made and industrial materials, highlighting the contrast between the modern world and the idealized vision of nature we inherentl... (read more)
Saturday Sketching - Solomon R. Guggenheim Museum
May 19, 2018 - New York
Explore Frank Lloyd Wright's architectural shapes and spaces through drawing activities in the museum's galleries. Art materials, including a drawing board, paper, pencils, and erasers, are available for loan at the Family Activity Kiosk. This program is geared towards teens, though families with children of all ages are welcome. No registration is required. Family Programs are supported in part by JW Marriott.
Gabe Langholtz - BravinLee Programs
Through May 19, 2018 - New York
Helen O'Leary: 'Home is a Foreign Country - Lesley Heller Gallery
Through May 20, 2018 - New York
Jade Doskow: 'Lost Utopias' - Front Room Gallery
Through May 20, 2018 - New York
Rebel Spirits: Robert F. Kennedy and Martin Luther King Jr. - New York Historical Society
Through May 20, 2018 - New York
On the surface, Robert F. Kennedy and Martin Luther King Jr. were born worlds apart?culturally, geographically, racially, financially, and politically. But by the time they were killed within two months of each other in 1968, their worlds had come together. Images taken by some of the most renowned photojournalists of the era?alongside original correspondence, publications, and ephemera?illustrate the overlapping trajectory of their lives, exploring their deepening tie as well as how their interests expanded beyond civil rights and organized crime to encompass shared concerns for the poor and opposition to the war in Vietnam. Rebel Spirits: Robert F. Kennedy and Martin Luther King Jr. is based in part on the book The Promise and the Dream by David Margolick, to be published on April 4, 2018 by RosettaBooks and available at the NYHistory Store. The exhibition was produced by Wiener Schiller Productions with support from Getty Images, the Jacques Lowe Estate, and Steve Schapiro and presented by the New-York Historical Society. Lead support for this exhibition provided by Leah and Michael R. Weisberg. Exhibitions at the New-York Historical Society are made possible by Dr. Agn... (read more)
Spring Blooms Watercolor Workshop - Brooklyn Botanic Garden
Through May 22, 2018 - Crown Heights
This class focuses on seasonal blooms like forsythia and tulips using loose and controlled watercolor techniques. Formal elements of painting such as composition, tone, and color will be pursued, while maintaining an appreciation for the immediacy and fluidity of watercolor. Individual attention and group critiques will help each student develop their own voice. All levels are welcome, although prior drawing experience is helpful. This class will sometimes be held outdoors, weather permitting, so please dress accordingly. 6 Tuesdays Bring your own materials; materials list link: Spring Blooms Watercolor Workshop Please bring this confirmation for Garden admission. The Security Guard in the lobby of the Administration Bldg. at 1000 Washington Avenue will direct you to your classroom.
The Lost Warhols: Bringing Andy Home - 178 6th Avenue
Through May 22, 2018 - New York
Exhibit: The Lost Warhols, a one-of-a-kind art exhibition based on images of Andy Warhol, is a collection of 66 unique works. The exhibit features Karen Bystedt's original photographs of Andy Warhol taken in 1983, as well as a series of collaborative mixed media works by critically acclaimed and emerging street artists such as Peter Tunney, Speedy Graphito, Gregory Siff, Bradley Theodore, and The Producer BDB. This marks the first time all 66 works will be exhibited as an ensemble. The eclectic pieces are all for sale to benefit God's Love We Deliver, the metropolitan area's leading provider of medically-tailored, nutritious meals for people who are too sick to shop or cook for themselves. The organization prepares and delivers 7,000 meals daily to those in need in New York City. For more information: thelostwarhols.com. The exhibit is open from 11AM-6PM every day except Sunday.
When We Were Young - Brookfield Place New York
Through May 23, 2018 - New York
Arts Brookfield and artist Carlos Rolón will put a spotlight on the worldwide trend of bicycle riding as a serious and sustainable means of transportation that is re-shaping cities. When We Were Young will explore the exquisite mix of engineering and craftsmanship, ranging from cutting-edge designs to populist expressions, that moves us forward on calibrated wheels. The exhibition will feature The Majestics (For Louise) and two bikes commissioned by Arts Brookfield
Oliver Clegg: Euclid's Porsche - Rental Gallery
Through May 25, 2018 - New york
New York, NY – April 17, 2018 – Rental Gallery is pleased to present new work by Brooklyn-based artist Oliver Clegg for his first solo exhibition in New York City, on the ground floor of the Metal Shutter Houses project. Euclid's Porsche is comprised of 150 paintings of Happy Meal Toys sourced from eBay seller photographs found online. The opening reception will be on Tuesday, May 1 from 6 to 8pm. The artist recreates, as oil paintings, the photos eBay sellers take of their objects, honoring the original size, composition, and color of the found image. By subverting the intent of these amateur photographers—by elevating their photographs to art—the artist adds value to their often nonchalant attempts to make a sale. These paintings are intimate and wistful, reflecting the sentimental affection we have for seemingly worthless plastic we valued as children. British-born Clegg is a conceptual artist who mines the fertile history of the past, particularly found objects, and seeks to imbue these objects with some of their original magic. His work is humorously melancholic, exposing our memories and discarded ephemera as potential sources of symbolism. This exhibition casts the inte... (read more)
Eric LoPresti: An Ocean of Light - Burning in Water Art
Through May 26, 2018 - New York
Eric LoPresti makes artwork that examines the imposition of technology upon the environment and the aftermath of the Cold War. His dramatic landscapes juxtapose abstract elements with representations of the vast deserts of the American West, exploring relationships between science, identity, history, and conflict. Following in the painterly tradition of the apocalyptic sublime, LoPresti's artistic practice explores how trauma and beauty shape our lives.
Caitlin McCormack — ANTIBEAST - Last Rites Gallery
Through May 26, 2018 - New York
Opening Reception Friday, April 27th
Paul Resika: Geometry and the Sea - Bookstein Projects
Through May 26, 2018 - New York
Bookstein Projects is pleased to announce an exhibition of recent paintings by Paul Resika. This is the artist's ninth show with Lori Bookstein and the first with Bookstein Projects. An exhibition of related paintings from the same series will be on view at Steven Harvey Fine Art Projects from April 18 – May 20, 2018. Paul Resika (b. 1928, New York, New York) studied under Hans Hofmann as a teenager in New York and Provincetown before departing for Venice and Rome in 1950 to study the old masters. After casting aside Hofmann's abstract principles, his Italian palette turned sober and descriptive. Upon his return to the United States, Resika devoted himself increasingly to the exploration of light and color, and the synthesis of abstraction and representation. Over his eight decade-long career, Resika has exhibited at the Peridot Gallery, Graham Modern, Long Point Gallery, Provincetown, Berta Walker Gallery, Provincetown, Hackett-Freedman Gallery, San Francisco, and Salander-O'Reilly Galleries, New York. Resika splits his time between New York and Truro, Massachusetts.
Jane Corrigan - Marinaro
Through May 26, 2018 - New York
Joan Miró - Long-Sharp Gallery Project Space
Through May 26, 2018 - New York
Long-Sharp Gallery is delighted to present a micro exhibit of prints and multiples by Joan Miró that span a decade of his amazing career. Works from 1971-1981 are included in the exhibit, opening April 18 at the gallery's New York Project Space. Windows have been placed on the back of each of the framed prints to show its certification by either Miró's grandson, Emilio Fernandez Miró, or Rosa Maria Malet, the former director of the Joan Miró Foundation (Fundació Joan Miró). The exhibit ends May 25th. Please contact the gallery for an e-catalogue of the works.
Mary Heilmann: Painting Pictures - Dia Art Foundation
Through May 27, 2018 - New York,
In the early 1970s, Mary Heilmann began creating art that harnessed everyday domestic objects, repurposing them with a boldly hand-painted touch. Arriving in New York in the late 1960s, she was energized by the artists occupying the Minimal and Postminimal art scene. Heilmann's encounters with the work of artists closely associated with Dia's history, such as Dan Flavin and Donald Judd, made a significant impression while also delineating a clear difference between their practice and her approach. This exhibition at the Dan Flavin Art Institute in Bridgehampton, New York, presents artworks that mark key milestones in Heilmann's practice. The presentation includes a selection of early paintings from the 1970s and 1980s when Heilmann began visiting the East End of Long Island. She eventually set up a studio in Bridgehampton, where all of her paintings and many of her ceramics have been made since 1999. Several recently finished works that have not been seen outside of her studio are included in this exhibition as well. Mary Heilmann: Painting Pictures at the Dan Flavin Art Institute is made possible by generous support from Carol and John Finley. Additional support is also prov... (read more)
Before the Fall: German and Austrian Art of the 1930s - Neue Galerie New York
Through May 28, 2018 - New York
On March 8, 2018, Neue Galerie New York will present "Before the Fall: German and Austrian Art of the 1930s," an exhibition devoted to the development of the arts in Germany and Austria during a decade marked by economic crisis, political disintegration, and social chaos. The Neue Galerie is the sole venue for the show, which will be on view through May 28, 2018.? The exhibition is organized by Dr. Olaf Peters, University Professor at Martin-Luther-Universität Halle-Wittenberg, and serves as the third show in a trilogy of exhibitions curated by Peters that focus on German history. The first of these three shows, "Degenerate Art: The Attack on Modern Art in Nazi Germany 1937," organized in 2014, examined the infamous traveling exhibition "Entartete Kunst" mounted by the National Socialist regime. The exhibition was an enormous popular and critical success. The second show, "Berlin Metropolis: 1918-1933" on view in 2015, explored the critical role played by the city of Berlin in the growth of modern culture. Pandiscio Green is the designer of the exhibition and catalogue for "Before the Fall," and was also responsible for the inventive installations for the previous two shows in ... (read more)
Loie Hollowell - Pace Gallery
Through May 31, 2018 - New York
Switchback Pace Gallery is pleased to present the first exhibition in Asia dedicated to the New York-based artist Loie Hollowell. On view March 27 through May 31, 2018 in Central Hong Kong's Entertainment Building, Loie Hollowell: Switchback is the artist's second exhibition with Pace Gallery worldwide, following her debut with the gallery in Palo Alto in fall 2017. The exhibition includes 9 new paintings and 9 new works on paper that continue Hollowell's investigation of bodily landscapes and sacred iconography through allusions to the human form, and women's bodies in particular. An opening reception for the artist will be held from 4pm to 7pm on Monday, March 26.
Unleashing, a site-specific multi-media art exhibition across the hallways of Teachers College - Everett Lounge Teachers College, Columbia University
Through May 31, 2018 - New York, NY
Unleashing Opening Reception Thursday, April 5, 6 – 8 p.m., Everett Lounge Teachers College, Columbia University 525 West 120th Street • New York, NY 10027 T: +1 212 678-3461 Unleashing April 1 – May 31, 2018 10 a.m. – 8 p.m., daily http://unleashing.net and http://unleashing.tc.columbia.edu ____________________________________________________________________________________ Unleashing is a site-specific multi-media art exhibition across the hallways of Teachers College highlighting concepts of the American philosopher Maxine Greene, whose idea of "social imagination" provides the ground for the works on display. Carrying forward the success of Doing and Undergoing on view throughout Teachers College in 2013, Unleashing features the work of 28 international artists, and is accompanied by an audiovideo guide leading visitors to each of the 21 sites of the exhibition, as well as by special public programming, guided tours, a video screening series, and artist talks. The exhibition and its title Unleashing are inspired by Greene's book Releasing the Imagination, which is driven by a vision of aesthetic education, equality, and social justice. "The role of imagination,... (read more)
ioNature: Wheat Field - 5 Manhattan West
Through June 01, 2018 - New York City
ioNature: Wheat Field is an interactive kinetic installation that is activated by the presence of an audience. As one approaches, the stalks of wheat ripple in waves as if caused by the invisible currents created by the body moving through space. As you move, so does the wheat; you are interconnected. The entire art installation visually and metaphorically illustrates the connection between the body and nature and the technology used to control it. The installation raises a few questions: What will the future be like when everything is connected? For better or for worse, what role will be we play in using technology to wield those connections? Will technology, which is created and executed by mankind, ever completely control our natural surroundings?
Viva La Razarte - The Sampler Bushwick
Through June 01, 2018 - Brooklyn
This Friday MAY 4th from 6PM-2AM the Sampler Bushwick have joined forces with Escape Artists, local Mexican ???? artists and inspired art works to bring you a truly authentic night dedicated to the influence of Mexican Culture ???? The contributions here in NYC have not gone unnoticed! The Sampler has carefully chosen some fun beers to tap that fit the theme! Including the release of Drinco De Mayo Frida Inspired cans ?? Artists included are: Adonde Estas Hugo Andres Ramirez Natalia Soto Nuevo4Retro Ralph Serrano Rodrigo Rangel Sue Works Uta Brauser The reason to celebrate isn't just to throw back tequilas and wear sombreros. The date is observed to commemorate the Mexican Army's difficult victory over the French Empire at the Battle of Puebla, on May 5, 1862, under the leadership of General Ignacio Zaragoza. The only place in Mexico that celebrates Cinco de Mayo is actually Puebla. But, this means you should drink + love + celebrate Mexico!
The Divine Joke - Anita Rogers Gallery
Through June 02, 2018 - New York
Rita McBride: Particulates - Dia Art Foundation
Through June 02, 2018 - New York,
This new commission by Rita McBride, titled Particulates (2017), is inspired by time travel, the principles of light and space, and quantum physics. The materials of McBride's Particulates include water molecules, surfactant compounds, and the beams of high-intensity lasers. Her use of light as a sculptural medium marks a departure for the artist who has explored the tension between architectural and sculptural form in her extensive oeuvre since the mid-1980s. Particulates exchanges gravity, a core element in sculpture, for the potential of infinitely traversable space. It unfolds a wrinkle in time.
François Morellet - Dia Art Foundation
Through June 02, 2018 - New York,
Dia Art Foundation presents an exhibition of works by the French artist François Morellet. A prolific painter, sculptor, and installation artist, Morellet was one of the founding members of the Groupe de Recherche d'Art Visuel, an artist's collaborative that emerged in France in the early 1960s. Although the artist's systematic art has been widely exhibited in Europe, his oeuvre has rarely been shown or studied in the United States.
Logan Maxwell Hagege: Where Land Meets Sky - Gerald Peters Gallery
Through June 08, 2018 - New York
Natalya Nova: Dreamland - Leica Store New York SoHo
Through June 10, 2018 - New York
Leica Store New York SoHo is pleased to present Natalya Nova's Dreamland exhibit, self-portraits. Don't miss this fabulous show and what is destined to be an unforgettable event. The show runs from April 5 to June 10, 2018.
Chittaprosad: A Retrospective - Discover DAG
Through June 15, 2018 - New York
City Mother Earth Kimberley Exhibition - Anthony Horth Gallery
Through June 15, 2018 - New York
Anthony Horth's work spans the last thirty years and three continents. He is widely regarded as one of Australia's most successful fashion and landscape photographer exports. His fashion photographs have been published internationally in magazines British, Italian and Australian Vogue, French, Italian, German Elle and Mademoiselle. Throughout his career, Anthony's clients have included Armani, Versace, Gucci, Prada, Fendi, Max Mara, Halston, Dior, Bloomingdales, Lord and Taylor, Stage Stores, Talbots and Jones of New York. Today Anthony's 35-year practice as a photographer is at its pinnacle attracting the world's biggest assignments.
Paul Fusco RFK Funeral Train - 1968 - Danziger Gallery
Through June 22, 2018 - New York
On the 50th anniversary of the train ride that took Robert Kennedy's body from New York to Washington where he was to buried alongside his brother, Danziger Gallery is honored to reprise our showing of Paul Fusco's photographs of the people who lined the rails to pay their final respects to RFK. In the years since they were taken these photographs have become a beloved, influential, and seminal series in photography. And while in some ways they represent the end of the hopes and dreams of the sixties, at the same time they celebrate the idealism and diversity of America. In the middle of 1968, two events shook the nation - the assassination of Martin Luther King on April 4th and the assassination of Robert Kennedy on June 5th. Hastily arranged, Robert Kennedy's funeral train took place on June 8th – a swelteringly hot early summer day. Paul Fusco, then a staff for LOOK Magazine, was given a place with other journalists on the train. As the train made its progress down the eastern seaboard, hundreds of thousands of mourners came out to line the railway tracks and pay their final respects to Bobby Kennedy and all he stood for. From inside the train, Fusco began to take pictur... (read more)
QUEENIE: Selected artworks by female artists from El Museo del Barrio's collection - Hunter College East Harlem Art Gallery
Through June 23, 2018 - New York
Tania Bruguera, Margarita Cabrera, Maria Fernanda Cardoso, Melba Carillo, Marta Chilindron, Alessandra Expósito, Iliana Emilia Garcia, Dulce Gomez, Cristina Hernández Botero, Carmen Herrera, Jessica Kairé, Carmen Lomas Garza, Evelyn López de Guzmán, Anna Maria Maiolino, Ana Mendieta, Marina Núñez del Prado, Liliana Porter, Raquel Rabinovich, Scherezade, Nitza Tufiño, among others. New artwork commissions by Melissa Calderón, Alessandra Expósito, and Glendalys Medina. QUEENIE features a selection of artworks by female artists across various media from the permanent collection of El Museo del Barrio. The exhibition highlights the institution's collection with a particular focus on the female artists and QUEENIE takes its title from a sculpture by Alessandra Expósito. The exhibition brings together works which prompt a multifarious dialogue around society and gender through the artists' varying perspectives and experiences. As part of the exhibition, HEHG has invited four NYC-based artists to respond to the exhibition with a new commission that further explores the connections among the collecting process, societal change, and a gendered experience.
Tommy Hartung: R.U.R. - C24 Gallery
Through June 23, 2018 - New York
C24 Gallery is pleased to present a solo exhibition by artist Tommy Hartung, marking his inaugural exhibition with the gallery. R.U.R will be on view from May 4 through June 23, 2018 at 560 West 24th Street, with an opening reception on Friday May 4 from 6 – 8 pm. R.U.R., which stands for Rossum's Universal Robots, presents a series of new, interactive video installations based on Karel Kapek's 1920 science fiction play of the same name in which the term "robot" was first used. The play explores the speed of technological progress and the uncertainties and dehumanization that occurs as a result of the robotization of human interactions. In Hartung's adaptation, the original play is re-written through photographs, costumes and interactive videos that pose the question: Why do men want to create robots that look human? Tommy Hartung's works analyze the creation and dissemination of cultural narratives by fragmenting and deconstructing his source material. Through the montages of stop motion animation and found footage, Hartung uses the themes of modernism as his subject matter. His sculptures, the subjects of his videos, are assembled through scavenged material to form hybri... (read more)
President's Gallery - Green Habitat - John Jay College of Criminal Justice
Through June 27, 2018 - New York
President's Gallery proudly presents the exhibition GREEN HABITAT
Drawing the line: Realism and Abstraction in Expressionist Art - Galerie St Etienne
Through July 06, 2018 - New York
Landscapes after Ruskin: Redefining the Sublime - Grey Art Gallery
Through July 07, 2018 - New York
Landscapes after Ruskin: Redefining the Sublime explores contemporary painting, photography, sculpture, and video through the lens of influential English art critic and social thinker John Ruskin (1819–1900), who argued that the artist's principal responsibility is "truth to nature." For Ruskin, this "truth" was more than just a technical representation of the natural world on canvas but also a depiction of it as experienced by humankind. In Landscapes after Ruskin, guest curator and artist Joel Sternfeld examines how, in a world overwhelmed by industrial development and environmental uncertainty, contemporary artists are discovering new beauties and terrors associated with nature and, in so doing, invoking an updated sense of the sublime. The exhibition features a wide range of works by over fifty artists, including Richard Artschwager, Christiane Baumgartner, Katherine Bradford, Spencer Finch, Neil Jenney, Raymond Pettibon, Michal Rovner, Ai Weiwei, and David Wojnarowicz, among others. Organized by the Hall Art Foundation, the exhibition will be accompanied by an illustrated catalogue.
Terry Winters Forces and Fictions - The Drawing Center
Through July 29, 2018 - Soho
A leading figure in the art world for four decades, Terry Winters became well known in the 1980s for his materially-conscious drawings and paintings. Representing the patterns and schema that undergird physical and intellectual life—French philosopher Gilles Deleuze is cited as an important reference—Winters's drawings of grids, networks, and knots illustrate complex encounters between biological drives, technological systems, and mental processes. The Drawing Center's Main Gallery will present an overview of Winters's drawings from 1980 to the present including full cycles of drawings, such as File Drawings (2009), as well as a selection of large-scale works on paper that foreground the overarching theme of Winters's practice: the desire to make sense, however fictively, of the manner in which the visible world is constructed and received. Rather than offering a comprehensive drawing retrospective, the show will be organized with an eye to morphological relationships so that, as viewers move through the gallery, they will recall and ideally return to earlier related images.
Judha Su - Art in General
Through July 31, 2018 - Brooklyn
Judha Su is an art critic and writer, working on shifting boundaries of contemporary arts, diverse forms of artistic practices, and politics of knowledge. She perceives art as a point of contact, negotiation, and entry to imagine beyond a conditioned reality. Her current project revolves around reclaiming thinking subjectivities, a transmission of bodily and nonverbal knowledge, and a re-distribution of sensory experiences. From 2015–16, she received a research fellowship from the Japan Foundation Asia Center to conduct fieldwork about practices of art writing in Indonesia, Philippines, and Japan. Last year, she initiated a collaborative project titled "To Whom It May Concern"; started as a laboratory exhibition at Bangkok CityCity Gallery, the project has now developed into a Thai-English online platform for collective learning. Judha is also a laborer of "soi" – a space for dialogue, research, and pedagogy. Judha is in residence at Art in General from April to July 2018 through the support of the Asian Cultural Council.
Reanimation Library - Pioneer Works
Through August 30, 2018 - Brooklyn
Reanimation Library, an ongoing project by Andrew Beccone, is a collection of 2000+ obscure or out-of-print publications the artist has been collecting over 15 years. Chosen primarily for the images that they contain, this collection of books have been culled from thrift stores, rummage sales, flea markets, municipal dumps, library sales, give-away piles, and used bookstores across the country. Housed at Pioneer Books, Reanimation Library will operate as a public non-circulating collection of books for visitors through August 2018. The library space will include tools to use the collection including a computer, scanner, and copier and host a series of related public events. Join us on Thursday, September 14 at Pioneer Works for the opening reception at Pioneer Works. Learn more. Andrew Beccone, founder of the Reanimation Library, is an artist, librarian, and musician. The library has been exhibited widely at venues around the world including Vox Populi (Philadelphia), SPACE (London), High Desert Test Sites (Joshua Tree), talcual (Mexico City), 98weeks (Beirut), the Museum of Modern Art, the Queens Museum, and Kunsthalle Osnabrück. He was a resident at EFA's SHIFT (2014/15... (read more)
The Means of a Ready Escape: Brooklyn's Prospect Park - Prospect Park Alliance
Through September 30, 2018 - Brooklyn
In celebration of the 150th anniversary of Prospect Park, Brooklyn Historical Society and Prospect Park Alliance present an exhibition that celebrates the founding vision of the Park, traces its social and historical trajectories, and examines the important role that Prospect Park has played as "Brooklyn's Backyard" for 150 years. The Brooklyn Historical Society is closed on major holidays.
New York & The Nation in The Robert H. and Clarice Smith New York Gallery of American History - New York Historical Society
Through December 31, 2018 - New York
Collection Highlights and New York and the American Experience Explore the story of New York and America in the Robert H. and Clarice Smith New York Gallery of American History. Highlights include: Mounted on the building's original 1904 columns are grand digital screens displaying a continuous, thematically co-ordinated slide show of treasures from the New-York Historical Society's collections. The west face of the columns features individual stations, incorporating interactive touch screens and museum artifacts, presenting six themes in American history which are found interwoven with the history of New York. Projected on dramatic flat screens affixed to six structural columns, the array of objects and images functions as visual signage that demonstrates to our visitors the depth of New-York Historical's collections.
Looking for Free Group Planning Services?
Get free advice on planning your group's trip to New York.
MORE Activity Planner ARTICLES
RESTAURANTS

Beer hall casual meets craft cocktails with a healthy dose o...

THEATER

The Tony-winning creators of "Ragtime" transport us from the...

SHOPPING

Specializing in the great vineyards of California, France, A...

SIGHTSEEING

Located in Times Square in the heart of New York City, Riple...