Gallery Shows in New York City This Week - June 17-June 24
June 17, 2018 - by CG Directory Editor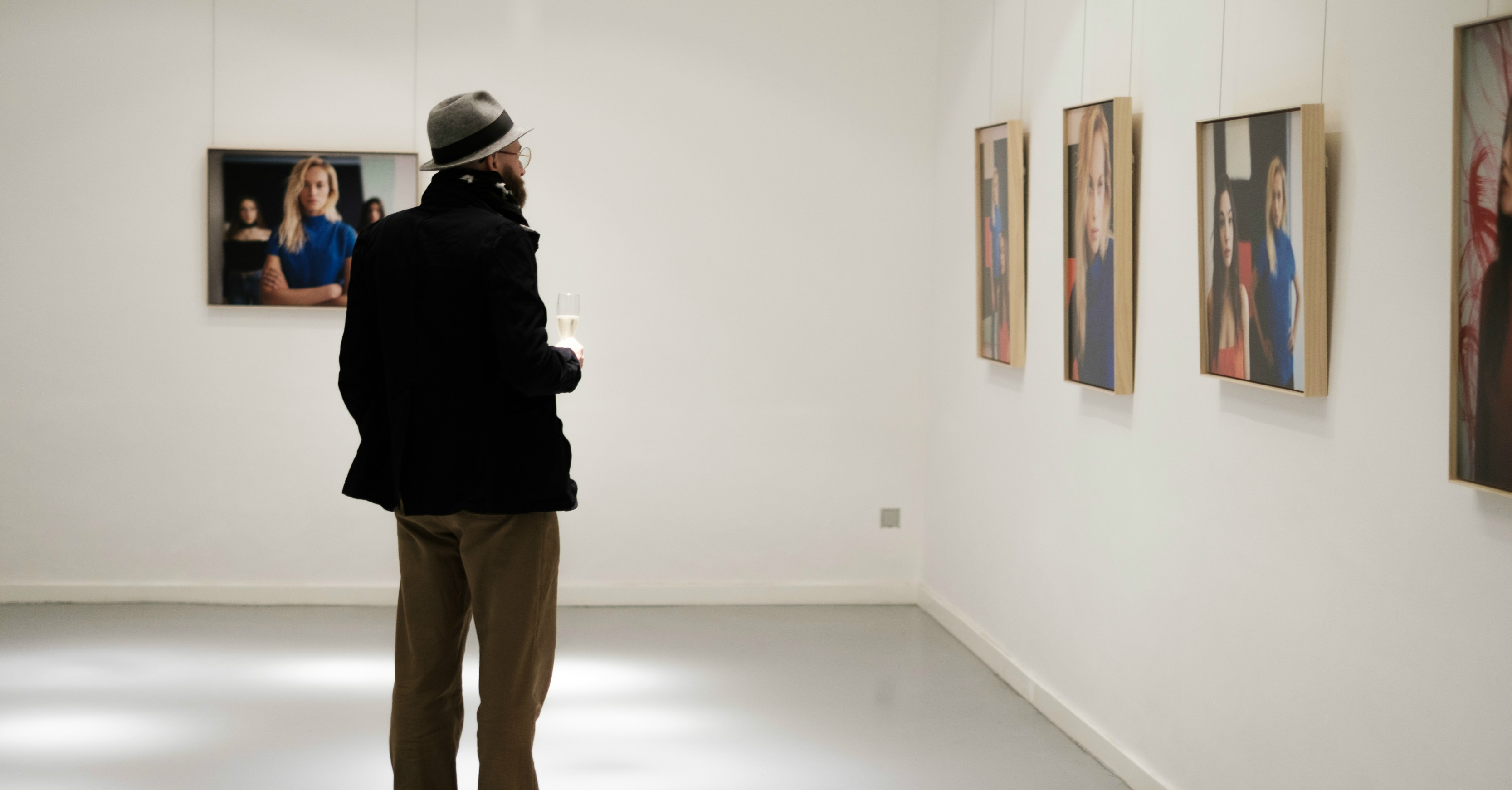 Photo: Flickr/K_rlis Dambr_ns

For art in galleries, from shows to openings to receptions and special events, check out City Guide's calendar listings for New York City. From Chelsea galleries to SoHo galleries to all points in between, we've got comprehensive painting, sculpture, performance art, conceptual art, and photography listings.


From Italy with Love - Agora Gallery
Through June 21, 2018 - New York, NY
Agora Gallery is pleased to present From Italy with Love, the first in a series of annual exhibitions featuring works by contemporary Italian artists. Including painting, collage, photography, and sculpture, this exhibition features recent works by Nello Petrucci; Cristiano Mazzoli; RABARAMA; Maurizio Zafret; Paolo Domenichini; and Angelica Pedini. Through this multi-year series of exhibitions, Agora Gallery will highlight the richness and breadth of contemporary Italian art, a genre that is underrepresented but acutely desired in New York City. This iteration is organized in collaboration with Contemply, Florence, Italy. The diverse works featured in From Italy with Love are connected through an innate engagement with figuration, a tradition inextricable from the country's history. Through distinctive approaches, the artists in this exhibition re-envision the patrimony of figurative art and communicate varied perspectives on the body. Fragmentation, abstraction, and deconstruction feature prominently in these works that depict form but also capture mood and attitude. Isolation, enclosure, and injustice are depicted alongside narratives of ebullience and celebration. From It... (read more)
Summerscapes Art Camp - Solomon R. Guggenheim Museum
Through June 22, 2018 - New York
Exclusively for kids ages 8–11, this five-day camp features discussions and activities that foster creativity and critical-thinking. Each session includes guided explorations of the museum's Frank Lloyd Wright building and special exhibitions, followed by hands-on, interactive workshops where campers create their own works of art. These individual and collaborative art-making projects encourage participants to experiment with various mediums and methods, including painting, sculpture, collage, and digital media. The week concludes with a mini-exhibition for kids to share their creations with family and friends. Participants must be ages 8–11. Limited to two weeks per child. Fee: $600 one week/$500 one week for members, $1100 two weeks/$900 two weeks for members. Includes art materials, snacks, a family pass, and photos documenting the program. For more information, please call 212 360 4254 or e-mail Carolyn Keogh at ckeogh@guggenheim.org.
Paul Fusco RFK Funeral Train - 1968 - Danziger Gallery
Through June 22, 2018 - New York
On the 50th anniversary of the train ride that took Robert Kennedy's body from New York to Washington where he was to buried alongside his brother, Danziger Gallery is honored to reprise our showing of Paul Fusco's photographs of the people who lined the rails to pay their final respects to RFK. In the years since they were taken these photographs have become a beloved, influential, and seminal series in photography. And while in some ways they represent the end of the hopes and dreams of the sixties, at the same time they celebrate the idealism and diversity of America. In the middle of 1968, two events shook the nation - the assassination of Martin Luther King on April 4th and the assassination of Robert Kennedy on June 5th. Hastily arranged, Robert Kennedy's funeral train took place on June 8th – a swelteringly hot early summer day. Paul Fusco, then a staff for LOOK Magazine, was given a place with other journalists on the train. As the train made its progress down the eastern seaboard, hundreds of thousands of mourners came out to line the railway tracks and pay their final respects to Bobby Kennedy and all he stood for. From inside the train, Fusco began to take pictur... (read more)
Alfons Mucha: Shaping The Czech Identity - Czech Center New York
Through June 22, 2018 - New York
The exhibit examines the role of the artist at times of political change, presenting examples of material created by Mucha for his country, culminating in his most significant work the Slav Epic. The Mucha Foundation, the Czech Center New York, and the Permanent Mission of the Czech Republic to the United Nations, are proud to present Alfons Mucha: Shaping the Czech Identity, which opens Thursday 31st, 2018, at the Czech Center New York Gallery. This exhibition celebrates the centenary of the birth of Czechoslovakia in 1918 by exploring Mucha's contribution to the nation's struggle for national identity and self-determination.
QUEENIE: Selected artworks by female artists from El Museo del Barrio's collection - Hunter College East Harlem Art Gallery
Through June 23, 2018 - New York
Tania Bruguera, Margarita Cabrera, Maria Fernanda Cardoso, Melba Carillo, Marta Chilindron, Alessandra Expósito, Iliana Emilia Garcia, Dulce Gomez, Cristina Hernández Botero, Carmen Herrera, Jessica Kairé, Carmen Lomas Garza, Evelyn López de Guzmán, Anna Maria Maiolino, Ana Mendieta, Marina Núñez del Prado, Liliana Porter, Raquel Rabinovich, Scherezade, Nitza Tufiño, among others. New artwork commissions by Melissa Calderón, Alessandra Expósito, and Glendalys Medina. QUEENIE features a selection of artworks by female artists across various media from the permanent collection of El Museo del Barrio. The exhibition highlights the institution's collection with a particular focus on the female artists and QUEENIE takes its title from a sculpture by Alessandra Expósito. The exhibition brings together works which prompt a multifarious dialogue around society and gender through the artists' varying perspectives and experiences. As part of the exhibition, HEHG has invited four NYC-based artists to respond to the exhibition with a new commission that further explores the connections among the collecting process, societal change, and a gendered experience.
Tommy Hartung: R.U.R. - C24 Gallery
Through June 23, 2018 - New York
C24 Gallery is pleased to present a solo exhibition by artist Tommy Hartung, marking his inaugural exhibition with the gallery. R.U.R will be on view from May 4 through June 23, 2018 at 560 West 24th Street, with an opening reception on Friday May 4 from 6 – 8 pm. R.U.R., which stands for Rossum's Universal Robots, presents a series of new, interactive video installations based on Karel Kapek's 1920 science fiction play of the same name in which the term "robot" was first used. The play explores the speed of technological progress and the uncertainties and dehumanization that occurs as a result of the robotization of human interactions. In Hartung's adaptation, the original play is re-written through photographs, costumes and interactive videos that pose the question: Why do men want to create robots that look human? Tommy Hartung's works analyze the creation and dissemination of cultural narratives by fragmenting and deconstructing his source material. Through the montages of stop motion animation and found footage, Hartung uses the themes of modernism as his subject matter. His sculptures, the subjects of his videos, are assembled through scavenged material to form hybri... (read more)
Gerard & Kelly - Pioneer Works
Through June 24, 2018 - Brooklyn
Brennan Gerard and Ryan Kelly have collaborated since 2003. Their installations and performances use choreography, writing, video, and sculpture to address questions of sexuality, memory, and the formation of queer consciousness. Exhibitions and performances of their work have been presented by the Festival d'Automne (Paris), Chicago Architecture Biennial, Guggenheim Museum (New York), New Museum (New York), Made in LA Biennial at the Hammer Museum (Los Angeles), and The Kitchen (New York). Gerard & Kelly completed the Whitney Museum Independent Study Program in 2010, and received their MFAs from the UCLA Department of Art in 2013. They have received numerous recognitions for their work, including grants from the New England Foundation for the Arts' National Dance Project, Art Matters, Graham Foundation, and the Juried Award from the New York Dance and Performance Awards, also known as the Bessies. Their work is in the collections of the Hammer Museum, Los Angeles, and the Guggenheim Museum, New York.
President's Gallery - Green Habitat - John Jay College of Criminal Justice
Through June 27, 2018 - New York
President's Gallery proudly presents the exhibition GREEN HABITAT
Maia Cruz Palileo: Meandering Curves of a Creek - Pioneer Works
Through July 01, 2018 - Brooklyn
Meandering Curves of a Creek is Maia Cruz Palileo's first solo institutional exhibition, comprised of a selection of recent paintings and drawings that continue the artist's ongoing exploration of her personal identity, cultural heritage and feelings of multiplicity as a Filipino-American. This body of work traces a direct lineage to the ethnographic photographs of Dean C. Worcester, an American zoologist turned Secretary of the Interior who traveled to the Philippines at the turn of the nineteenth century. Palileo unearthed Worcester's dehumanizing images in Chicago's Newberry Library during the summer of 2017, and in turn used these photographs as a point of creative departure for transposing a bygone past into an intimately imagined world where history, myth, and superstition intersect. In creating these works, Palileo also looked to Damián Domingo's watercolors of people living in Manila during the 1820s, and Isabelo De Los Reyes's 1889 manuscript El Folk-lore Filipino, a collection of texts which debased the fraught assertion that the Philippines lacked civilized culture prior to Spanish colonization.
Perspectives - The Art Garage
Through July 02, 2018 - Cooperstown
The Grassroots Gallery is proud to feature local artists Michael Connor and William Bracht in an exhibit titled Perspectives. Perspectives will be on display at the Grassroots Gallery throughout the entire month of June with a grand opening celebration on June 1, the same night as Delray Beach's Art Walk.
Drawing the line: Realism and Abstraction in Expressionist Art - Galerie St Etienne
Through July 06, 2018 - New York
Landscapes after Ruskin: Redefining the Sublime - Grey Art Gallery
Through July 07, 2018 - New York
Landscapes after Ruskin: Redefining the Sublime explores contemporary painting, photography, sculpture, and video through the lens of influential English art critic and social thinker John Ruskin (1819–1900), who argued that the artist's principal responsibility is "truth to nature." For Ruskin, this "truth" was more than just a technical representation of the natural world on canvas but also a depiction of it as experienced by humankind. In Landscapes after Ruskin, guest curator and artist Joel Sternfeld examines how, in a world overwhelmed by industrial development and environmental uncertainty, contemporary artists are discovering new beauties and terrors associated with nature and, in so doing, invoking an updated sense of the sublime. The exhibition features a wide range of works by over fifty artists, including Richard Artschwager, Christiane Baumgartner, Katherine Bradford, Spencer Finch, Neil Jenney, Raymond Pettibon, Michal Rovner, Ai Weiwei, and David Wojnarowicz, among others. Organized by the Hall Art Foundation, the exhibition will be accompanied by an illustrated catalogue.
Wake - Dorsky Gallery Curatorial Programs
Through July 15, 2018 - Long Island City
Exhibition Opening: Wake Opening reception: Sunday, May 6, 2-5pm Exhibition runs from May 6- July 15, 2018
Glenn Goldberg - The New York Studio School
Through July 15, 2018 - New York
Fernando Carpaneda "New Portraits" - MF Gallery
Through July 29, 2018 - Brooklyn
Fernando Carpaneda "New Portraits" is a series of paintings and drawings depicting the beauty and the sensuality of men and women. The work seeks to provoke debates and questions about equality, in the sense of valuing the human being. Leaving inhibition aside, in scenes that depict sex, gender and relationships, the artist's "in your face" approach is meant to inspire the observer to accept diversity in human sexuality. Carpaneda takes inspiration from the urban element, and uses the language of the street along with his own experiences. Beggars, pop stars, sex workers, punks and outcasts of all kinds are the object of his attention and look. He uses DNA- be it his own hair or that of his models- and blends it with more traditional art materials to create his paintings and sculptures. In the past, Carpaneda has focused his artistic gaze exclusively on the male subject. But for this show, he has created paintings and drawings of females for the very first time. Fernando Carpaneda was one of the first Brazilian artists to exhibit homoerotic works in Brazil, and is well known in the gay arts and erotic arts world. He has been showing in international galleries since 1982, in pl... (read more)
Terry Winters Forces and Fictions - The Drawing Center
Through July 29, 2018 - Soho
A leading figure in the art world for four decades, Terry Winters became well known in the 1980s for his materially-conscious drawings and paintings. Representing the patterns and schema that undergird physical and intellectual life—French philosopher Gilles Deleuze is cited as an important reference—Winters's drawings of grids, networks, and knots illustrate complex encounters between biological drives, technological systems, and mental processes. The Drawing Center's Main Gallery will present an overview of Winters's drawings from 1980 to the present including full cycles of drawings, such as File Drawings (2009), as well as a selection of large-scale works on paper that foreground the overarching theme of Winters's practice: the desire to make sense, however fictively, of the manner in which the visible world is constructed and received. Rather than offering a comprehensive drawing retrospective, the show will be organized with an eye to morphological relationships so that, as viewers move through the gallery, they will recall and ideally return to earlier related images.
People - Jeffrey Deitch
Through July 31, 2018 - New York
Judha Su - Art in General
Through July 31, 2018 - Brooklyn
Judha Su is an art critic and writer, working on shifting boundaries of contemporary arts, diverse forms of artistic practices, and politics of knowledge. She perceives art as a point of contact, negotiation, and entry to imagine beyond a conditioned reality. Her current project revolves around reclaiming thinking subjectivities, a transmission of bodily and nonverbal knowledge, and a re-distribution of sensory experiences. From 2015–16, she received a research fellowship from the Japan Foundation Asia Center to conduct fieldwork about practices of art writing in Indonesia, Philippines, and Japan. Last year, she initiated a collaborative project titled "To Whom It May Concern"; started as a laboratory exhibition at Bangkok CityCity Gallery, the project has now developed into a Thai-English online platform for collective learning. Judha is also a laborer of "soi" – a space for dialogue, research, and pedagogy. Judha is in residence at Art in General from April to July 2018 through the support of the Asian Cultural Council.
Reanimation Library - Pioneer Works
Through August 30, 2018 - Brooklyn
Reanimation Library, an ongoing project by Andrew Beccone, is a collection of 2000+ obscure or out-of-print publications the artist has been collecting over 15 years. Chosen primarily for the images that they contain, this collection of books have been culled from thrift stores, rummage sales, flea markets, municipal dumps, library sales, give-away piles, and used bookstores across the country. Housed at Pioneer Books, Reanimation Library will operate as a public non-circulating collection of books for visitors through August 2018. The library space will include tools to use the collection including a computer, scanner, and copier and host a series of related public events. Join us on Thursday, September 14 at Pioneer Works for the opening reception at Pioneer Works. Learn more. Andrew Beccone, founder of the Reanimation Library, is an artist, librarian, and musician. The library has been exhibited widely at venues around the world including Vox Populi (Philadelphia), SPACE (London), High Desert Test Sites (Joshua Tree), talcual (Mexico City), 98weeks (Beirut), the Museum of Modern Art, the Queens Museum, and Kunsthalle Osnabrück. He was a resident at EFA's SHIFT (2014/15... (read more)
Madison Square Park Conservancy Announces Artist Diana Al-Hadid's First Major Commissioned Outdoor Public Art Exhibition - Madison Square Park
Through September 03, 2018 - New York
Madison Square Park Conservancy Announces Artist Diana Al-Hadid's First Major Commissioned Outdoor Public Art Exhibition Date: May 14, 2018 through September 3, 2018. Madison Square Park Conservancy announces its thirty-sixth exhibition, Delirious Matter by artist Diana Al-Hadid. Six new sculptures will be installed across Madison Square Park's central Oval Lawn, peripheral lawns, and northern reflecting pool. Delirious Matter is the artist's first major public art project. It will be on view from May 14, 2018- September 3, 2018. In spring 2018, artist Diana Al-Hadid (American, b. Aleppo, Syria 1981, lives and works in Brooklyn) will create newly commissioned sculptures in Madison Square Park. Two wall works will be combined with rows of hedges to form a room suggesting the elegiac beauty of deteriorating structures nestled into plant material. Three reclining female figures, titled Synonym, sit on plinths and will be displayed on the surrounding lawns. In the Park's reflecting pool, the artist will realize a site-specific sculptural bust of a female figure perched atop a fragmented mountain. Al-Hadid is best known for creating work using traditional and contemporary scu... (read more)
The Means of a Ready Escape: Brooklyn's Prospect Park - Prospect Park Alliance
Through September 30, 2018 - Brooklyn
In celebration of the 150th anniversary of Prospect Park, Brooklyn Historical Society and Prospect Park Alliance present an exhibition that celebrates the founding vision of the Park, traces its social and historical trajectories, and examines the important role that Prospect Park has played as "Brooklyn's Backyard" for 150 years. The Brooklyn Historical Society is closed on major holidays.
Yang Yuanyuan - Art in General
Through September 30, 2018 - Brooklyn
Yang Yuanyuan (b. 1989, Beijing) lives and works in Beijing. She received a BA (hons) in photography at London College of Communications, University of the Arts London in 2013. By experimenting with different ways of visual storytelling, Yang creates narratives where facts and fiction coexist and speak about topics such as memory and history. Yang's work has been exhibited and published internationally. Her solo exhibitions include: "At the Place of Crossed Sights"(C-Space, Beijing, 2016) and "In-between Places" (Being 3 Gallery, Beijing, 2012). She participated Anren Biennale (2017) and Guangzhou Image Triennial (2017). Her works have been the subject of exhibitions at Guangzhou Times Museum, Guangzhou (2017); Yang Art Museum, Beijing (2017); Fotogalerie Wien, Vienna (2016)?Benaki Museum, Athens (2015); Objectifs, Singapore (2015); Espacio de Arte Contemporáneo (EAC), Montevideo (2015) and Three Shadows Photography Art Center, Beijing (2012).
New York & The Nation in The Robert H. and Clarice Smith New York Gallery of American History - New York Historical Society
Through December 31, 2018 - New York
Collection Highlights and New York and the American Experience Explore the story of New York and America in the Robert H. and Clarice Smith New York Gallery of American History. Highlights include: Mounted on the building's original 1904 columns are grand digital screens displaying a continuous, thematically co-ordinated slide show of treasures from the New-York Historical Society's collections. The west face of the columns features individual stations, incorporating interactive touch screens and museum artifacts, presenting six themes in American history which are found interwoven with the history of New York. Projected on dramatic flat screens affixed to six structural columns, the array of objects and images functions as visual signage that demonstrates to our visitors the depth of New-York Historical's collections.
Looking for Free Group Planning Services?
Get free advice on planning your group's trip to New York.
MORE Activity Planner ARTICLES
RESTAURANTS

Beloved midtown spot takes inspiration from local tradition,...

THEATER

Kander and Ebb's "musical vaudeville" in which Roxie Hart ga...

SHOPPING

An array of quality branded merchandise showcasing HBO's® aw...

SIGHTSEEING

This renovated museum complex includes the 900-foot-long air...