Comedy Shows in New York City This Weekend - May 18-May 20
May 14, 2018 - by CG Directory Editor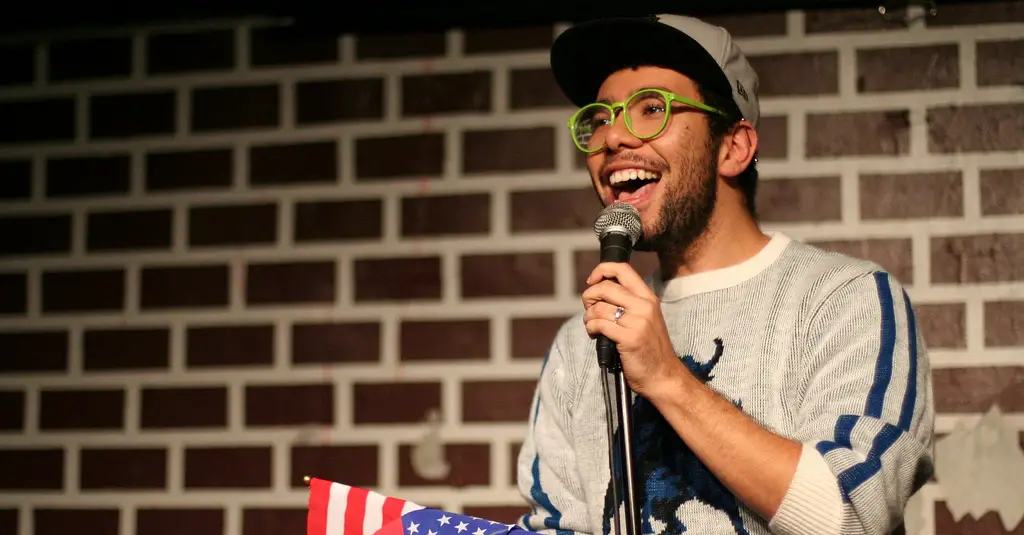 Photo: Benjamin Ragheb/Flickr

Who doesn't enjoy a hearty laugh? You'll get your fill of chuckles and then some at any of the comedy club shows on this weekend roundup from City Guide. Attending comedy shows in New York City is a must for anyone wanting to enjoy everything the city has to offer, and you might even catch a famous name performing a set at The Comedy Cellar, Gotham Comedy Club, or The Stand if you're lucky!


Friday Night Mics (PIT ATTIC) - PIT Striker Mainstage
May 18, 2018 - New York
Start your weekend off right with this Friday Night Mic in the heart of Manhattan!
BoogieManja - The PIT Loft
May 18, 2018 - New York
BoogieManja (n): 1.) A huge, exciting, experimental monster. 2.) An hour of fantastic sketch comedy from some of the best performers and writers in NYC. 3.) Something that changes shape or form every month.
Rhett Sever's Tumbled Weed Connection Open Mic (PIT ATTIC) - PIT Striker Mainstage
May 19, 2018 - New York
Rhett Sever's Tumbled Weed Connection Open Mic: $5 for Citizens, $3 for PITizens
The Manhattan: Comedy for the New Yorker in You (The Vintage Lounge) - Gotham Comedy Club
May 19, 2018 - New York
Whether you're a New Yorker, or you're just visiting, you've come to Manhattan because it's exciting, it's fun, it's the heart of the City that never sleeps, and it's different from any other place on the planet It's also our show, which is as cool, as fun, as captivating as the City it's named for. With great comics from across the nation who've made New York their home, the Manhattan Comedy Show is stand-up for grown-ups, and a fun night out! It's a show filled with laughter and good times that is simply unforgettable! So, whether you're a New Yorker or just visiting, the Manhattan is a night of comedy just for you. The show is brought to you by: Alex Barnett As the White, Jewish husband of a Black woman (who converted to Judaism) and the father of a 3-year old, Biracial son, Alex focuses on the challenges of being a parent in a bad economy and the issues that confront interracial families. Alex, who hosts the "Multiracial Family Man Podcast" has been featured on the Katie Couric Show, Sirius/XM Radio's "Raw Dog Comedy," and in The Wall Street Journal, The Huffington Post, and CNN.com.
The Baldwins - The PIT Underground
May 19, 2018 - New York
The PIT's longest running team, The Baldwins, perform their signature brand of longform improv comedy at 8pm every Saturday night. "One of the most impressive and absurd long-form improv routines in the city." - TimeOut NY "Terrific, hilarious and disgusting." - Josh Radnor, How I Met Your Your Mother The Baldwins are Kevin Cragg, Daniela Donohue, Meg Griffiths, Chris Griggs, Sarah Nowak, Amanda Peck, Pat Sheperd, and Micah Sherman.
Magic Show - Broadway Comedy Club
May 19, 2018 - New York
Happy Hour Comedy with Herron Entertainment - Eastville Comedy Club
May 19, 2018 - New York
Mike Bocchetti Album Recording - New York Comedy Club
May 20, 2018 - New York
Mike Bocchetti records his debut comedy album! Mike Bocchetti is an actor & comedian from NYC. With 20 years in the business Mike has worked with them all. He has appeared on The Howard Stern Show, The Jim Breuer Show and recently acted with Robert Deniro in the feature film, "The Family." Mike was also the announcer for the Artie Lange Show and co-founder of Blasted Films. Requirements : 16 & over or 13+ with adult Standard two drink minimum per person Individual comedian appearances subject to change without notice Groups of 7+ please email events@newyorkcomedyclub.com No refunds due to inclement weather NY State Tax (8.875%) additional ALL SALES ARE FINAL
Kids n' Comedy Show! - Gotham Comedy Club
May 20, 2018 - New York
All in the Family show! Families are the best/worst. Sometimes, you can't believe you're related to such awesome people. Other times, you think: why couldn't I have been an orphan? Harry Potter was an orphan, and he turned out just fine! Come hear NYC's best teenaged comedians complain about how embarrassing it is to have a family. Every month Kids 'n Comedy presents a showcase of our best and brightest teenage stand-up grads at Gotham Comedy Club in Manhattan. We won't ask you to wear a tie. In fact, we hate ties. Nobody wearing a tie is allowed in. There, we've put our foot down. Come see the funniest young comedians in New York, and even get the chance to tell a joke yourself, live on stage. I mean, what else are you doing on a Sunday Also, if it's your birthday, we'll give you a shout out on stage, and do our best to make all of your friends really jealous. KIDS 'N COMEDY is a great place to bring a birthday party (just make sure you give us 3 weeks notice.)
The Last Laugh - The PIT Underground
May 20, 2018 - New York
The Pit's weekly all-star stand-up showcase! Get your last laugh in before your miserable week begins!
Anjelah Johnson - Carolines on Broadway
Through May 20, 2018 - New York
Anjelah Johnson-Reyes was born and raised in San Jose, California and is of Mexican and Native American descent. She is one of five children and has a large extended family. Anjelah was a professional cheerleader for the Oakland Raiders then moved to Los Angeles to pursue her dream of acting. She became an internet sensation with her viral video "Nail Salon" which led to many stand up and performance opportunities. She then joined the cast of "MADtv", which spawned another internet sensation "Bon Qui Qui." This original character, a disgruntled fast food employee with no filter, has been enjoyed, viewed and replicated by well over 75 million people worldwide. Anjelah released 3 songs and 2 music videos as Bon Qui Qui then signed a record deal with Warner Bros Records to release a full album in January 2015. Anjelah has also toured "Bon Qui Qui – Gold Plated Dreams" across the country with a full musical production complete with dancers performing the tracks from her WB Records release. Anjelah has also guest starred on shows such as "The Shield," "Ugly Betty," "Curb Your Enthusiasm," and others all while traveling with her stand up comedy. She has appeared in movies such as O... (read more)
Mlima's Tale - The Public Theater
Through May 20, 2018 - New York
This season, two time Pulitzer Prize winner Lynn Nottage returns to the Public with a new drama as moving and incisive as her Broadway debut play Sweat, heralded by The New York Times as a "vital contribution to contemporary drama." Taking us on a journey that starts in a game park in Kenya and goes around the world, MLIMA'S TALE is the story of Mlima, a magnificent elephant trapped in the clandestine international ivory market. Following a trail of greed and desire as old as trade itself, Mlima leads us through memory and fear, history and tradition, and want and need. Obie Award winner Jo Bonney (Father Comes Home from the Wars) directs this poignant new play that reveals the surprising and complicated deals that connect us all.
The Acting Company Presents Twelfth Night - Polonsky Shakespeare Center
Through May 27, 2018 - Brooklyn
"If music be the food of love, play on!" This beloved comedy is an engaging mixture of mischief, unrequited love and gender confusion—all interwoven with music and some of Shakespeare's most beautiful language. Shipwrecked in the alluring country of Illyria, twins Viola and Sebastian each believe the other dead and embark on parallel adventures of mistaken identity and self-discovery. Tony nominee Maria Aitken (The 39 Steps) directs this co-production of the alumni of The Acting Company and Delaware's Resident Ensemble Players (REP).
Femme Fairy Tales - UCBT Hell's Kitchen
Through May 31, 2018 - New York
Once Upon a Time... Sleeping Beauty's prince realizes that it is super creepy to kiss a woman who is sleeping, the Little Mermaid discovers that legs come with vagina-a-bobs and Cinderella learns how dumb it is to wear shoes made of glass. This all-female sketch show takes on classic Disney fairy tales and turns the patriarchal stories on their heads. Whether dealing with issues like consent, cultural appropriation or economic disparity, we keep things fun – and magical! This is a world where all women, princesses or not, are equal - now that's a fairy tale! Additional Info: www.femmefairytales.com
Looking for Free Group Planning Services?
Get free advice on planning your group's trip to New York.
MORE Activity Planner ARTICLES
RESTAURANTS

Beloved midtown spot takes inspiration from local tradition,...

THEATER

Kander and Ebb's "musical vaudeville" in which Roxie Hart ga...

SHOPPING

The sweetest experience in Times Square!...

SIGHTSEEING

Start by ascending to the top of the tallest building in the...