Classical Music in New York City This Week - October 14-October 21
October 14, 2018 - by CG Directory Editor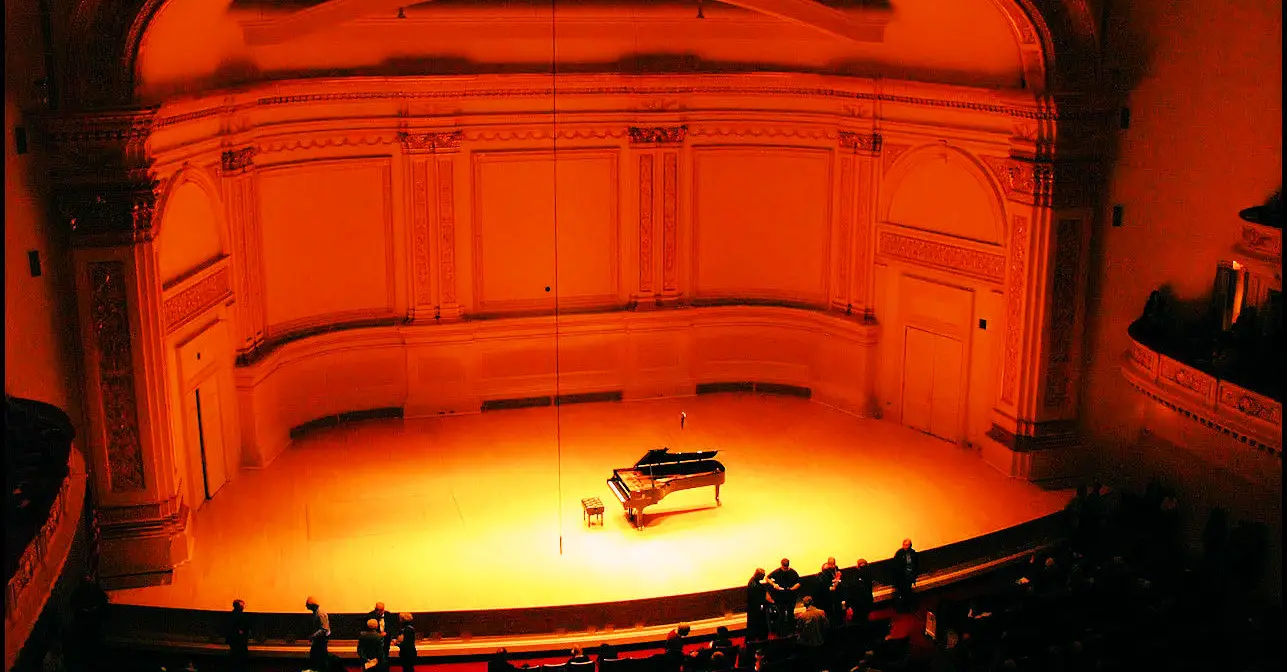 Photo: Fickr/Taos Melillo

From the New York Philharmonic to churches and smaller concert halls, you'll find the best of New York's classical music in City Guide's calendar. When it comes to acoustics, famous destinations like Carnegie Hall and Lincoln Center are world-class attractions and we've got every upcoming performance listed in our system.


Modest Mouse - Palace Theatre
October 14, 2018 - Albany
Modest Mouse formed in 1993 in Issaquah, Washington and has become, over the past two decades, the indie rock gold standard: One of the few bands capable of achieving massive popularity without sacrificing their longtime fans.
NYPS Opening Concert: 2018-2019 Season - Merkin Concert Hall
October 14, 2018 - New York
The New York Piano Society is proud to announce the Opening Concert of the 2018-2019 Season. An exciting program to celebrate the commencement of NYPS' 13th Season. Works by Scriabin, Chopin, and Debussy, as well as Brahms and Rachmaninoff duos, & Schumann with cello, performed by our outstanding NYPS concert pianists, who spend their working hours as doctors, architects, engineers, mathematicians, designers and police officers. Also featuring NYPS Artist in Residence, James Kim, cello, & Guest Artist, Natasha Paremksi, piano. ? NYPS Artist in Residence: James Kim, cello James Kim has performed concerts with orchestras such as the Boston Symphony, Royal Philharmonic, Walloon Royal Chamber, Juilliard, New England Conservatory Youth Philharmonic, Daejeon Philharmonic, Tongyeong Festival, Korean Symphony, Daegu Symphony, and Korean Broadcasting System, in venues including the Symphony Hall of Boston, Jordan Hall, Carnegie Zankel Hall and Stern Auditorium, Lotte Concert Hall, and Daegu Concert House, with conductors such as David Zinman, Alexander Shelley, Matthias Bamert, Michael Sanderling, Keith Lockhart, Tan Dun, Benjamin Zander, Frank Braley, Jung Chi Yong, and Julian Ko... (read more)
Sunday Gospel Brunch with the World Famous Harlem Gospel Choir All You Can Eat - Sony Hall
October 14, 2018 - New York
The Choir brings their experience of Harlem and the Black Church to Times Square in a foot stomping, hand clapping show for fans from around the world. The home-style "all you can eat" southern buffet is guaranteed to fill the hole in your soul, and the Choir's joyous performance will have you dancing on the stage. See more info on the B.B. King Blues Club website!
Sudden Departure Day - Music of the Leftovers - The Town Hall
October 14, 2018 - New York
A rare performance of Composer Max Richter's emotive score for Damon Lindelof's cult HBO series The Leftovers. Richter approaches the show's themes of departure and loss with intimate and achingly beautiful melodies that travel through a psychological and tempestuous landscape with instrumentation of sustained tones, piano, harps and celesta. "Musically incredible and conceptually spot on. Max Richter is truly a modern day musical genius." The Line Of Best Fit Max Richter stands as one of the most prolific figures on the contemporary music scene today with ground-breaking work as a composer, pianist, producer, remixer and collaborator. From synthesizers to full symphony orchestra, Richter has spun a web of innovation to compose music for solo albums, ballets, concert hall performances, film and television scores, video art installations and theatre works.
2018-19 Schneider Concerts Season - Shattered Glass chamber orchestra - Alvin Johnson/J.M. Kaplan Hall
October 14, 2018 - New York
Program approximately 1 hour and 30 minutes, including intermission Collaborative, conductorless, versatile and virtuosic chamber orchestra Pascal Le Boeuf - Transition Behavior (2016) Caroline Shaw - Entr'Acte (2011/2014) Osvaldo Golijov - Last Round (1996) Bela Bartok - Divertimento (1939) NOTE: Seats are not reserved Accessibility Early admission for those with special seating needs at 1:15p.m.; general public enters at 1:30p.m. Facilities are wheelchair accessible. Large-print programs are available upon request.
East West Street: A Song of Good and Evil - 92Y
October 14, 2018 - Upper East Side
Using words drawn from Sands' book East West Street; music of Ravel, Rachmaninoff, Bach, Leonard Cohen and others; and the stagecraft of director Nina Brazier, the work explores the connections between three men whose lives became intertwined during the Nuremberg trials: Hersch Lauterpacht, who introduced the concepts of crimes against humanity and war crimes into international law; Raphael Lemkin, who coined the term "genocide"; and Hans Frank, the personal lawyer of Adolf Hitler.
Masterworks Series — Beethoven, Guillaume, and Schumann - Barge Music
October 14, 2018 - Brooklyn
Beethoven Piano Sonata No. 15 in D Major, Op. 28,"Pastoral," (Quartet arrangement) Guillaume Connesson (*NY Premiere) Schumann String Quartet No. 1 in A minor, Op. 41/1 Amernet Quartet: Misha Vitenson, violin; Franz Felkl, violin; Michael Klotz, viola; Jason Calloway, cello
Orchestre Révolutionnaire et Romantique - Carnegie Hall
Through October 15, 2018 - New York
Here's a rare opportunity to hear the music as Berlioz would have when the piquant winds, warm brass, and crisp strings of a celebrated period-instrument orchestra make his vibrant colors and gorgeous melodies soar even higher. Moving tales inspired by Romantic poetry and classical antiquity are set to music by a quintessentially French Romantic. Berlioz cast the viola as the protagonist in Harold in Italy, a moody and melodic work recalling Byron's wandering hero, while two legendary queens—Dido and Cleopatra—come to life in impassioned vocal music.
Joseph C Phillips Jr & Numinous: The Grey Land - Roulette Intermedium
October 16, 2018 - Brooklyn
The Grey Land is a mono-opera, which through the lens of one Black mother's experiences navigating American society with her son, explores universal themes of humanity and identity through the intractable triumvirate of race, class, and power. This work ruminates and comments more specifically on the larger longstanding systemic societal, economic, and cultural issues the recent spate of police shootings and protests have brought to the wider public consciousness, while integrating a variety of writings, film, dance, as well as dramatic elements in order to advance a non-traditional narrative that embraces the social multitudes and "dichotomies of high and low, inside and outside, tradition and innovation" within black culture. This world premiere will be a semi-staged, concert version of the composition.
The American Symphony Orchestra presents "A Walt Whitman Sampler" - Carnegie Hall
October 17, 2018 - New York
The American Symphony Orchestra presents "A Walt Whitman Sampler" Wednesday, October 17, 2018 at Carnegie Hall, Stern Auditorium/Perelman Stage Conductor's Notes Q&A 7 PM – 7:30 PM Concert 8 PM – 10:30 PM The American Symphony Orchestra presents "A Walt Whitman Sampler" conducted by Leon Botstein. Walt Whitman, the defining 19th-century poetic voice of America, inspired several generations of European composers. In the 20th century, Whitman's poetry was beautifully adapted during World War I by Othmar Schoeck. The catastrophe of World War II inspired Kurt Weill to turn to Whitman's writings. Franz Schreker and Ralph Vaughan Williams were drawn to Whitman's most famous collection, Leaves of Grass, seeking to create music worthy of the power of Whitman's poetry. This Wednesday night program includes: Othmar Schoeck – Trommelschläge (US Premiere) Kurt Weill – Four Walt Whitman Songs (New York Premiere) Franz Schreker – Vom ewigen Leben (From Eternal Life) (New York Premiere) Ralph Vaughan Williams – A Sea Symphony (Symphony No. 1) With the Bard Festival Chorale Program and artists subject to change. Tickets on sale September 4. Prices $25 / $40 / $55
Cabaret: John Musto & Amy Burton - Neue Galerie New York
October 18, 2018 - New York
Amy Burton and John Musto return to the Café Sabarsky for an elegant evening of song including gems from Weimar, the Great American Songbook, 1920's Paris and special surprises! Cabaret at Café Sabarsky in the Neue Galerie continues its unique series devoted primarily to German and Austrian music of the 1890s to 1930s. The intimate 60-seat room is exquisitely appointed with period objects, including lighting fixtures by Josef Hoffmann and furniture by Adolf Loos, and features a Bösendorfer grand piano.
Looking for Free Group Planning Services?
Get free advice on planning your group's trip to New York.
MORE Activity Planner ARTICLES
RESTAURANTS

Brings together the character of Hell's Kitchen past with th...

THEATER

In a heartbeat, 38 planes with 6,579 passengers were strand...

SHOPPING

The sweetest experience in Times Square!...

SIGHTSEEING

Located in Times Square in the heart of New York City, Riple...