Bridezillas Museum of Natural Hysteria Comes to Times Square
February 20, 2018 - by Merrill Lee Girardeau
Friday, February 23, revisit the reality show that catapulted the word "bridezilla" into the zeitgeist. In honor of the return of Bridezillas to WeTV, the network is opening the Museum of Natural Hysteria at 4 Times Square.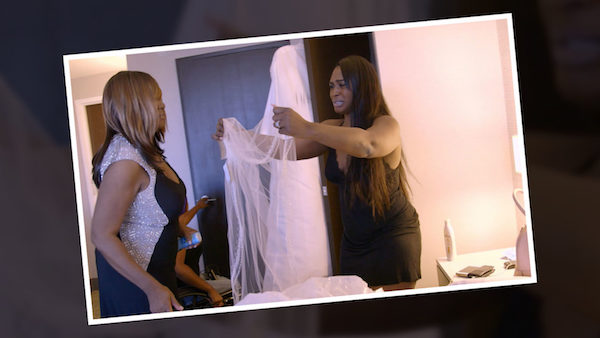 Bridezillas returns to WeTV March 2, at 10pm/9c
This street-level space is dedicated to the crazy in all of us when we stare down the barrel of our big day. Complete with interactive attractions and a set for your own tacky bridal portraits, you'll get excited for the show all over again (the new season airs March 2). Instagram stories will abound, whether you're a die-hard fan, a bride-to-be, or a visitor taking the whole thing in with a dose of irony.
Remember the best (or worst?) bridezillas from the show at the Bridezillas Throughout History gallery. This exhibit will feature famous brides from the original 10-year run of the program like Adam's Eve, Nefertiti, and Cleopatra. Artifacts and articles will also be on display. Revel in the big hair, bright-white gowns, abused bridesmaids, bug-eyed fights, and more.
Want to get out a little rage of your own? Take a few jabs at the Rage-O-Meter Punching Bag, or yell about a botched flower delivery at the Scream Booth. To calm down, just take a break at the Cray-Cray Cranial Head Massager.
Take your own over-the-top wedding pictures at a series of sets designed just for the museum. Get in your own white dress and fake a smile at the Altar of Shame, or bathe in a bathtub of fake diamonds for your photo op. Or you can play the victim of a Bridezilla as her giant sequin stiletto crushes you in your next Instagram profile pic.
Then as now, Bridezillas is a televised monument to the flared tempers and meltdowns that wedding-planning provokes. Each episode features two brides, along with their love stories and plans for their wedding days. The blow-ups are big, the screaming shrill, and the sobbing often hilarious as families feud and the brides' demands grow more and more extreme.
WeTV's Bridezilla's Museum of Natural Hysteria will be open every day from Friday, February 23 to Sunday, March 4. Hours: 11am to 8pm. Admission is free! 4 Times Square, wetv.com.
Looking for Free Group Planning Services?
Get free advice on planning your group's trip to New York.
RESTAURANTS

Beloved midtown spot takes inspiration from local tradition,...

THEATER

Gaston Leroux's famous period thriller is now one of Broadwa...

SHOPPING

Specializing in the great vineyards of California, France, A...

SIGHTSEEING

Hop aboard these environmentally friendly twin-hulled catama...