Blues and Jazz in New York City This Weekend - July 20-July 22
July 16, 2018 - by CG Directory Editor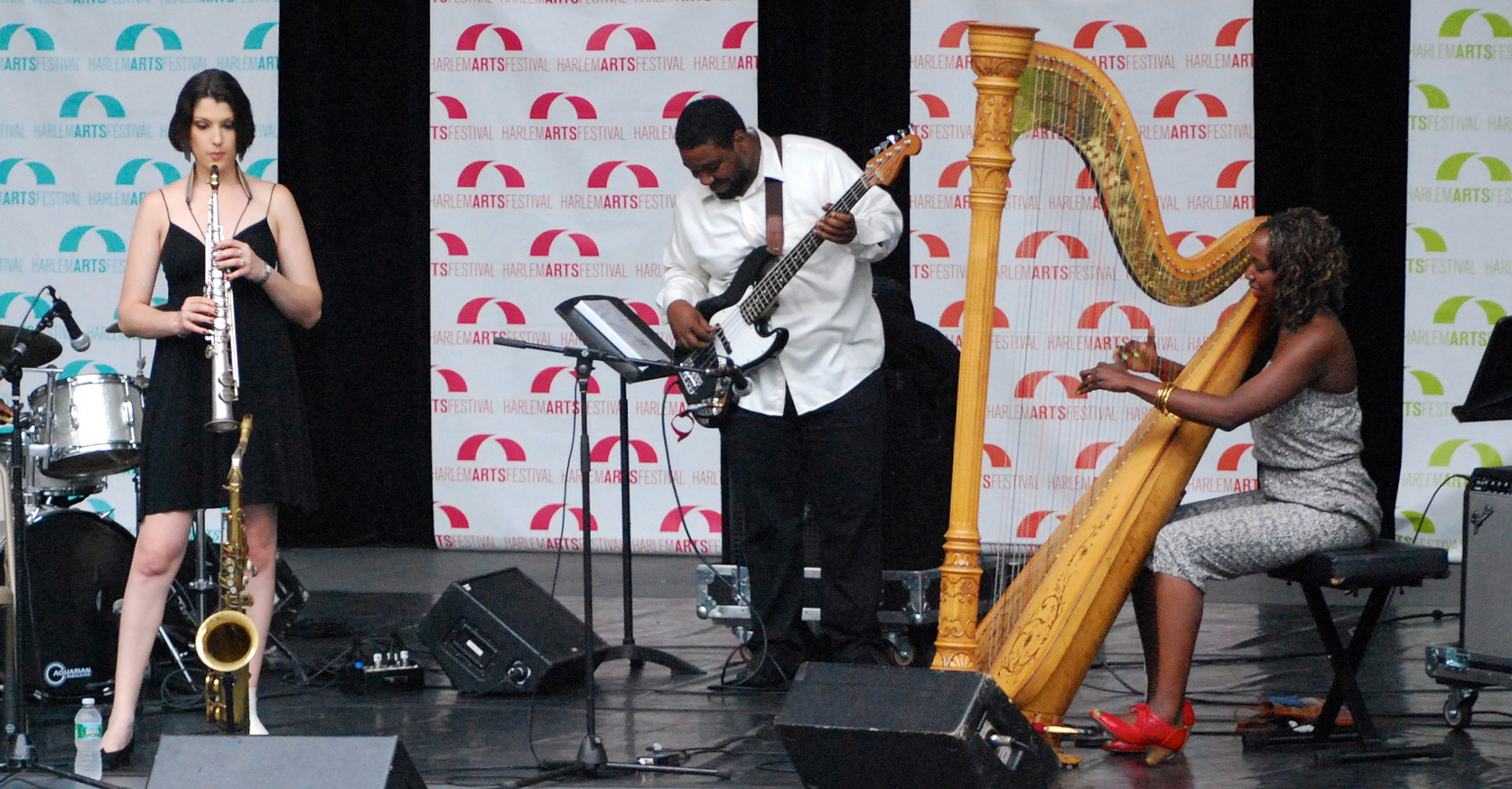 Photo: Nick Amoscato/Flickr

NYC is filled with blues and jazz clubs, and City Guide's got all the best weekend shows in one place. Get your groove at some of New York City's most famed establishments, including the likes of Blue Note Jazz Club, the Jazz Standard, the Village Vanguard and Terra Blues.


DR Mary Umolu Jazzy Jazz Festival - Medgar Evers College
July 20, 2018 - Brooklyn
Medgar Evers College Presents the 2018 Dr Mary Umolu Jazzy Jazz Festival happening each and ever Friday from July 6 through August 31. Please join us on Friday July 20, 2018 from 7PM to 10PM when our featured artist will be Medgar Evers College alumni and NY-based vocalist Stephanie Jeannot. Join us for music, jazz and an evening of summer fun at Medgar Evers College located at 1638 Bedford Avenue (corner of Crown Street).
Chuck Braman Jazz Band - Hudson River Park
July 21, 2018 - New York
Friday nights mean great local music on Pier 45! Join us three Friday nights at Pier 45 at 7pm to hear the Chuck Braman Jazz Band! Chuck Braman is a jazz drummer and bandleader who lives in the West Village. He leads several unique jazz bands, each based around a particular instrumentation, repertoire, stylistic concept, and core group of musicians.
Bottomless Boogie Brunch - The Red Lion
July 22, 2018 - New York
Jon Faddis Quartet - Dizzy's Club Coca Cola
Through July 22, 2018 - New York
With pianist David Hazeltine, bassist K, and drummer Dion Parson. Legendary trumpeter Jon Faddis, protégé of the great Dizzy Gillespie, returns to Dizzy's Club Coca-Cola to great demand in celebration of his 65th birthday. Known for an extraordinary, virtually unparalleled range, Faddis has complete mastery over the trumpet. He evokes the voices of Louis Armstrong, Miles Davis, Roy Eldridge, and, of course, Gillespie, all while remaining true to his own. Faddis' illustrious career has seen him perform with top jazz musicians, including Lionel Hampton, Charles Mingus, and the Thad Jones/Mel Lewis Orchestra. Help us throw him a proper birthday party in Dizzy's Club Coca-Cola and enjoy a masterclass in jazz trumpet performance.
Pat Martino Trio plus horns - Jazz Standard
Through July 22, 2018 - New York
Pat Martino - guitar; Pat Bianchi - organ; Carmen Intorre Jr. - drums; Adam Niewood - saxophone; Alex Norris - trumpet.
Earl Klugh - Blue Note Jazz Club
Through July 22, 2018 - New York
Since GRAMMY®-winner Earl Klugh released his inaugural album in 1976, the Detroit-born master of the acoustic-classical guitar has become one of the most imitated icons of the instrument. He has released over 40 records, 24 of which have been on Billboard's top-10 list of jazz albums and 6 of which have made it to the No. 1 slot. Klugh's recordings have received 13 Grammy® nominations (including one for his latest release, HandPicked) – and his collaboration with pianist Bob James, One on One, walked away with the 1980 Grammy® Award for Best Pop Instrumental Album. In 2016, Earl celebrates the 40th Anniversary of his debut album Earl Klugh (1976, Blue Note Records) with a very special catalogue of shows, highlighting selections from over 250 original compositions and featuring Klugh's favorite standards, influences and collaborations from throughout his illustrious career. "I've been so fortunate to be able to create the music that I've wanted to create, and work with some of the greatest artists of our time," says Klugh. "It's hard to believe it's been 40 years since that first record!" "You know, this one really caught me by surprise," reflects Klugh. "When I look up, ti... (read more)
Freddy Cole Quartet Pays Tribute to Nat King Cole - Dizzy's Club Coca Cola
Through July 23, 2018 - New York
With pianist and vocalist Freddy Cole, guitarist Randy Napoleon, bassist Elias Bailey, and drummer Jay Sawyer. "Freddy has an impeccable sense of swing… the most maturely expressive male jazz singer of his generation, if not the best alive." – The New York Times "You simply don't encounter phrasing as nonchalant yet polished as this anymore. It takes a lifetime to learn to make a lyric sound as colloquial as speech, yet as musical as an instrumental solo. Cole has spent his career mastering the art." – Chicago Tribune "Whatever the accompaniment, Cole extracts the maximum from each tune asserting his stature as our greatest living jazz singer." – DownBeat Referred to as a "national treasure" by the Huffington Post, jazz pianist and singer Freddy Cole is a prolific artist of undisputed pedigree. Building his career at the same time as his brother, the iconic Nat "King" Cole, it was never going to be easy for Cole to establish his own musical identity. However, with 20 albums released in just the last 25 years, three of which were nominated for Grammy Awards, Cole has carved out a reputation as an individual and prolific force in the jazz world. Amongst the greatest ... (read more)
Polly Gibbons - Birdland
Through July 28, 2018 - New York
With warm, soulful vocals and an innate blues sensibility, Polly Gibbons has been likened to many of the jazz and soul greats, but with her own fun, unique style of storytelling. This summer, Polly opened for jazz great George Benson and the "Empress of Soul" Gladys Knight on their sold out UK tours. London Jazz News said of Polly's show at Royal Albert Hall in June that "listening to her open up with soul and passion is a joyous experience." British London-based vocalist Polly Gibbons is one of the most respected and talked about young singer/songwriters of her generation. Being nominated for the prestigious BBC Jazz Award back in 2006 with no album release to her name, was a clear indication of just how special a singer and performer Polly is. Much esteemed by her contemporaries, Polly has built a reputation as an original and gifted voice. With warm, rich, soulful vocals and an innate blues sensibility, Polly has been likened to many of the jazz and soul greats bringing her own storytelling and earnest depth alongside unique humor and fun to performances. Polly's influences are brilliant, broad and inspired - from the poetry of Joni Mitchell and Leonard Cohen, to the be-b... (read more)
Nicole Zuraitis - Birdland
Through August 02, 2018 - New York
Vocalist, keyboard player and songwriter Nicole Zuraitis blends bountiful songwriting skills, an effervescent presence and dazzling vocals in a consummate package that has thrilled audiences across Manhattan and across the world. Nicole is the 2016 New York City Songwriting Competition Coffee Music Project Winner, 2015 second runner-up in the Sarah Vaughan International Jazz Vocal Competition and the 2014 Herb Albert ASCAP Young Composer Awards Winner. She's also the Peoples Choice and Johnny Mercer Award winner in the National American Traditions Vocal Competition. She is the vocalist for the world famous Birdland Big Band in New York City and has been nominated in all three jazz categories in the 2018 International Music and Entertainment Awards. Nicole has headlined the Blue Note (NYC) and maintains residencies at the 55 Bar (every second Thursday of the month), Rockwood Music Hall (with the Dan Pugach Nonet), and Redeye Grill.
Baby Soda - Bring your swing dancing shoes! - Pier 45 at Hudson River Park
Through August 17, 2018 - New York
Friday nights mean great local music on Pier 45! Join us Friday night at Hudson River Park's Pier 45 at 7pm to hear Baby Soda Jazz Band!
Sunset Jazz Concerts - Lyndhurst Concert Lawn
Through August 23, 2018 - Tarrytown
Relax on our great lawn and enjoy cool music by hot jazz artists! Grounds open at 4 pm, music starts at 6:30. $5 per person parking fee. Canceled by 3 pm if rain – check website for latest information.
Looking for Free Group Planning Services?
Get free advice on planning your group's trip to New York.
MORE Activity Planner ARTICLES
RESTAURANTS

Beer hall casual meets craft cocktails with a healthy dose o...

THEATER

Gaston Leroux's famous period thriller is now one of Broadwa...

SHOPPING

Specializing in the great vineyards of California, France, A...

SIGHTSEEING

This renovated museum complex includes the 900-foot-long air...