Blues and Jazz in New York City This Week - October 7-October 14
October 7, 2018 - by CG Directory Editor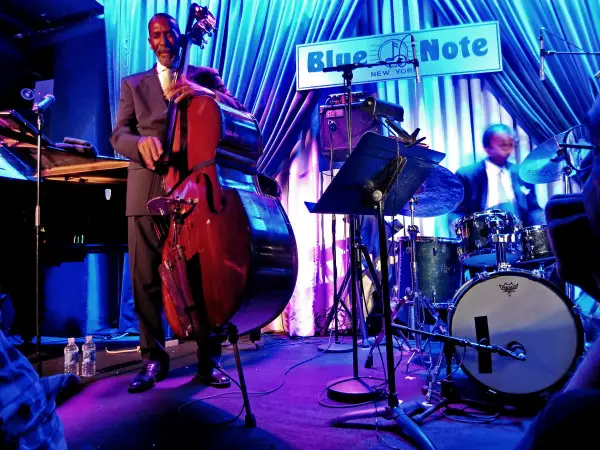 Photo: Flickr/Zhang Yu

Music fans in NYC can find all the latest blues and jazz shows and performances in City Guide's calendar. With newer venues like Dizzy's Club Coca-Cola joined by world-famous classics like the Village Vanguard and Birdland, you'll find jazz from hard bop to progressive. The blues also live in NYC, at great spots like Terra Blues.


Jazz for Kids - Jazz Standard
October 07, 2018 - Manhattan
The Jazz Standard Youth Orchestra is a performance driven program that gives talented and dedicated young jazz musicians the opportunity to perform regularly in one of New York City's leading jazz clubs often with guest artists from the New York scene. The visiting guests give a workshop to the band members in addition to providing the experience of playing with the top musicians on the scene. On Sundays during the school year, the students rehearse and workshop in the room before opening the doors at 1:00pm and giving a concert that is free and open to the public at 2:00pm.
Klezmer!: Celebrating the Lower East Side - Goldie Chu Community Room
October 07, 2018 - New York
Two Bridges Music and Katz's Deli invites Klezmer celebrants, Eastern-European folk music and American jazz lovers, as well as family and friends to Klezmer! Fans will be treated to the Metropolitan Klezmer, known for a sound that is not only "exuberantly eclectic but also very danceable", as well as a medley of snacks from the Lower East Side's iconic Katz's Deli. Please visit klezmer2bridges.eventbrite.com for tickets (Adults: $35, Kids: FREE)
Cortelyou Jazz Jam - Bar Chord
October 07, 2018 - Brooklyn
Weekly Jazz Jam hosted by Michael Vitali & Douglas Bradford
Ukrainian Stars in America 'Glory to Ukraine Gala' - Merkin Hall
October 07, 2018 - New York
A concert of classical arias, duets, Ukrainian folk songs, and dances to promote Ukrainian culture in America.
Lena Prima - Club Bonafide
October 07, 2018 - New York
"Even if Lena Prima did not have a famous last name, there's no doubt her strong vocal chops make her a star..." - Jonathan Widran - Wine and Jazz Magazine - Los Angeles With five albums to her credit, award-winning singer, artist and author Lena Prima is the youngest daughter of the legendary Louis Prima and his singing sidekick, (and fifth wife) Gia Maione. Lena was born in Las Vegas, but spent much of her childhood in New Orleans, where she resides today. She began her musical career at the age of four, appearing on stage with her parents, but continued to study and perform in high school and college.
Willie Jones III Quintet - Dizzy's Club Coca Cola
Through October 07, 2018 - New York
With drummer Willie Jones III.
Mingus Big Band - Jazz Standard
October 08, 2018 - Manhattan
Gospel and blues, the New Orleans polyphony of Jelly Roll Morton and the urbane sophistication of the Duke Ellington Orchestra, the stride piano of James P. Johnson and the dazzling harmonizations of Art Tatum: all went into the Mingus cauldron, seasoned with dashes of circus music, obscure pop tunes, B-movie scores, flamenco, scraps of Mozart and Richard Strauss. To listen to Mingus is to hear the black American musical tradition talking to itself." (Adam Shatz, "An Argument With Instruments: On Charles Mingus" – The Nation, 9.17.2013)
Latin Jazz Big Band Night featuring: The Bronx Conexión - Nuyorican Poets Cafe
October 09, 2018 - New York
The Bronx Conexión is a driving 20-piece Latin-Jazz Big Band lead by drummer/ percussionist, Victor Rendón. The ensemble, with its home base at Lehman College, brings a group of veteran musicians with a wide variety of experience in the field. The Bronx Conexión keeps the tradition of Tito Puente, Machito, Mario Bauza, among others, with it's own rendition of popular tunes as well as original compositions and arrangements by various members in the band. Admission: $10 general admission/$7 with Student ID at the door/$25 two tickets plus two drinks
Frankie Valli & The Four Seasons - Radio City Music Hall
October 12, 2018 - New York
Frankie Valli & The Four Seasons will be performing at Radio City Music Hall on October 12th, 2018.
Kevin Eubanks Quartet - Birdland
Through October 13, 2018 - New York
For nearly two decades the world knew where to find the acclaimed guitarist Kevin Eubanks. Five nights a week, Eubanks was cranking up the band and issuing steamy solos as music director on NBC's Tonight Show with Jay Leno. In the spring of 2010 Eubanks decided to go back to full time recording and touring. His recent ecordings for the Mack Avenue label explores the chemistry he maintains with star musicians on both coasts.
Vladimir Kostadinovic- Jazz - Silvana
October 14, 2018 - New York
This Band made thanks to Vladimir's inspiration and wish to keep the mix between tradition and modern jazz language. Their aim and goal is deployment and progress of a jazz sound,but first of all approach to the every generation and all the jazz fans. Their arrangements are based on original compositions and some standards, influences of jazz giants such as: John Coltrane, Thelonious Monk, Roy Haynes, Elvin Jones, etc - with a lot of groove walking bass and also admixtion of a modern sound.
Looking for Free Group Planning Services?
Get free advice on planning your group's trip to New York.
MORE Activity Planner ARTICLES
RESTAURANTS

Beer hall casual meets craft cocktails with a healthy dose o...

THEATER

Gaston Leroux's famous period thriller is now one of Broadwa...

SHOPPING

Specializing in the great vineyards of California, France, A...

SIGHTSEEING

Opened to the public in 1913 thanks to the ingenuity and amb...