Best Vegan Restaurants in Downtown New York City
July 30, 2018 - by Samantha Aronson
Some of the best vegan food can be found in New York City, and our vegetarian-friendly restaurants even have nut-free, gluten-free, and Kosher varieties, too. It's easy to a appreciate a meal without animal products at these five great downtown vegan eateries.
Best Downtown Vegan Restaurants in NYC: West Village
By Chloe was originally co-founded by vegan chef Chloe Coscarelli, the first vegan chef to win a televised culinary competition, so you know her food is fantastic (although she's left the By Chloe chain of restaurants now). By Chloe serves vegan versions of all of your favorites, like mac 'n' cheese made with sweet potato-cashew cheese sauce and almond parm, or their classic burger, which is made with a tempeh-lentil-chia-walnut patty. Another favorite is tacos made with the super-grain quinoa. And that's not all! They also have Juices by Chloe, Sweets by Chloe, and Woof by Chloe (treats made specifically for pets). 185 Bleecker St., 212-290-8000, eatbychloe.com
Best Downtown Vegan Restaurants in NYC: Chelsea
Blossom brings together vegan and an upscale dining experience. With animal welfare in mind, their menu is filled with tasty items like cauliflower steak (olives, capers, breadcrumbs, tapioca "cheese"), gnocchi (sun-dried tomatoes, spinach, snow peas, crispy leeks, and a lemon-truffle-cashew sauce), and even includes a section with stone-baked, freshly made vegan pizzas. Those pies come in gluten-free, nut-free, and soy-free options, meaning there's something for everyone, no matter what their dietary restrictions. 187 Ninth Ave., 212-627-1144, blossomnyc.com
Best Downtown Vegan Restaurants in NYC: FiDi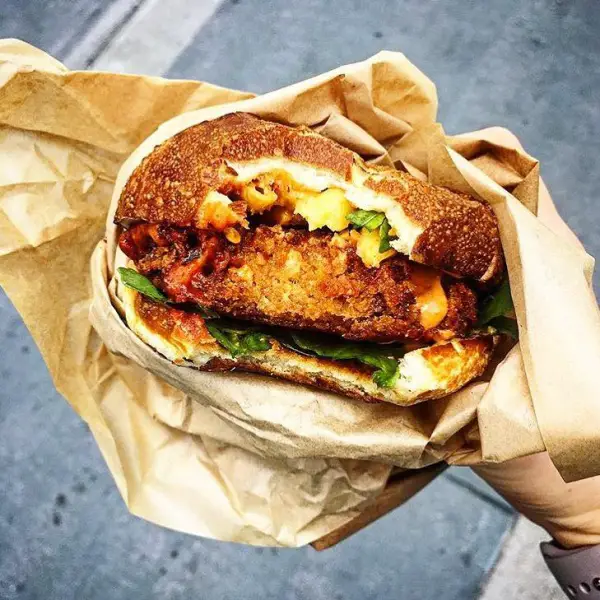 The Cinnamon Snail/Facebook
If you are a fan of plant-based comfort food than look no further; The Cinnamon Snail serves terrific sandwiches, burgers, and sweets all without any dairy or meat products. This Kosher, vegan cuisine started off as a food truck in 2010 before opening up a stand at City Acres Market downtown (there's another one at the Pennsy in Penn Station). Try their Beastmode Burger (above) for the ultimate flavor explosion, featuring a bourbon BBQ seitan burger, jalapeno mac 'n' cheese, smoked chili coconut "bacon," and arugula, stuffed between a delicious pretzel bun that's grilled to perfection. 70 Pine St., 917-261-4530, cinnamonsnail.com
Best Downtown Vegan Restaurants in NYC: Greenwich Village
If you are looking to enjoy a lovely meatless brunch than look no further than Urban Kitchen. They serve up brunch daily until 4pm, and they have vegan versions of all of your favorite items: from their classic BLT featuring shiitake bacon to Belgian waffles served with coconut whipped cream, each item will taste just as delectable as it looks—even without dairy! 41 Carmine St., 646-438-9939, urbanvegankitchen.com
Best Downtown Vegan Restaurants in NYC: Chelsea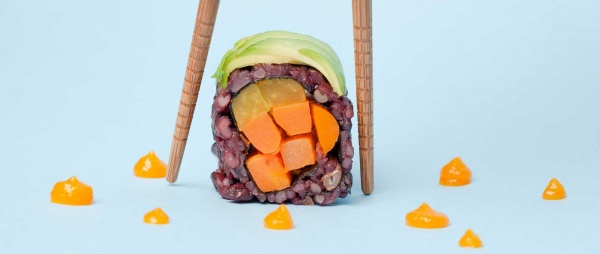 Beyond Sushi makes original creations based off of classic sushi, except instead of raw fish they use only kosher, plant-based ingredients. Each roll is made with sustainability in mind thanks to the company's mission to reduce their ecological footprints by using all-natural ingredients. Try their "Pickle Me" roll (four-grain rice, pickled burdock root, carrots, pickled daikon, and avocado, dipped in a carrot-ginger sauce) for a flavorful vegan experience! 75 Ninth Ave., 212-929-2889, beyondsushinyc.com
Looking for Free Group Planning Services?
Get free advice on planning your group's trip to New York.
RESTAURANTS

Brings together the character of Hell's Kitchen past with th...

THEATER

Kander and Ebb's "musical vaudeville" in which Roxie Hart ga...

SHOPPING

An array of quality branded merchandise showcasing HBO's® aw...

SIGHTSEEING

In addition to 360-degree views from Midtown Manhattan, the ...