Under-the-Radar Museum Exhibits This Spring in NYC
March 10, 2017 - by Merrill Lee Girardeau
New York City has an embarrassment of riches when it comes to museums. From the Met to the 9/11 Memorial, there is no shortage of expertly curated culture and history—but there are also intense crowds to contend with at these popular destinations. If you're looking for more personal space in your museum experience, or just in the mood for something off the beaten path, head to one of the museums on this list! These institutions are responding to the tumult of the times with exhibitions about the U.S./Mexico border, the Women's March, Dr. Martin Luther King, Jr., and Holocaust remembrance. Check out these world-class museums this spring!
Under-the-Radar Spring Exhibits: Collecting the Women's Marches at NY Historical Society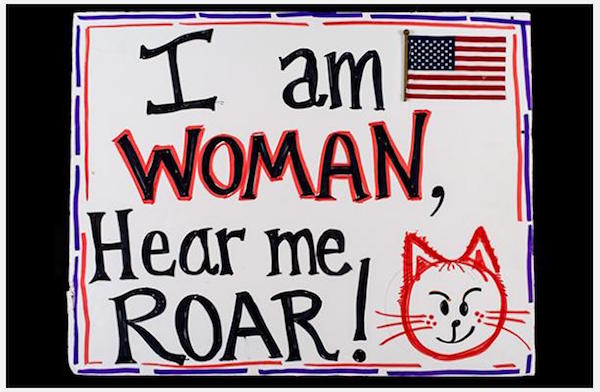 Elaine Maas, Sign for Women's March on New York City, 2017. Foam board, fabric, plastic. New-York Historical Society
New York saw an incredible historical moment only one year ago, when thousands of women marched through the city on January 21, 2017. The New-York Historical Society will show signs, sashes, and other objects from this event, which occurred in cities worldwide as well, at Collecting the Women's Marches. The exhibit will occur in conjunction with a showing of protest clothing by designer Olek and a performance piece by Brick x Brick. Through June 3. 170 Central Park West, 212-873-3400, nyhistory.org
Under-the-Radar Spring Exhibits: La Frontera at Museum of Arts & Design
With tensions growing around the U.S./Mexico border, artists have responded with thoughtful work on immigration, inclusivity vs. exclusivity, militarization, and diplomacy. The Museum of Arts & Design in Columbus Circle presents La Frontera, beginning March 1. This exhibition will feature jewelry design and other pieces inspired by border culture and history, from a choker designed with tiny footprints and butterflies to an oversized brooch made of concrete and resin. Through Sept. 23. 2 Columbus Circle, 212-299-7777, madmuseum.org
Under-the-Radar Spring Exhibits: The Number on Great-Grandpa's Arm at the Museum of Jewish Heritage
Bring your kids to the Museum of Jewish Heritage — A Living Memorial to the Holocaust this spring to see an important short film and its accompanying exhibition. The Number on Great-Grandpa's Arm depicts a young boy and his great-grandfather, an Auschwitz survivor who tells the boy his life story in this moving nineteen-minute film. Produced by Sheila Nevins for HBO and directed by Amy Schatz, the film shows vignettes of its subjects through beautiful watercolor rotoscoping by artist Jeff Scher. Through April 29. 36 Battery Place, 646-437-4202, mjhnyc.org. Here is a $5 off admission coupon, good for up to two adults.
Under-the-Radar Spring Exhibits: Edmund Clarke: The Day the Music Died at International Center for Photography Museum
With Edmund Clarke: The Day the Music Died, the photographs are defined by what the viewer can't see. British photographer Edmund Clarke has taken photographs full of redactions—pixelations, blackouts, and empty spaces—as a response to the United States' global War on Terror. Clarke's photographs expose the alternately banal and baffling methods of secrecy and subterfuge employed by U.S. intelligence agencies working throughout the world to quash terror. Through May 6. 250 Bowery, 212-857-9738, icp.org
Under-the-Radar Spring Exhibits: The Body: Fashion & Physique at FIT Museum
Just as fashion always vacillates, so do trends in body shape, particularly for women. The Body: Fashion and Physique explores "fashionable" body types and the dresses made to adorn them from the eighteenth century to the present. See a bone corset, 1951 embroidered Dior dress, velvet Thierry Mugler dress with puffed sleeves and peplum, and a dress recently worn by comedian Leslie Jones! Through May 5. Seventh Avenue at 27th St., 212-217-4558, fitnyc.edu
Under-the-Radar Spring Exhibits: King in New York at Museum of the City of New York
See the Civil Rights Era through a new lens at an exhibition exploring Martin Luther King, Jr.'s historical visits to New York. Along with his vital work in the Southeast, Dr. King spoke in the United Nations, met with the mayor of New York City, and shared his mission with churches in the city. At King in New York, you'll see a variety of documents, photographs, and other artifacts about this important period of history. Through Sept. 24. 1220 5th Ave, 212-534-1672, mcny.org
Under-the-Radar Spring Exhibits: Transformer at National Museum of the American Indian
In Transformer: Native Art in Light and Sound, you'll see the work of some Native American visual artists working today. This exhibition focuses particularly on experimental video and unique light installations, all of which touch on the liminal space occupied by native people in modern culture. Included are the experimental videos of artists like Nicholas Galanin and Jon Corbett, light installations by Kevin McKenzie and Marianne Nicolson, and others. Through Jan. 6, 2019. One Bowling Green, 212-514-3700, nmai.si.edu
Looking for Free Group Planning Services?
Get free advice on planning your group's trip to New York.
RESTAURANTS

Multi-concept restaurant offering modern Japanese cuisine, a...

THEATER

Gaston Leroux's famous period thriller is now one of Broadwa...

SHOPPING

Specializing in the great vineyards of California, France, A...

SIGHTSEEING

In addition to 360-degree views from Midtown Manhattan, the ...