OnBoard Tours
7th Ave. & W. 50th St.
212-852-4821
The best way to see all New York City has to offer is to take the NY See It All! Tour from OnBoard Tours! Their customers have told them repeatedly that they have the best tours in NYC. Their daily tours provide an overview of Manhattan by an interactive experience. They use smaller shuttle buses rather than large coaches or double-decker buses, which makes the tour more personal - you get to interact more with your tour guide. Plus, the best part is that the tour guides hop off the bus with you at each stop.


The OnBoard Tours environment fosters interaction with your guide so you truly learn about New York City during the tour. Thirsty? They also offer free bottled water on ice during the tour. Hot or cold? Their shuttles are climate-controlled, so you are not sitting on top of a bus baking in the sun or getting drenched when it rains.

The NY See It All! Tour is their claim to fame, and the only comprehensive guided tour of NYC. This tour departs every day at 8:30am, 10am, 12:30am, and 2pm. For only $79.99 per ticket for adults and $59.99 per ticket for children under 12 ($89.99/$69.99 Fri.-Sun.), you will experience everything you could possibly want to experience in NYC as well as a boat ride on the Hudson and East Rivers to view the Statue of Liberty, Ellis Island, the Brooklyn Bridge, and the Empire State Building.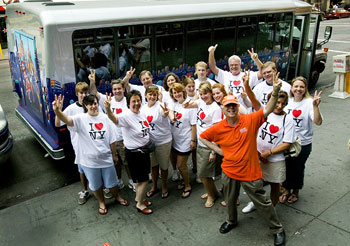 OnBoard Tours has so many different tours and entertainment to enjoy throughout NYC, why would you look elsewhere? You want shopping? They can drive you to Jersey Gardens where you can enjoy a day filled with endless outlet shopping with no sales tax on clothing items for only $34.99 per person.

For more, check out the Top 10 reasons visitors love OnBoard Tours by visiting their website at www.onboardtours.com.
Looking for Group Tickets of 12 or More?
Got a group headed to New York? City Guide provides free expert planning assistance and buying services-just complete the quick form below.