Premier 5th Avenue Exhibitions
417 Fifth Ave.
888-647-2789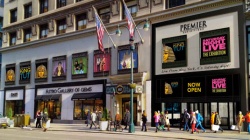 Inside Scoop: Premier Exhibitions
Premier Exhibitions' dynamic learning center in the heart of New York City hosts museum-quality exhibitions that span topics from pop culture to history to science. With a mission to entertain and educate both, Premier's diverse shows have included Titanic: The Artifact Exhibition, BODIES Revealed, Pompeii The Exhibition, Extreme Dinosaurs, and Real Pirates.
Currently on view is Saturday Night Live: The Exhibition, which runs through June, 2016. Saturday Night Live has been a part of New York City culture since 1975, poking fun at celebrities and current events with its skits and zany hosts. Get inside the show with the amazing re-creations at Premier 5th Avenue Exhibitions, where elaborate displays put you behind the scenes.
Also on view is The Discovery of King Tut, through May 1, 2016, which offers visitors a rare insight into the archaeology of ancient Egypt. Guests are invited to travel on a journey of exploration to experience the treasures of Tutankhamun and his famous tomb chambers exactly as they were discovered by Howard Carter in 1922.
Looking for Group Tickets ?
Got a group headed to New York? City Guide provides free expert planning assistance and buying services-just complete the quick form below.